This beef and lemongrass salad is an easy but tasty salad that you can throw together using whatever is in your fridge! I don't know what pre shopping day food is like at your place Dear Reader, but the day before we go shopping on a Saturday is a day I dish up some pretty odd food. There I was one Friday looking at the fridge and thinking that I was famished and I wanted something spicy so I pulled out some beef that I had left over from recipe testing and some noodles from the pantry and raided the vegetable crisper and went to work with what I had.
I decided to velvet the beef but you can skip this step and serve the beef pink in the centre if you like. This was then cooked in a lemongrass and chilli sauce. The vegetables and noodles are then stir fried and herbs added to create what became a really tasty dish. It is also versatile-you can replace the protein with any (chicken, tofu) and change the noodles and the vegetables. And it also used up the odds and ends in the fridge too. I will also happily admit that this is not the typical Friday meal. It's usually eggs or toast!!
Speaking of odds and ends in my kitchen I haven't done an In My Kitchen for ages, not because there aren't things in my kitchen. Maureen now hosts it and this is my first in months. And in my kitchen is a range of items from Japan. The first lot features one of my favourite Japanese snacks-Kit Kats. They became popular in Japan because the name Kit Kat is similar to Kitto Katsu that sounds like the words for a "sure win". Unlike most other countries that have a few standard flavours, they create some super fun flavours like Hokkaido red bean, Uji matcha (Uji being one a place in Kyoto that is said to grow some of the best matcha in Japan), cherry blossom matcha, strawberry and lemon, lime and orange. We did a tasting with our friends one afternoon to try all of these goodies!
Another thing I discovered while I was in Tokyo were the Kit Kat concessions at upmarket department stores. While the flavours I mentioned above were about Y150 each, the box at the bottom with the eight small packets came from one of these stores. These were expensive (I'm not sure why apart from the nicer box) and came in flavours like butter, strawberry maple, green tea kinako (soy bean powder) and what turned out to be everyone's favourite, the pistachio raspberry. And the long bar was a single Kit Kat stick topped with nuts and cranberries.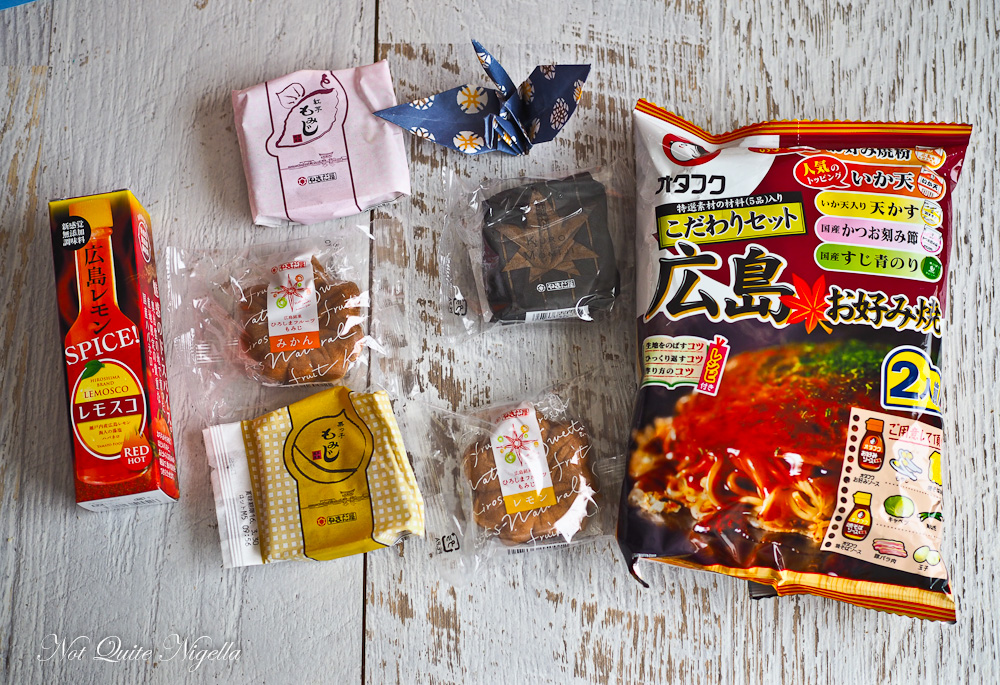 The next items are also from Japan and are some Momoji manju or maple leaf shaped cakes that I bought in Miyajima Island along with some lemon Tabasco (Lemonsco) and a Hiroshima Okonomiyaki mixture to make the famous layered okonomiyaki. The little paper crane was given to me by my lovely guide Mico san and it symbolises long life, happiness and peace. I tucked it in a safe place when we travelled and it sits in a safe place at home now.
The next items are a gift from the lovely Nancy from Plusatesix. They were sent from Melbourne for Chinese New Year and it was so thoughtful of her to send me something-thanks Nancy!! Of course Australia Post being the slow beast that it is delivered it a month or two late but it still mean a lot to me.
The next items are Royce "Nama" chocolates. Nama means fresh in Japanese and this is because of the high cream content so the chocolate needs to be refrigerated. They're essentially like chocolate ganache squares that just melt on the tongue. If you want to try making your own here is a recipe for Nama chocolate!
On this trip I discovered that some people in Japan use different sorts of soy sauce for certain foods. For example with sushi soy sauce the consistency is more cooked and a bit thicker than regular cooking soy sauce and that makes much better for sushi as it clings better without soaking into the rice. I also found the sushi soy sauce has a wider spectrum of flavours rather than being mostly salty. I bought an oyster soy sauce (on the left of the pic) as well as a gorgeous pink soy sauce. We first tried the pink soy sauce in an upmarket restaurant in Yonago. It is coloured pink from beetroot and has a wonderfully complex flavour to it and is milder than regular soy sauce. Manufactured by Hana Kifujin in Tottori they start with a white soy sauce made by using mostly wheat along with soybean and then colour it pink using beetroot. It was also very difficult to find and Mico san scoured the internet and bought some for the both of us. 100ml/3.5 fl ozs. of it was around $30 so it is quite expensive compared to regular soy sauce. The company also makes pink curry and mayonnaise.
And that brings me to my little competition! I apologise for the small prize but I'm hoping that you'll find it as fascinating as I do. I'm giving away my second bottle of pink soy sauce to one of you Dear Readers! Just tell me what your favourite travel food souvenir has been and why! Leave your answer as a comment and I'll draw winners on the 19th of May, 2016 and I will send this worldwide!
Lots of love and eating,
Lorraine
xxx
DID YOU MAKE THIS RECIPE? Share your creations by tagging @notquitenigella on Instagram with the hashtag #notquitenigella
Beef & Lemongrass Vermicelli Salad
An Original Recipe by Lorraine Elliott
Preparation time: 25 minutes
Cooking time: 10 minutes
250g/8.83ozs rump steak
1 tablespoon bicarb of soda
80g/2.82ozs. dried vermicelli
4 sticks lemongrass (white part only), sliced finely
1 large red chilli, cut in half
1 clove garlic, peeled and sliced
2 tablespoons fish sauce plus 2 tablespoons extra
1 tablespoon honey or sugar
Oil for frying
3 stick green onions, sliced into inch long pieces
1/2 small head of broccoli, cut into small florets
1 carrot, cut into matchstick pieces
5 cherry tomatoes
3 sprigs of fresh mint
Step 1 - Slice the beef thinly removing any white sinew carefully. Sprinkle with the bicarb and a couple of tablespoons of water and allow to tenderise for 10 minutes. You can skip this step and go straight to marinating the beef in lemongrass if you want a pink centered beef slices. Soak the vermicelli in warm water for 10 minutes and then drain.
Step 2 - Meanwhile make the marinade and prep the veggies. In a mortar and pestle pound the lemongrass, half a chilli, garlic, fish sauce and honey or sugar together until you get a paste. Cut up the rest of the ingredients.
Step 3 - Place the beef in a sieve and wash the bicarb off thoroughly making sure to get any fine grains off (very important). Mix the beef in the lemongrass marinade for as long as you want or you can use it straight away. Heat a frypan on high heat and add oil. Fry the beef in two batches and then remove from pan and set aside.
Step 4 - Add more oil and fry the green onions and broccoli for a couple of minutes. Add the carrot and then the vermicelli. Drizzle with some more fish sauce and toss to coat and then add the beef back to the pan and cook through.
Step 5 - Place on serving platter with cherry tomatoes, fresh mint and the other half of the chilli chopped up.