This shaved fennel and pomegranate salad could not be more divine and fresh. Thinly shaved fennel gives a mild and delicate flavour with a light Thai style dressing. Add pomegranate arils for a sweet pop as well as a bushel of herbs. This winter salad is a perfect side to a main or is just fabulous as a dish on its own!
Salad in Winter? Am I crazy? (Yes but that's another story). Hear me out Dear Reader. This is a great salad to serve with a saucy meaty main because sometimes you need a bit of balance. Fennel and pomegranate are winter produce so you're eating seasonally. Equally as important is the simple Thai style dressing with only 3 ingredients!
Three Ingredient Thai Dressing! Dear Reader, save this recipe for when you need a light, non fat salad dressing that delivers so much flavour. I learned it at a cooking class at Sri Panwa Resort in Phuket. It's just three ingredients:
3 tablespoons lime juice
3 tablespoons fish sauce
1 tablespoon icing sugar
Fennel or fennel bulb looks like the base of a head of celery but has a light aniseed flavour. The liquorice flavour in fennel is mild so even if you don't like liquorice you may still enjoy fennel. It is very nutritious and is a good source of Vitamin C (great for winter!), manganese, fibre and antioxidants and is also good for bone health with potassium, magnesium, and calcium. Fennel can be roasted but I really think the best way to serve it is finely shaved in a salad.
How To Shave Fennel
Cutting off the stalks
1 - Start with trimming the stalks and fronds from the fennel. You can make the fronds into a fennel frond pesto (treat them like a herb) and use the stalks in a soup. They're quite similar to celery so you can use them in a similar way. I sometimes use the stalks as a trivet under a roast.
Slicing off the base
2 - Slice off the base. Then slice the fennel in half down the top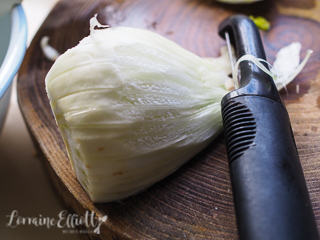 3 - Peel the outer layer of the fennel (optional)
Cutting out the core
4 - Cut out the core-this is the tough part and makes shaving fennel harder so removing it well makes the shaving process much easier.
5 - Shave the fennel using a mandolin using the finest setting. You can also use a sharp knife.
Winter fruit to look forward to apart from citrus (grapefruit, lemon, limes, oranges and mandarins) are pomegranates, pears, persimmon and kiwifruit.
Make this into a meal in itself: add some cooked prawns or poached chicken or salmon on top.
Make this vegan or vegetarian: substitute the fish sauce with a vegetarian friendly version (yes they make it!) and add 1/2 cup of cooked quinoa or chickpeas to add protein.
I hope the instructions for shaving fennel are clear. I know that sometimes I see something but I don't communicate it or sometimes I think something is obvious but it isn't.
Speaking of taking directions, recently I have been going for food adventures where we try little hole in the wall places. I usually pick up Monica around noon and we take a drive somewhere fun and interesting for lunch. It may to somewhere that is new to both of us so I rely on her directions. Sometimes it's hard to follow the GPS when you're both busy talking so she holds my phone and intersperses conversations with directions. She's a good navigator and tells me which lane to drive in because if you've ever driven in Sydney (or Australia) lane choices are important because a) sometimes lanes suddenly end without warning or become a turning lane and you're stuck and b) people don't always let you in to change lanes.
Not everyone is a natural when it comes to giving directions. I'm not great because I get distracted and then forget that I am giving directions. Mr NQN isn't amazing at it because he will suddenly tell you to turn right at the very last second when it isn't even possible any more. And then there's a friend of mine whom I adore but I won't mention by name (she knows she can't give directions, we've laughed about it together).
She doesn't drive and gets very befuddled by the GPS especially if it is upside down on the phone. Most alarmingly though is that under times of pressure she will confuse her left and right so she'll shout "left!" and actually mean right and vice versa. Nowadays we have rules when I have her in the car. I use the GPS and when it talks, we both stop talking so we can listen to it!
So tell me Dear Reader, are you good at giving directions? What is your favourite way of cooking or serving fennel?
Did you make this recipe?
Share your creations by tagging @notquitenigella on Instagram with the hashtag #notquitenigella
Fennel Winter Salad
An Original Recipe by Lorraine Elliott
Preparation time: 20 minutes
Cooking time: 0 minutes
1 fennel bulb, stalks trimmed
1/2 red onion, peeled and finely sliced
1/2 cup pomegranate arils
1/2 bunch mint
1/2 bunch coriander
1 tablespoon icing sugar
1 tablespoon hot water
3 tablespoons lime juice
3 tablespoons fish sauce
1 clove garlic, finely grated
Step 1 - Trim the fennel and remove the core. Use a mandolin on the finest setting and finely shave the fennel bulb into a bowl. Add the onion, pomegranate, mint and coriander to the bowl and mix.
Step 2 - In a small bowl, dissolve the icing sugar in the water and then add the lime juice, fish sauce and garlic to create a salad dressing. Drizzle this on top of the fennel mixture and toss.