This pretty forest or harvest themed apple pie may just have you taking out your cookie cutters. It looks much more complicated than it is and even making it with an intriguing sour cream vodka pastry is a cinch. The home made pastry has a delightfully flakey texture, similar to that of a buttery cracker and the filling is a simple apple and quince fruit filling (although you could use any sort of fruit you have to hand depending on the hemisphere in which you live).
What you will find in my kitchen is lots of fruit. Not quite as much as there is in summer but I recently bought a whole lot of quinces to make Turkish quinces and I still had one left over. I also had apples (a summer fruit but I bought some for a pork roast). And one thing that is so good to do in winter is baking and pastry because in summer the temperatures melt everything. I wanted to make a fancy leaf pie for months and I decided that a bit of light baking was in order.
Although it looks difficult the pie is very easy to do. You can get creative with the cut out shapes and this would also look fantastic with bright red or purple berries. If you do use berries, I'd suggest adding 1-2 tablespoons of cornstarch to soak up the juices. And serve this warm with ice cream or cream for a super special treat.
Speaking of hemispheres, I've been spending some time in the Northern Hemisphere this month. I just came back from Copenhagen and Singapore and I spent a lot of time eating my way through both places. I also brought back a few spoils from the trip and without further ado let me share these as part of Maureen's In My Kitchen series.
First up are these gorgeous wooden plates that I bought from an antiques market in Copenhagen. There were lots of treasures there and European antique markets are always full of great finds. I picked up seven of these wooden plates for around $40AUD which I thought was a great deal as I've never really seen plates quite like these before.
The next item is a gift for Mr NQN. He loves licorice (I think it's the Scandi in him because many Australians don't love the stuff) and I'm trying to get myself to like it as I don't want to have any food dislikes. I loved these not only because they were cute but because they looked exactly like they do on the box!
The next two items are gifts for our Danish born friend Viggo. He is having a big birthday this year and we were going to buy him a really nice bottle of wine but I thought I may as well seize the chance to buy him something from his homeland. These chocolate frogs are filled with his favourite thing: beer. There are three different flavours: stout and chilli, citron stout and smoked beer.
The next item is also for Viggo. I discovered this licorice brand when I tried a licorice gelato. Normally I wouldn't order licorice gelato but I had to try the most Danish flavours I could find. It was such a delicious gelato and they told me all about the special licorice that they use by Johan Bülow. It's made in Denmark and is gluten free and I'm convinced that it will convert most licorice haters. I bought this giant birthday box with eight selections and they are very generous with samples because basically once you try one flavour, you'll just buy it. My favourite was the seasonal "Summer" licorice which is a sweet licorice enrobed in Belgian peach flavoured chocolate.
The last items are from my stopover in Singapore. I spent two nights at the magical Raffles Hotel. I cannot wait to share the post with you because it is one of those hotels that you read a lot about because of its history and reputation. In the selection is a Sipsmith gin, one of the key ingredients of the Singapore Sling that originated at the hotel. The Raffles VP Diana Banks decided that they needed to do something to celebrate the 100th anniversary of the drink so they went to London's Sipsmith to create a special gin for them. Little did she know that one of the Sipsmith's founders Sam Galsworthy is the great, great, great nephew of Sir Stamford Raffles, the founder of Singapore whom the hotel is named after. I mean you just could not make that stuff up!
So tell me Dear Reader, are you a licorice fan or foe? Do you usually heat your pies up to eat them? Would you eat this with cream or ice cream (or both)?
Did you make this recipe?
Share your creations by tagging @notquitenigella on Instagram with the hashtag #notquitenigella
Apple Quince Leaf Pie
An Original Recipe by Lorraine Elliott
Preparation time: 45 minutes
Cooking time: 1 hour
For pastry
240g/8.8ozs. butter, cold
2.5 cups flour
1 tablespoon sugar
1/2 cup sour cream
2 tablespoon of vodka (or thereabouts, add more if it needs it)
For filling:
4 large Granny Smith apples, peeled, cored and chopped
1 quince, peeled, cored and chopped
Juice from 1 lemon
1/3 cup caster or superfine sugar
1 teaspoon vanilla bean paste
1 teaspoon ground cinnamon
1 egg yolk
Step 1 - Make pastry by adding butter, flour and sugar to a large food processor. Process until combined. Then add sour cream and vodka and blitz until it resembles crumbs. Knead it on a clean, floured surface and shape into two balls. Cover with cling film and rest for 1-2 hours. In winter you don't need to refrigerate it and you can leave it on the benchtop.
Step 2 - Preheat oven to 200C/400F. Roll out one of the rounds and place into a large pie dish. Trim the edges and cover and refrigerate until needed.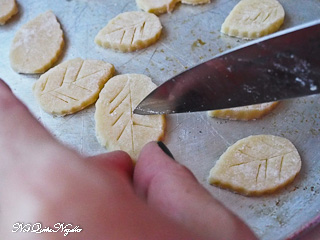 Step 3 - Mix all of the filling ingredients except for the egg yolk together and place in the prepared pie tin and place back in the fridge while you cut out the shapes. Roll out the second round and using leaf and flower cutters and a paring knife cut out shapes. I find it easiest to cut out lots of shapes first and then decide where to place them. Mix a tablespoon of water with the egg yolk and brush the edges of the pie. Attach the flowers and leaves and brush with the egg yolk mixture. Bake for 10 minutes at 200C/400F and then reduce heat to 190C/374F and bake for another 40 minutes or so until the filling is done. Serve with cream or ice cream.