Dear Reader, this is the best apple crumble recipe! Just a couple of ingredients will transform the humble apple crumble to something special indeed. Calvados and vanilla baked apples are blanketed with a crumble topping with crunchy almonds, browned butter and oatmeal!
What is Calvados? Calvados is an apple brandy that is a specialty of the Normandy region in France. Calvados is aged in oak barrels giving it a smooth taste. If you don't have Calvados you can use brandy, cognac or apple cider instead. Or if you want to keep it non alcoholic, just use apple juice.
Do I need to peel the apples? Definitely not. I like to leave the skins on as much fruit and veg as possible as so much goodness is in the skins. But if you like a uniform consistency of your fruit then peel the apples.
What apples are best for crumbles or pies? Granny Smith are a great all rounder apple. They are great to eat fresh and hold their shape when cooked and are available everywhere. They can be on the tart side. Pink Lady apples are also a good all rounder too-I used these because they've been in my last 3 fortnightly vege boxes and I am sort of overrun by them! Jonathan apples, Jazz, Golden Delicious or Braeburns are also good. Red Delicious apples tends to become mushy but hey if you like your crumble with less texture then go for it.
Speaking of being overrun with things and trying to clear them out, I've been trying to get rid of some things because we are hoping to move sometime over the next year or so (COVID sort of put our property searching on hold for a while). I also loathe moving because we have so much stuff so the more I can thin it down the better. On Ivy's advice I started listing some things on Facebook marketplace and I've managed to clear out a whole bunch of things that were no longer "sparking joy" or were unused for years.
It has been interesting - dealing with buyers over kitchen tools and crockery has been easy but I also tried to sell a pair of unused men's runners that didn't fit Mr NQN and it was nothing but an exercise in frustration. I hate to say it but on the whole women I was dealing with were much more fair, organised and decisive but the young guys I was dealing with for these runners was exhausting. The number of low offers, rude offers and poor communication was frustrating to say the least and I could not wait to get rid of them.
Also, I listed them at a very good price which meant that my phone was pinging incessantly during dinner one night. I was also sending messages to my friend Monica and I accidentally sent the wrong message to a potential buyer.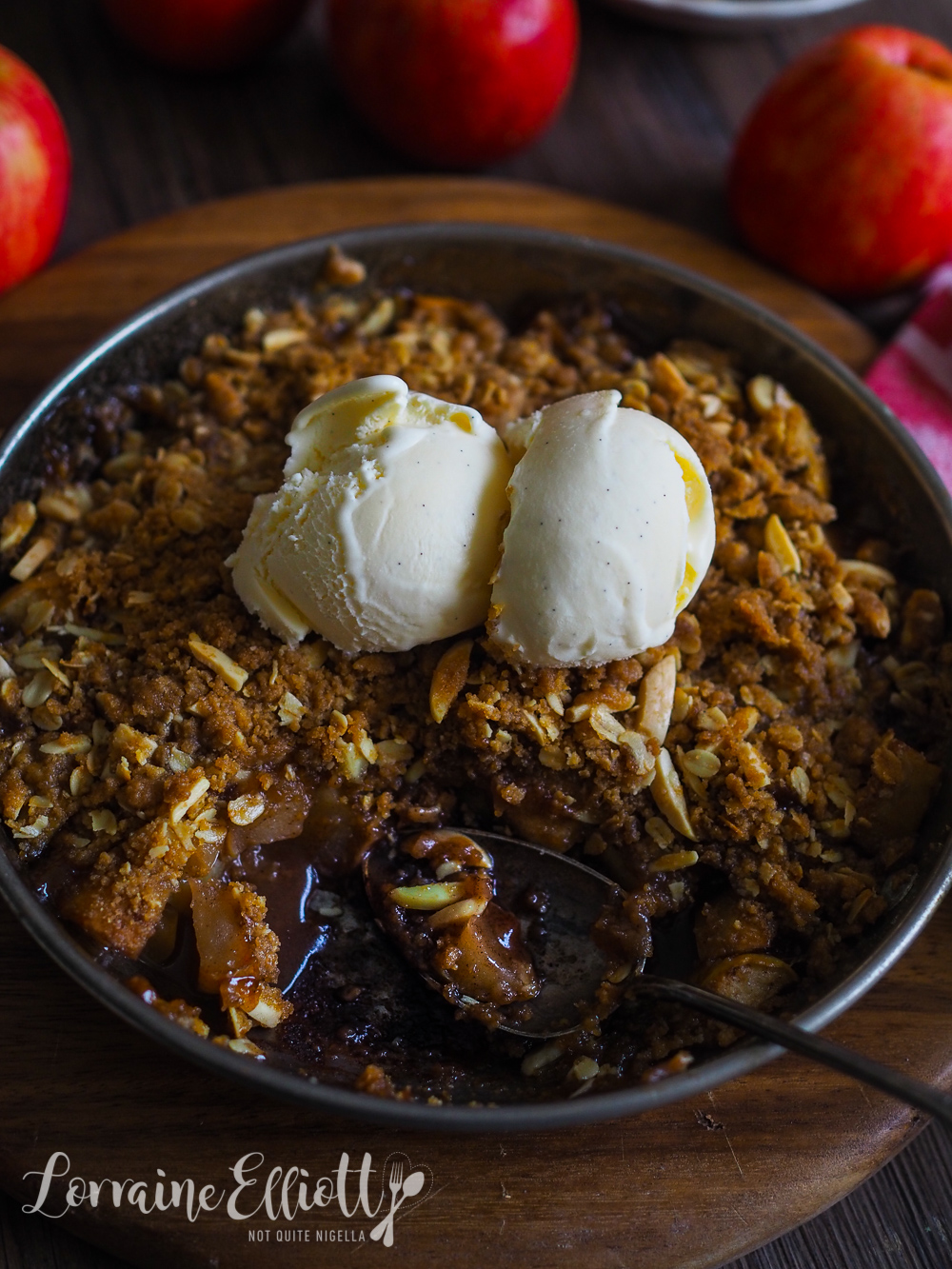 I sent him, "Dinosaurs!" whereas I meant to send it to Monica.
"Oh damn, wrong person," I muttered trying to unsend the message. I wasn't able to do it in time because a minute later the guy sent me a message back to my errant "Dinosaur" message.
"Cool."
I guess the upside of dealing with these guys was that they were used to strange messages and a random message like "Dinosaurs!" didn't phase them!
So tell me Dear Reader, do you like hoarding or cleaning out? And what would you do if someone messaged you "Dinosaurs!" apropos of nothing?
DID YOU MAKE THIS RECIPE? Share your creations by tagging @notquitenigella on Instagram with the hashtag #notquitenigella
Apple Crumble With Calvados & Brown Butter
Rated 5.0 out of 5 by 2 readers
An Original Recipe by Lorraine Elliott
Preparation time: 25 minutes
Cooking time: 45 minutes
Serves 4-6 with ice cream
For the crumble topping:
75g/2.6ozs. flour
120g/4ozs. brown sugar
20g/0.7oz. rolled oats
15g/0.5oz. slivered or flaked almonds
2 teaspoons vanilla bean paste
1 teaspoon ground cinnamon
1/2 teaspoon allspice
1/4 teaspoon fine salt
90g/3ozs. brown butter
For the filling:
3 apples
60ml/2flozs. Calvados or brandy
2 teaspoons cornflour/fine cornstarch
40g/1.7ozs. caster or superfine sugar
1 teaspoon ground cinnamon
Zest of 1/2 lemon
Step 1 - Preheat oven to 160C/320F and grease a 20cm/8inch round tin or baking dish (you can also use a small frypan or skillet at least 1 inch deep). Mix the flour, brown sugar, oats, almonds, vanilla, cinnamon, allspice and salt together in a bowl and rub the brown butter in with your hands. Place in the fridge until needed.
Step 2 - Core the apples and cut into bite sized chunks. Mix with the Calvados, cornstarch, sugar, cinnamon and lemon zest and place in the prepared pan. Top with the oatmeal topping and bake for 45 minutes or until the apples are soft and the sauce is bubbling. Serve with vanilla ice cream.