These classic apple turnovers with cream are a bakery classic and for good reason: they're absolutely delicious! Soft vanilla scented apples are baked in a buttery puff pastry and then filled with a generous serve of Chantilly whipped cream and a final dusting of icing sugar. Try this simple to make apple turnover that tastes just like the ones you get at a bakery! This is a pushy recipe Dear Reader.
I love a good old fashioned Australian bakery. For starters they always sell two of my favourite ever things: sausage rolls and vanilla slices. I always get those two for myself but sometimes buy an apple sour cream slice or an apple turnover because I know that Mr NQN loves these.
These apple turnovers are the simplest thing you can make. Cooking the apples is easy and all you do is spoon them into ready made puff pastry. There's a little trick to making these apple turnovers and that's the double the layer of puff pastry sheets so that you get a really nice, layered puff. Once they're baked and cooled then you fill them with freshly whipped cream and finish them off with icing sugar. Really there's nothing easier. You could also leave the cream out and serve these warm with vanilla or caramel ice cream too.
What is the difference between an Apple Turnover and an Apple Pie?
An apple turnover is a portable puff pastry pie that is self contained where you fold over the pastry to enclose the apple filling. An apple pie is served in slices and usually has a shortcrust pastry base and top. I have another recipe for an apple turnover without cream here.
How Do I Make My Apple Cream Turnovers Like They Do at a Bakery?
The key to this is to keep the puff pastry thick. In Australia supermarket puff pastry is already rolled into thin sheets so I double the layer of puff pastry putting two rounds of it on top of each other. I also find that regular and not butter puff pastry puffs up a little bit more. In America (or if you are using Carème in Australia) you have to roll out your puff pastry yourself so don't roll it too thin, around 3-4mm/0.12-0.16inches is great.
How do you keep apple turnovers from getting soggy?
This all about the filling and the amount of liquid that the apples release. Sometimes I find apples let out a lot of water, sometimes not so I've added a note if your apples don't as the ones I get don't seem to (perhaps it's the apple variety, I use pink lady apples mainly because they're what I get in my vege box). You want just enough sauce to make them luscious but not enough that the pastry gets wet. To thicken the sauce use a slurry of cornflour and water.
How long do Apple Turnovers stay fresh?
I fill the apple turnovers with cream just before serving. You can keep your apple turnovers (without the cream) in the fridge in an airtight container for 2-3 days.
Do you eat Apple Turnovers Hot or Cold?
These apple turnovers are eaten cold because of the cream filling. You can eat them without the cream warm from the oven. I like also serving these with a scoop of vanilla ice cream.
I made so many of these that I had to give some away because we couldn't have so many cream filled pastries in our house as we were going away for the weekend. I boxed up 2 apple turnovers per box, messaged our neighbours and left them on their porches. One box went to my neighbour Tony who was recovering from surgery - it was a slow going process and he was not having a great time of it so I thought that it might cheer him up. Another box went to my immediate neighbours Sally and Brian who always help us out by mowing our front lawn and taking our bins out when we are away. Then the last box went to our other neighbours Nick and Vicki. Apparently we have some sort of synchronicity with them.
We got a message back from Nick straight away, "Holy s%$. This is so good. Vicki doesn't even like apple pastries all that much and she is in heaven. You guys always do this when we've had a hard day and have no dessert in the fridge. Thank you!". I just love it when my food goes to a good home and comes at a good time!
So tell me Dear Reader, do you share food with your neighbours? Do you like these classic bakery turnovers?
Did you make this recipe?
Share your creations by tagging @notquitenigella on Instagram with the hashtag #notquitenigella
Apple Turnovers With Cream
An Original Recipe by Lorraine Elliott
Preparation time: 25 minutes
Cooking time: 40 minutes (15 minutes plus 25 minutes)
Makes: 8 apple turnovers
500g/1.1lbs Granny Smith or Pink Lady apples (around 4 apples)
2 tablespoons lemon juice
1/4 cup/60ml/2floz water
120g/4ozs caster or superfine sugar (if you're using Granny Smiths that are tart consider adding a bit more sugar to taste)
1 teaspoon vanilla bean paste
1 teaspoon cornflour (fine cornstarch) mixed with 1 teaspoon water (optional for thickening)
4 sheets puff pastry
1 egg yolk mixed with 1 teaspoon water for egg wash
For Cream
400ml/14flozs cream
3 tablespoons icing or powdered sugar, sifted
1 teaspoon vanilla bean paste
Step 1 - Peel and core the apples and then dice to around 1cm/0.4inch cubes or so. Place apples and lemon juice in a medium saucepan on medium heat. Place lid on top and allow to simmer for 10-15 minutes or until tender, adding a little of the water if needed. Add the sugar and vanilla and stir to melt. Reduce heat to low and if there's still a lot of liquid, add the cornflour slurry and allow to thicken. Cool completely.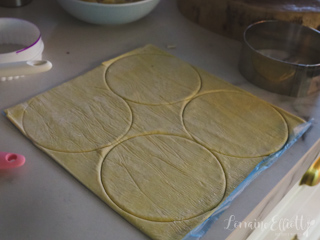 Double layering the pastry and adding apple filling
Step 2 -Cut out four x 12cm/4.7inch circles in each sheet of puff pastry. Place one disc on top of another to double them up. Then spoon a tablespoon of apple filling in and fold the pastry over. I don't press down very heavily but I lightly press down in the centre so that the pastry doesn't open up. Brush with egg glaze and place these in the fridge for 10 minutes while the oven is heating up. Reserve any extra apple. Preheat oven to 200C/400F or 180C/350F fan forced. Bake for 20-25 minutes or until golden. Allow to cool.
Folded over and egg washed, ready for baking
Adding more apple filling
Step 3 -Whip the cream, icing sugar and vanilla until you get stiff peaks. Place in a piping bag with a fluted tip (I used 6B). Using a knife open up the turnover and spoon in some extra apple and then pipe cream over this. Sift icing sugar on top and serve.