This recipe is brought to you by Australian Pork.
Pork Belly is one of the most delicious cuts but getting it right can be a challenge, even for a chef. You want the crackling to be super crunchy, easy to cut and not stick to your teeth but you also want the fat to render and the meat to melt in your mouth. Sadly I've lost count of how many pork belly dishes that we've eaten at restaurants that have fallen way short of this lyrical combination. But I have for you Dear Reader, the most fool and fail proof pork belly recipe that gives you that magical combination EVERY.SINGLE.TIME! Want to impress friends with your cooking skills? This is it.
A good chef will tell you that the first point is always with the pork itself. Get the best quality pork you can because this is a dish where the flavour of the pork is the star-there aren't any other adornments or distractions, just salt. I started with a beautiful piece of Australian pork from one of the best rare breeds called Berkshire pig reared in Northern NSW. These are free-range pigs and have a natural slow growth rate. The pigs live in eco-shelters that have open ends to provide ventilation, yet are still climate controlled.
Berkshire pork raised using Japanese style nutrition and animal management practices is called Kurobuta pork and you can buy it from good butchers and they are often the pig that you see on fine dining restaurant menus. There are little black hairs on the rind (which makes it a visual challenge for the retail market) but once it is cooked, you can't see them. It produces the most luscious pork belly as the meat is beautifully marbled. These pigs can be traced back to Oliver Cromwell's days and were the pigs fed to royals like Queen Victoria and we are lucky to have breeders in Australia that rear pure bred Berkshires.
In my quest to find the very best never fail pork belly recipe I had one secret weapon: my friend Alyson's pork belly recipe. Alyson eats out a lot at great restaurants and she is also a really good cook so I felt confident in her recipe. The perfect occasion for this was our good friend Viggo's upcoming birthday. I felt a bit guilty as we are going to be on holiday for his big birthday so we planned a weekend away as a surprise. He is Danish and he adores pork and pork belly. I thought we would test this pork belly recipe out on him because I knew that he would give me an honest opinion on it and that the opinion would come from a real pork connoisseur.
Usually I score the pork belly first and then give it a blast in a hot oven, then roast it and give it another blast to crisp up the crackling but this recipe did it an entirely different way. The pork belly is cooked in two super easy steps. First the meat is cooked in a stock keeping it moist while the rind dries out in the oven. The belly isn't scored until after this step (which makes it SO much easier to score!) and then you simply rub it with salt and then roast it in a very hot oven until the crackling becomes super crunchy. Yep, it's that easy. Plus you get lots of stock to make a fabulous onion and beer gravy!
When we pulled it out of the oven, I brushed the salt crystals away and Louise stabbed at it lightly with the tip of a knife. Everything sounded perfect. And when I carved it you could hear a pin drop as we listened for the crunch. But we didn't need to lean it to hear it. The crunch could be heard from the next room. The crackling was perfect and the meat underneath so luscious. Phew! It was one of the best pork bellies I have ever eaten (I don't mean to sound egotistical, full credit goes to Alyson for the recipe) and everyone including Viggo was very happy with the dinner. I paired it with pommes puree using homemade butter, a green salad with roasted beetroot and a Greek lemon olive oil dressing and roasted asparagus spears.
Viggo said, "Growing up in Denmark where pork roast is the national dish, I've had my fair share of them, and it is my favourite thing to eat. When I tasted the roast that Lorraine had made, it was obvious that the crispening technique she was using to make the crackle super crispy worked spectacularly - it really brought out the best in the pork, and you got a tremendously crunchy, crackly rind, which was just delicious. The fat layer was rendered perfectly, and you got all the delicious juicy flavours that you can possibly imagine a pork roast should have. This was easily one of the best pork roasts I've ever eaten." I promise I didn't write that for him or pay him to say that! ;) And yes Dear Reader this is a definite pushy recipe because I promise that this will perhaps be the best pork belly you've ever made or eaten.
Later that night at our accommodation (which was a bit of a challenge, described to us as luxurious but it fell short of it in many respects), the boys started cleaning up after our porcine feast. Mr NQN came out of the kitchen. "There's no more water," he said slightly concerned. It was 10pm and this was a problem. We rang four different numbers including two emergency contact numbers that never picked up.
And then the heating stopped. Given the temperature outside was -1C this was also a concern. One of the numbers called me back. "Take one of the torches and go outside to the other cottage at the back of the house and turn off the water pump for 30 seconds and then turn it back on," he said. Belinda piped up from her seat on the couch where she had been indulging in a postprandial nap. "This is how horror movies start! They try and get you out of the house and then people start disappearing...".
"Next all the lights will go out!" she cried. We had been watching a show on serial killers (an unfortunate choice but it was more exciting than the federal election coverage). Mr NQN and Viggo shrugged on layers to go outside. "Do you have a weapon? Apart from a torch?" I asked. "Do you Scandis even know how to fight? You can't stop a serial killer with dry humour and an icy look!" I started panicking. But honestly I wasn't even wiling to go out there myself. It was too cold. So I mentally said goodbye to my serial killer victim husband and busied myself with trying to fix the heating. Thankfully the water came back as did the heating. But the next day after discussing our not so amazing accommodation we decided to make the most of our day in the Blue Mountains and then drive back home to Sydney after dinner. One night was enough for us. But always looking on the sunny side, we had to concede, at least the pork was incredible!
So tell me Dear Reader, what is your favourite pork cut? Have you ever made pork belly? Have you ever thrown or given a surprise birthday party and how was it?
Plenty of frost on the leaves in the morning once we survived our imaginations ;)
DID YOU MAKE THIS RECIPE? Share your creations by tagging @notquitenigella on Instagram with the hashtag #notquitenigella
Never Fail Amazing Pork Belly With Beer & Onion Gravy!
An Original Recipe by Lorraine Elliott
2kg/4.4lb. pork belly, rind on (I used Berkshire free range pork)
4-5 cups chicken stock, hot
4-5 tablespoons salt
1 tablespoon oil or butter
1 onion, very finely diced
250ml/8.83fl ozs. beer
2 teaspoons sugar
3 tablespoons cornflour mixed with 3 tablespoons cold water
Step 1 - Preheat oven to 150C/300F. Place the pork belly (don't score it yet) in a snug fitting baking dish and add the chicken stock so that the stock goes up the sides to the fat but does not touch or cover the rind on top.
Step 2 - Roast for 1 hour and then cover with foil and roast for 1.5 hours more topping up with more stock or water if needed. Remove from the stock and score the rind with a sharp knife. Reserve the stock for gravy (you'll also get a nice layer of lard on top as well once you refrigerate it, remove and keep the lard for something else). You can also refrigerate the belly and cook it another day if you like. The best way is to cover the meat and fat with cling film and leave the rind exposed to dry out in the fridge. The drier the rind, the crunchier the crackling.
Scoring the slow cooked pork belly
Step 3 - Preheat oven to 200C/400F and place the pork belly on a rack. Sprinkle the salt over the rind and massage it in-it won't go in very far mind you. Then roast for 40-50 minutes. Test the crackling with a knife-if it feels crunchy then it is done. Wipe off all of the excess salt before serving.
Sprinkling generously with salt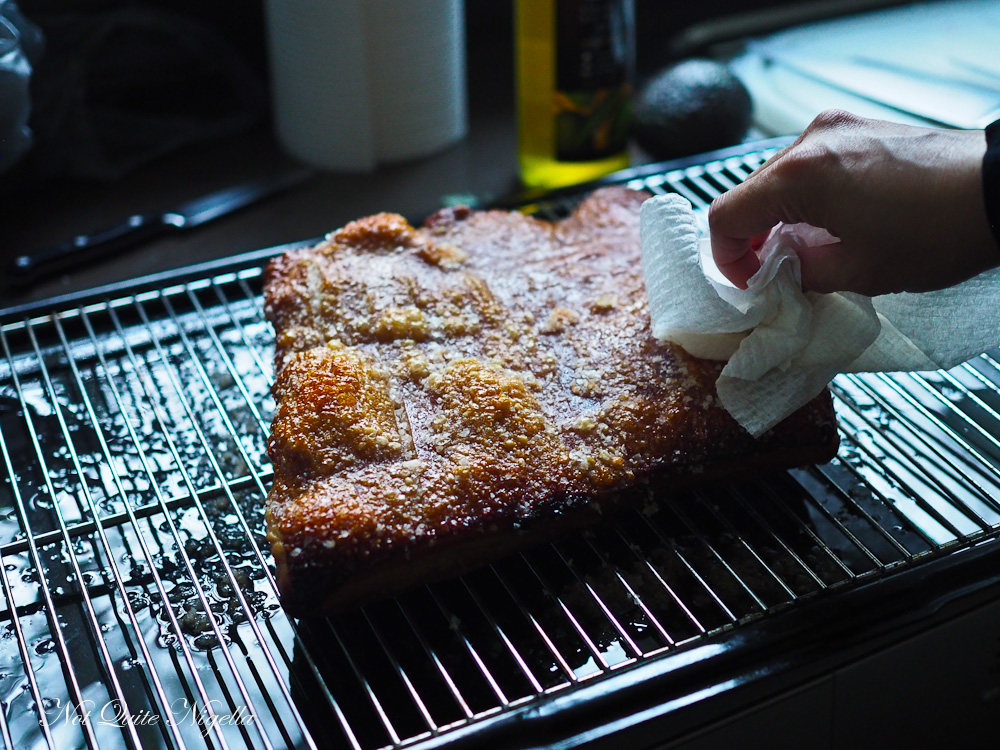 Wiping off the excess salt
Step 4 - While the pork is roasting make the gravy. Saute the onion in the oil or butter until translucent and then add the beer and 1 cup of the reserved stock. Simmer for 10 minutes without the lid on until it reduces. Then add the sugar and taste for flavour adding salt or more sugar if needed. Knock the heat down to low. Make a slurry by mixing cornflour with cold water and then drizzle in the cornflour mixture and stir gently and simmer until it thickens.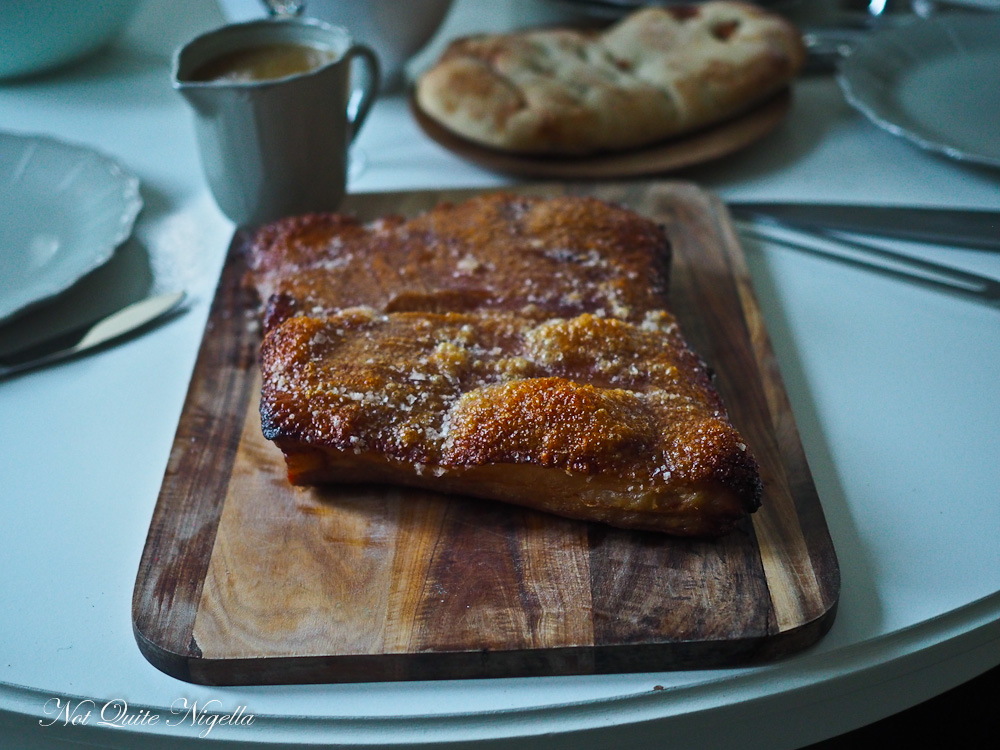 Restaurant Style Pommes Puree
This is an adaption of Joel Robuchon's famous pommes puree. It's a real treat and given the ratio of butter to potato I feel better making this only occasionally. I only ended up making it with home made butter because I ran out of commercial butter but it really ends up a gorgeous, velvety restaurant style mash.
1 kilo/2.2lbs/ potatoes
300ml/10.6fl ozs. cream
Salt
Step 1 - Boil the potatoes in their skin until the skins split and they are tender. Cool until they are easier to handle.
Step 2 - Meanwhile make butter by using an electric mixer. Place the cream in a mixer fitted with a whisk attachment. Cover with a tea towel (because it will spit once the butter solidifies) and whisk on high for around 8 minutes or until the buttermilk separates and creates butter. Remove the butter using a spatula and reserve the buttermilk. They will both go in the potatoes.
Step 3 - Using a potato ricer pass the potatoes through the holes. Place the potatoes in a saucepan and heat on medium heat and stir with a spatula to get rid of any last traces of water and to heat the potatoes up. Heat the buttermilk and then add it in two or three lots then add the butter 1 tablespoon at a time until it is fully incorporated. Season with plenty of salt and serve.