Kakuni is one of the most delicious Japanese dishes made with simmered pork belly, slow cooked so you get the most delicious melt-in-the-mouth pork. Kakuni is flavoured with ginger and the result is a sticky, delicious and divine pork belly dish! And did you know that this Japanese restaurant favourite is one of the easiest dishes that you will ever make with just a few ingredients needed? This is a pushy recipe Dear Reader!
Kakuni means "square simmered" in Japanese which refers to the squares of pork that are simmered first in a stock and then a soy based sauce. It is a popular dish in Kyūshū and Nagasaki and is a cousin of the Chinese Dongpo or Dong Po Rou red braised pork dish. Kakuni came about as there was a Sino-Japanese trading route between Hangzhou and Kyūshū which is why this dish became popular in the region. In some restaurants it is served cold although I love it served warm with rice.
Buta (pork) Kakuni is one of my very favourite pork belly dishes. I cannot understate how delicious this pork belly dish is. The pork has such a glorious, melting texture and the simple ginger soy sauce that it is cooked in is just bursting with flavour. I can easily imagine doing this with other meats or other cuts of pork if belly isn't your sort of thing. Some people say that the fat is rendered out due to slow cooking but it isn't really, this is a gloriously unctuous and fatty dish and you can eat as much or little of the fat on top that you want. What the slow cooking does is made it incredibly soft and melting.
I've included recipes for a slow cooker, pressure cooker/instant pot or a stovetop and all work well, it's more a matter of how much time you want to spend on cooking dinner. The pressure cooker is always my favourite because I have no time to spare especially as I have to shoot all pictures before it turns dark in winter but by all means use the slow cooker or stovetop if you prefer that.
Tips for making the BEST Kakuni!
1 - Don't cut the pork cubes too small as they will shrink in size.
2 - Take the time to brown the pork all over. It will look a bit more visually appealing once cooked.
3 - Dashi (fish broth) is the traditional base for simmering the pork for kakuni but you can also use chicken stock if you find dashi difficult to source.
4 - Save the dashi or stock in the first cooking process. it makes a wonderful base for soups (and kakuni is fantastic served with ramen or udon).
5 - You can also grill the kakuni cubes just before serving them
6 - I used extra Japanese pickled ginger (gari) in the second simmering to bring out the ginger flavour.
What is mirin? Mirin is a rice wine similar to saké but with a low alcohol and higher sugar content. You can find it at Japanese grocery stores or even at the supermarket in the Japanese section.
Cooking saké: You don't need to use your best saké for this (save that for drinking!). Cooking saké works perfectly well and you can find it along with mirin at the supermarket or Asian grocery store.
Mr NQN isn't a big pork lover (unlike me, it's my favourite meat) but he loves this kakuni because of that gorgeous ginger flavour. I used both fresh ginger and Japanese pickled ginger or gari which I absolutely love. I always ask for extra packets of it when I eat my sushi, it's a great palate cleanser between bites of sushi and I always have a big jar of it in the fridge that goes surprisingly quickly.
I made this on Monday this week in preparation for this week of cold weather in Sydney ahead. I scour the weather every day looking for days of sunshine in which I'll run my essential errands (although I still haven't been to the post office). I was telling Mr NQN that we now have new vernacular with COVID. For example there's "Vaccine Hesitancy" which I now use on anything I'm not sure about. I told Monica that I wasn't sure about a new donut business by telling her I had "Donut Hesitancy". Then there's the term LGA or Local Government Area (previously Sydney to me was just North, South, East, West, Inner West and Northern Beaches). I now sleep 10 hours a night and my mood is dictated by the weather. The rainy, cold and windy days have to be bolstered with warming foods like this incredibly textured pork belly and I must say that they do a wonderful job of buoying the mood even when life seems like it will never be the same again.
So tell me Dear Reader, do you like kakuni? Have you learned any new vernacular? Was LGA a new term to you too? Do you plan your food according to the weather? Does food put you in a good mood?
Did you make this recipe?
Share your creations by tagging @notquitenigella on Instagram with the hashtag #notquitenigella
Kakuni Pork Belly With Pickled Ginger
An Original Recipe by Lorraine Elliott
Preparation time: minutes
Cooking time: 1 hour 30 minutes
Serves: 4-6 people
1-2 tablespoons oil for frying

1kg/2.2lbs pork belly

2 inches fresh ginger, sliced
2 sticks green onion, sliced in 2 inch pieces
4.5 cups/1.125mls/38flozs. dashi or chicken stock
1/2 cup/125ml/4flozs. mirin
1/2 cup/125ml/4flozs. cooking sake
1/3 cup/85ml/3flozs. soy sauce
2 tablespoons sugar
1 tablespoon pickled ginger
1 stick green onion, sliced in 2 inch pieces
Step 1 - Cut the pork belly into cubes around 4x4cms/1.6x1.6inches (they will shrink a little). Heat a frypan on medium high heat and brown the pork belly cubes skin side down first and then brown on all sides adding oil if necessary. Do this in two lots in a single layer and make sure to take the time to brown all the sides.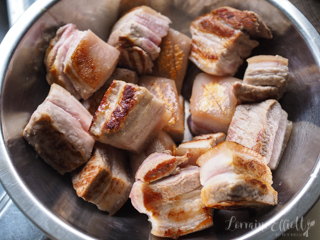 Step 2a - Pressure cooker: Place the browned pork belly cubes in a pressure cooker and add the ginger, green onions and dashi or stock. Set to high pressure and cook for 50 minutes. Release pressure and then strain the pork belly from the liquid (keep this for a soup base, it's full of flavour).
Step 2b - Slow Cooker: Place the browned pork belly cubes in a slow cooker and add the ginger, green onions and dashi or stock. Set to low heat and cook for 8 hours. Strain the pork belly from the liquid (keep this for a soup base, it's full of flavour).
Step 2c - Stovetop: Place the browned pork belly cubes in large pot and add the ginger, green onions and dashi or stock. Bring to a boil and cook gently for 3 hours until pork is very soft. Strain the pork belly from the liquid (keep this for a soup base, it's full of flavour).
Step 3 - Place the mirin, sake, soy sauce, sugar and pickled ginger in a pot or saucepan and bring to a boil. Add the pork belly cubes and simmer for 15 minutes over medium heat. At this stage I also start steaming rice so that it's ready to eat with the pork. Garnish with the green onion batons.