Want to make a rich, creamy massaman beef curry from scratch that smells as good cooking as it tastes? In this massaman beef recipe, the beef melts in the mouth and the creamy peanut sauce is perfect for an accompanying bowl of coconut rice. You let the beef slowly simmer for two hours gently melding in with the flavours of the home made curry paste. The only warning? You'll want to eat it straight away!
This curry is for those people that love Thai food but like a relatively mild curry. I decided to make this for when Queen Viv and Miss America were coming over because Queen Viv can't take much chilli. All it needs is some gentle coaxing over time. Use a chuck steak cut into bite size pieces and after two hours you can serve it or you can make it ahead of time and place it in the fridge for the flavours to develop overnight or over a few nights. The recipe below also include making the curry paste from the very beginning.
Coconut Rice
The massaman curry is then flavoured with roasted peanuts and coconut and garnished with coriander. I served this at a dinner with Miss America and Queen Viv along with coconut rice and it was deliciously rich, aromatic and quite mild. I served some chillies on the side for chilli lovers like me, Mr NQN and Miss America.
Speaking of Miss America, it's his birthday today and we are going out for dinner with him and his friends tonight. I asked him what he wanted and he said, "1 million dollars. Failing that I'd actually like a plant. Anything that will survive outdoors, is not too big and is not high maintenance."
Has he come to the right people for that! We have a similar talent for neglecting and not understanding plant needs. I was talking to Mr NQN who suggested that we give him one of our aloe vera plants. That's pretty much the only thing we haven't killed and it seems to have started growing in other pots alongside it. In fact our balcony looks a little like an aloe vera plant sanctuary! At first I dismissed the idea thinking that it was a bit cheap giving someone one of your plants but I'm starting to think that aloe vera might not be a bad idea-it's practical and it has proven that it can survive neglect (we've certainly tested that).
So tell me Dear Reader, do you like massaman curry? Do you ever make a curry paste from scratch or do you tend to buy it? And would you give the aloe vera plant? Or do you have any plant suggestions?
Did you make this recipe?
Share your creations by tagging @notquitenigella on Instagram with the hashtag #notquitenigella
Massaman Beef and Coconut Rice
An Original Recipe by Lorraine Elliott
Preparation time: 30 minutes
Cooking time: 2 hours
For the curry paste:
6-12 dried red chillies, soaked for 30 minutes in hot water (I used 6 as Queen Viv can't take chilli, use more if you like it spicy)
1 teaspoon ground coriander
1 teaspoon ground cumin
1/4 teaspoon ground cinnamon
1 teaspoon salt
1/2 teaspoon white pepper
1/2 teaspoon cardamom seeds
2 cloves
1cm cube shrimp paste
6cms fresh ginger, peeled and finely diced
4 coriander roots, washed well and finely diced
1 stick lemongrass, peeled and finely diced
2 golden shallots, peeled and finely diced
3 garlic cloves, peeled and finely diced
For the curry
Oil for frying
4 tablespoons of the massaman curry paste above
3 golden shallots, peeled and quartered
1kg/2.2lbs. chuck beef, cut into pieces
400ml/14.13ozs. coconut milk (reserve the thick part on top and put aside)
1 cup water
1 cup roasted peanuts, roughly chopped
850g/30ozs. potatoes, peeled and halved
Fish sauce (I used about 1/4 cup)
Palm sugar to taste (I used about 5 tablespoons)
1 tablespoons tamarind puree
Step 1 - In a small saucepan without adding any oil, roast the drained chillies, coriander, cumin, cinnamon, salt, pepper, cardamom seeds, cloves and shrimp paste for a few minutes until it becomes fragrant. Add this and the diced ginger, coriander roots, lemongrass, shallots and garlic to a mortar and pestle and bash away until it becomes like a paste. It will smell like a massaman curry already by that stage. This makes 8 tablespoons of the massaman curry paste (roughly) which is double what you will need but you may be like me and want to make it immediately again.
Step 2 - Add a tablespoon of oil to a pot and place on medium high heat. Fry the massaman curry paste until it releases a fragrance and and add the shallots and more oil and cook until starting to soften. Add the beef in two batches and brown well. Then add the coconut milk (not the thick part) and water and place the lid on and gently simmer for 2 hours. After one hour add the potatoes and peanuts and taste for seasoning. At this point I usually add fish sauce, palm sugar and tamarind puree to taste. At first it will look very pale but it will darken with cooking. Place on a serving dish and drizzle the thick part of the coconut milk on top. You can also use some of the coriander leaves. I served it with fresh chilli too.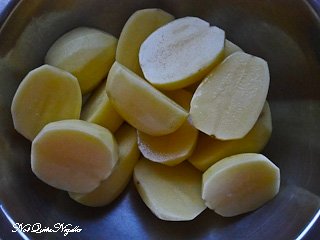 Coconut Rice
1.5 cups rice
Water according to packet (the amount depends on the type of rice you use)
1 cup coconut milk
1 teaspoon salt
Step 1 - Wash the rice very well until the water runs clear. Replace 1 cup of the water with the coconut milk and add salt. Cook according to packet directions.