A neighbourhood Italian place just near Taylor Square in Darlinghurst, Casoni serves us Italian classics and a monthly pasta dish along with friendly service and negronis on tap.
A couple of months Nina excitedly described a meal she had eaten to me. "I had pasta with pumpkin and browned butter and pistachios and it was so good!" she said her eyes gleaming. This was odd because whenever Nina tells me about a meal she is eating some poor vegetarian cousin offering and hates it because she is a vegetarian that hates goats cheese and doesn't eat gluten.
I was wondering if we had had a breakthrough with Nina and her eating. "Nina, this is the food that everyone else eats! You finally ate pasta at a restaurant!" I said excitedly.
It was the October long weekend and we were in need of a restaurant that was open. Casoni was and took bookings so after an escape room (yes we are addicted to them and now so are Nina and Garth) we had dinner here. It's quite full this evening (the pics above were taken once everyone had left) and service is very friendly and we are shown to a high share table. Garth and Mr NQN both loathe choosing food so I happily order for the three of us. Garth says that his job every day involves making lots of decisions so when it comes to food he doesn't want to make another. Nina orders her own entree and main.
We start with cocktails because it's Sunday night and a long weekend and because why not? We order the East 8 Hold up, a Shinkkosu Slipper, Aperol Spritz and a Toreador. I always love a good Aperol Spritz and the other favourite is the Skinkosu Slipper, Garth's choice with Tanqueray gin, yuzu, almond and orange blossom bitters.
There are three meats on the salumi board: andouille sausage, capocollo and wagyu brisket and they're all fantastic, especially the andouille sausage. They're paired with house pickles and a generous side of focaccia bread. We ask for a little olive oil to dip the bread and it soaks it up and comes to life.
One of my favourite things is the baby cos filled with oyster emulsion and blanketed with finely shaved parmesan cheese. Although almost impossible to eat (fork and knife? Hand?) it is worth coating your fingers and lips with the finely shaved cheese. It's a perfectly balanced starter that is crunchy and full of flavour.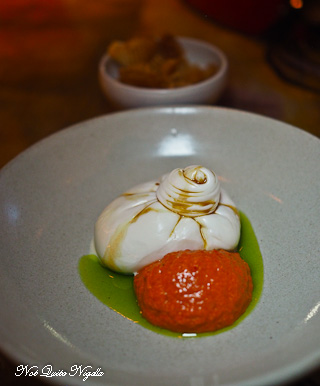 I tried a bit of Nina's burrata and it's not what I was expecting visually with the tomato and basil and saba (or vincotto) but it's still good. The burrata is oozy with cream and Nina, a lover of the man bun on a man points out that she loves the man bun on top of the burrata. The side of a smokey tomato spread with a hint of peppers.
The beef carpaccio is paper thin sliced rounds of beef with dabs of anchovy mayonnaise and shavings of pecorino. It's a good, solid version of the dish.
The mains arrive together and we start with something that we ordered two serves of, the pumpkin ravioli with pistachio, burnt butter and sage. There's a good amount of ravioli and they're filled with soft pumpkin and smothered with a burnt butter sauce and topped with shavings of crispy sweet potato.
I was tossing up between the salmon and the tri tip beef but we go with the salmon, a mild tasting crispy skinned fillet atop a bed of soft white beans. I use a bit of the ravioli's browned butter sauce on the salmon which I like.
The monthly pasta is a thick squid ink pappardelle with sweet peas and calamari. The pappardelle is a little on the thick side but I like the tender calamari and sweet peas with it.
The limoncello tiramisu is tart and strong in limoncello. It is layers of sponge finger biscuits soaked in limoncello and layered with mascarpone. I think most of us preferred the cannoli as the limoncello can be quite bitter and strong.
The cannoli are crisp shells filled with chocolate custard at one end and vanilla ricotta cream in the other end. They're perfect to share for four and come with amarena cherries on the side. Even Nina takes a bite of one!
So tell me Dear Reader, do you love or loathe choosing food? And are you yay or nay on the man bun?
This meal was independently paid for.
Casoni
371-373 Bourke St, Darlinghurst NSW 2010
www.casoni.com.au
Tuesday to Thursday 5–11pm
Friday & Saturday 5pm–12am
Sunday 5–10pm
Monday Closed