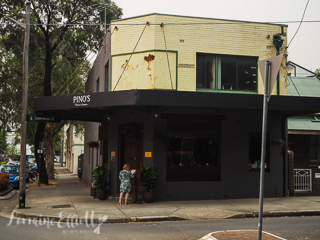 I had meant to go to Pino's Vino e Cucina for a while. Over a year in fact. And in that time friends and people that I met had raved about the food in this hidden gem in the middle of a residential area in Alexandria.
You push open a large, ornate wooden door and inside is unexpected with dark woods, candle lights flickering, leather banquettes and even at 6pm on a Saturday night, a crowd already out at play. It's like you stumbled upon a secret bunker where everyone was having fun.
You're best to book ahead although even when I booked that afternoon there was availability and you can specify whether you want to sit at the bar or a standard table. As it's the second day of the new summer menu all the recommendations I was given no longer apply.
The cocktail list sounds dreamy but I have had a few days of cocktails and not a lot of sleep so with great reluctance and heaving sighs I forego my Saturday night cocktail.
"Would you like bread and olives?" asks our doe eyed waiter and I nod automatically. Bread and olives are extra and at $15 not inexpensive. There are three types of bread: a spongy focaccia, a rye sourdough and some sun dried tomato crackers. The focaccia is delicious dipped in the extra virgin olive oil. The marinated olives are a mix of sizes and colours.
Our two entrees come out and the veal tartare is both of our favourite. It's finely chopped veal on squares of focaccia toast with dabs of crème fraiche and shaved bottarga. The seasoning is well balanced and it's fresh and just the right amount of creamy.
The octopus comes as four tentacles with a cannellini bean puree and nduja oil. I think I was hoping for more nduja which is one of my favourite things to eat so just having this as more a seasoning feels like there's a bit missing. The octopus is quite tender and the bean puree very silky smooth. I'm glad Mr NQN didn't eat all his focaccia so I had some to mop up the sauce with.
The mains menu has some classic crowd pleasers like crab spaghetti and two types of steak. We skipped meat in favour of pasta as we have eaten a lot of meat recently while overseas. Mr NQN is rather smitten with the hay ash infused malloreddus pasta with diced zucchini flower stalks, zucchini flower petals and the softest, creamiest ricotta. The sauce is just right with the main note of extra virgin olive oil and the pasta texture is totally en pointe. It's the sort of pasta that you don't want to stop eating.
We order the bonito infused bucatini with lots of plump black mussels, seaweed powder and creamy pecorino sauce. The flavours are strong in seafood but still delicate and it's hard to choose which pasta we like better.
I couldn't go past the potatoes cooked in wagyu fat. They're said to come with truffle and rosemary but it's mostly rosemary that I taste although they are nice and lightly crunchy.
It was a toss up between the tiramisu or the gianduja parfait sandwich. Tiramisu won in the end. This is a really lovely and light number with toffee chunks on top that add a sweet crunch and anchor what is an ethereally light tiramisu to the plate.
So tell me Dear Reader, do you automatically say yes to bread and olives? And do you prefer bar seating or a standard table?
This meal was independently paid for.
Pino's Vino e Cucina
199 Lawrence St, Alexandria NSW 2015
Sunday 12–10pm
Monday closed
Tuesday to Friday 5–11:30pm
Saturday 12–3pm, 5–11:30pm
pinosvinoecucina.com.au
Phone: (02) 9550 2789