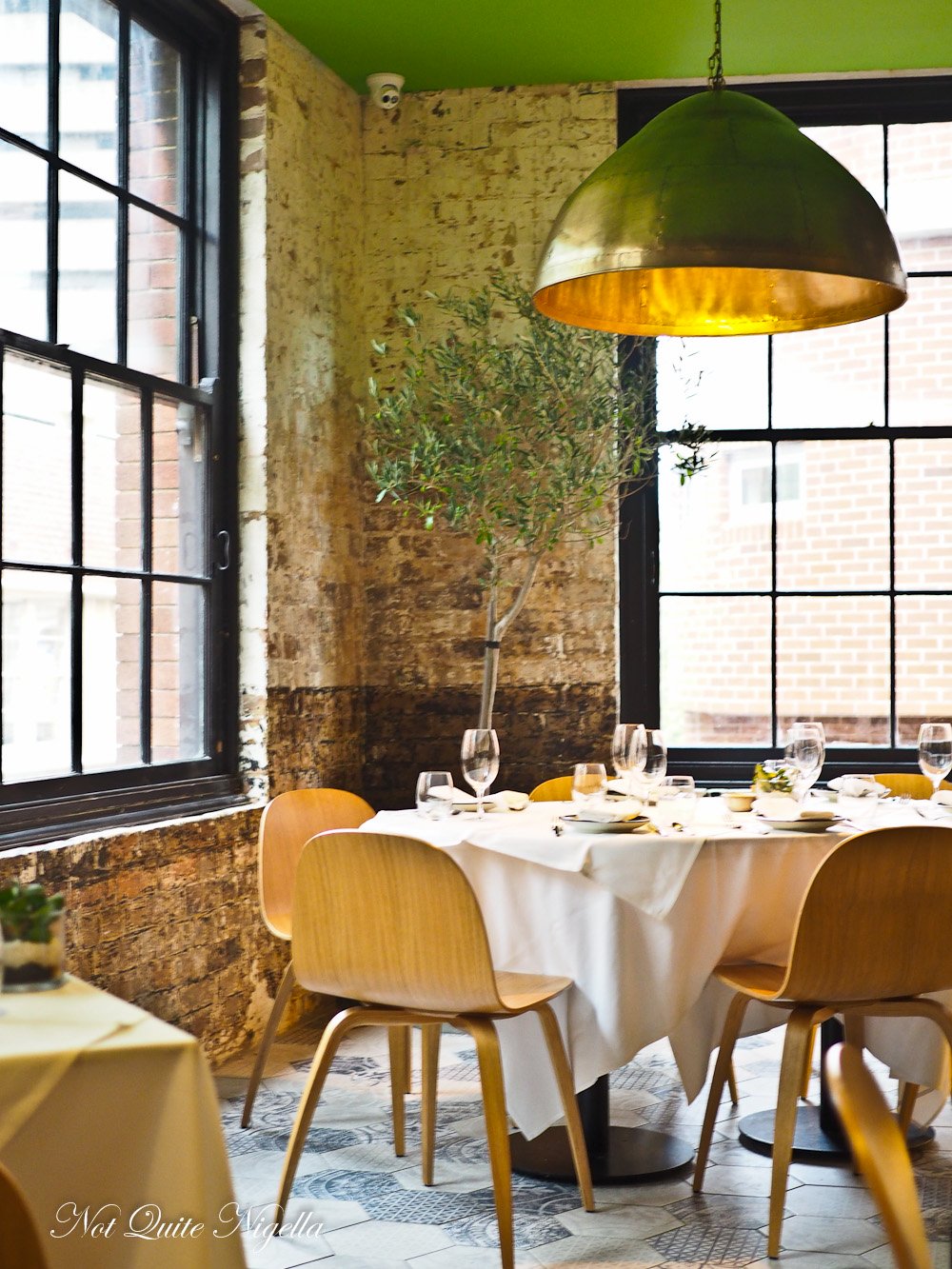 One of the newest restaurants to open on Kensington Street in Chippendale is Olio. The Italian word for olive oil, it specialises in Sicilian food with chef Lino Sauro. It is also perfectly placed for an anniversary dinner or a gathering with friends.
It was for all intents and purposes a romantic night as it was our wedding anniversary. Except that I was drowning in the flu. "I'll make it!" I said when Mr NQN suggested cancelling dinner. The weather was warm for autumn, although windy and with sudden torrents of rain that send us scurrying for shelter. We had a booking for Olio in Kensington Street, a Sicilian restaurant. Sicily is a dream of mine to visit and if I can't get there, at least I can eat it.
We arrive at The Old Rum Store where there's a woman at a lectern. "Do you have a booking?" she asks. Olio is on the second floor. There are four staff members gathered around the desk as we arrive and we tell them about our booking. As we are eating early the restaurant only has a few tables seated so far. The interior has much exposed brick and large loft style windows.
Sicilian born chef Lino Sauro is there at the pass on the customer side greeting people and inspecting dishes. Service is young, friendly and Italian. We ask for recommendations and they give us their favourites and as we are both not feeling well stick to water. There is a list of cocktails but only classic cocktails, not signature ones.
The first few bites arrive at the same time. There's a basket of bread with rye, crispy thin Pane Carasau (a flatbread from Sardinia) and some focaccia and this comes with a bottle of extra virgin olive oil from the chef's family farm in Sicily. I particularly like the pane carasau. They leave the bottle of olive oil at the table saying we can help ourselves to as much as we want of it.
Alongside this is the amuse bouche, with zucchini puree, monkfish mousse and seaweed powder that has a lovely creamy mouthfeel and a punch of fish flavour at the end.
Caponata Tiepida Con Ricotta Fresca Warm Sicilian Caponata with Fresh Buffalo Ricotta Cheese $18
And our starter arrives with the amuse bouche and bread: it's a warm Sicilian caponata topped with dollops of fresh buffalo ricotta cheese and tomato powder. Sometimes caponata is too sweet or too vinegary but this is neither striking a fine balance between velvety smoothness of the eggplant and creaminess from the ricotta.
Ravioli with King Prawns, Black Truffle and Burrata Sauce $28
We ordered a bit more than we normally would but hey it's our anniversary right and I'm never quite sure how Italians manage to fit a pasta and a main in as well as a starter! The ravioli is stuffed with king prawns, and has black truffle and burrata sauce. The king prawn flavour is very present, it tastes like it's just king prawns and not filler in the ravioli although there is no truffle aroma really at all. The burrata sauce coats it and there's also a sprinkling of tomato and seaweed powders.
Strozzapreti Homemade Squid Ink Pasta with Spanner Crab, N'Duja Black Pepper Sauce $34
The strozzapreti is a longer form of cavatelli and is made with squid ink and served with snapper crab and a wonderful spicy N'Duja black pepper sauce. It gives it a resounding chilli hit-not overwhelming but this is a dish for those that like dishes with a lingering chilli spice.
Dentice Signature 900g Salt Baked Wild Snapper with "Salmoriglio" and Evoo Mayonnaise $88 (2pax)
There are two main dishes that are made for sharing: the wild snapper and the beef ribs and they bring out a table to serve the snapper which is baked in a salt crust and stuffed with lemons. Our waitress removes the cheek first - "The best part" she says, and then fillets the fish in front of us giving one half to each of us.
It comes with a salmoriglio sauce and a extra virgin olive oil mayonnaise as well as a bowl of roasted rosemary potatoes and a side salad. The fish is moist and goes well with the garlicky salmoriglio sauce but the mayonnaise needs some seasoning. The potatoes and salad are a good accompaniment, the potatoes sticky and slightly crispy while the salad is dressed with an appealing sweet dressing.
Millefoglie 'Amedei' Chocolate and Caramel Mille-feuille with Vanilla Oil and Smoked Sea Salt $15
It's time for dessert and by 8pm the restaurant is fairly full. The mille feuille pastry is Amedei chocolate and caramel pastry (not quite as buttery as others I've had) with blueberry meringue dabs, smoked vanilla ice cream and smoked vanilla powder. It also has an ingredient that isn't mentioned and that's a mandarin gel that is really strong. I'm not a huge fan of chocolate and orange together so I wish I had known this or I wouldn't have ordered it.
Sicilian Summer Watermelon, Wild Strawberries, Hibiscus, Beetroot, Raspberries $18
I much prefer the Sicilian summer dessert, a study in pink and red shades. With cubes of watermelon, beetroot sponge, cherry ice cream and raspberry powder it's pink, pretty and well balanced with just the right of sweetness and tangy fruit.
And then there's one last bite from the kitchen: a tiny brown sugar cake with raspberry powder and lemon. Just the thing to send us on our way that evening along with a glass of sparkling Moscato.
So tell me Dear Reader, do you often order the dishes for two or do you prefer to hedge your bets and order two different dishes? And do you always watch to see if the chef is in the house or do you ask if they are?
This meal was independently paid for.
Olio
2-10 Kensington St, Chippendale NSW 2008
Phone: (02) 9281 1500
www.olio.kensingtonstreet.com.au/
Monday & Tuesday 6–11pm Thursday to Saturday 12:30–2:30pm, 6–11pm
Sunday Closed