Nour means "light" in Arabic and regulars to Crown Street in Surry Hills may do a double take when they arrive there. Formerly the site of Tokonoma which was all moody darks, Nour has tranformed the place into shades of light and shadow. And the food? It's Lebanese unlike what you've ever had before...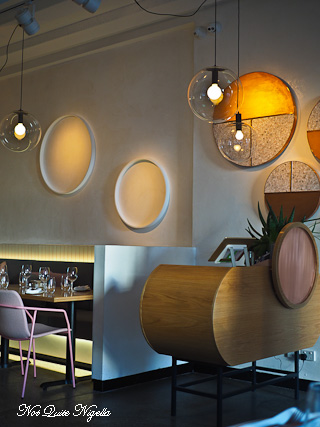 Nour is the baby of Cuckoo Callay's Ibby Moubadder and Eleanor Harris. While Cuckoo Callay is a modern Australian cafe, Nour pays homage to Ibby's Lebanese roots. He arrived in Australia in 2007 from Beirut and always wanted to open a restaurant that was different to other Lebanese offerings. Ibby says, "As a Lebanese person coming from Lebanon where food is a big part of family and spending time with your loved ones it came as quite a culture shock that the Lebanese food offerings in Sydney were so prescriptive. There hasn't been anywhere to go on a Saturday night for great Lebanese food in a beautiful setting. We wanted to break the boundaries and show that Lebanese food isn't all skewers and tabouli,"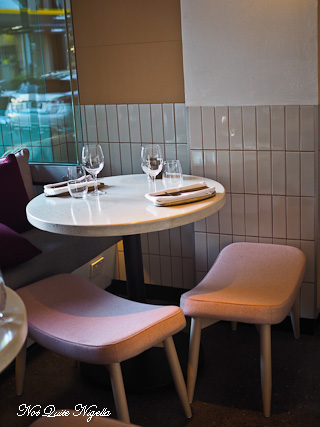 To achieve this he has two chefs: Palestinian head chef Nader Shayeb (ex Moro Restaurant in London) and Israeli senior sous chef Ran Kimelfeld (ex Raphael Restaurant in Tel Aviv) with ex Aria chef Roy Ner as the executive chef. And what is it like switching from running a cafe to a restaurant? Eleanor says, "It is a whole different ball game! It is certainly a lot more challenging and all-consuming and he level of dining in Sydney has sky rocketed recently. We provide a lot more dedicated training to our staff including in depth wine training that we conduct with Master of Wine Ned Goodwin. He wrote our wine menu to also reflect flavours and essences of the South Mediterranean and Middle East. "
We have an early booking this Saturday night and are supposed in to sit in the main restaurant area, a spacious area that seats 120 but my eye is drawn to the front bar section. Interior design firm DS17 who also did the fitout for The Resident and Alpha gave the space a light, airy feel with plenty of pale pinks, salmon and purples.
We take a seat in the front bar with Mr NQN facing the steady stream of passersby. Indeed Mr NQN, a shy hermitty sort has two friends walk by and say hello as well as a few colleagues.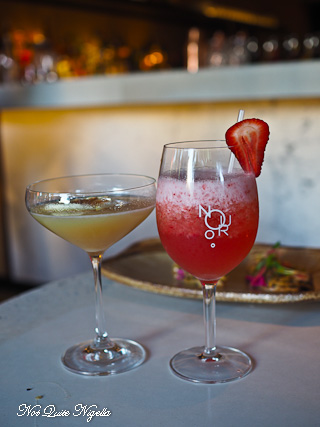 Zinegber $18 and Frose $18
We start with some cocktails from their signature cocktail list. These were created by The Owl House's Amir Halpert. We try the Zingeber with Pampero Anejo, Grand Marnier, lemon, pear and ginger (my favourite) as well as the pretty pink Frose with Kir Yianni(a Greek wine) , 'Akakies' rose, rosewater, strawberries and lime.
Spiced kingfish bastirma $24
The food comes out quickly as it's early but still fills up quickly. We had some trouble choosing because we liked the sound of many things. The first item to arrive is one of the small plates. It's a spiced kingfish bastirma cured in sugar and served as slices with strands of celeriac, garlic chips and chilli. It's fresh but given richness from olive oil and spices and I like that this has a different flavour profile from many kingfish sashimi or crudo dishes.
Old city mix $15
Eleanor explains that "Old City Mix (or Jerusalem mix) is chicken hearts, liver and spleen mixed with bits of lamb and cooked on a flat grill, then seasoned with onion, garlic, black pepper, cumin, tumeric and coriander." It is a dish that Roy Ner grew up eating in Israel. The old city mix is served on pan fried soft yogurt flat bread and with slices of target radish. I love the full flavour of this dish, given more depth with the offal pieces.
Baby prawn falafel $18
The baby prawn felafels come three to a serve and are chickpea balls wrapped around a prawn. The prawns aren't as tiny as the name would suggest, they're definitely bigger and they come with smoked black tahini and coriander. The prawn itself isn't strong against the crunchy felafel.
Charcoal eggplant $21
There's a little pause before our mains and sides arrive together. And I never expected to go crazy over the eggplant but I did. This is a large charcoal eggplant with a wonderful smokiness to it. It is served with pickled green tomato, salad, herbs, lupini beans and tarator. The lupini beans that resemble large corn kernels give the soft, melty eggplant texture and the whole dish has a lovely creaminess and smokiness. I also loved the portion of soft, thick, fresh bread that it came with, served warm (although I did notice the table next to us had slightly different bread). This is comfort food.
Snapper $38
I was tossing up between this and the beef short rib but this was recommended to us. It's a fillet of snapper with squid ink sauce sitting on a bed of cuttlefish brown rice with a caramelised leek, nuts, a saffron cracker and plenty of dill. This is an all in one dish that is wholesome and delicious. Interestingly for a couple they recommend getting a few small dishes to share and one main per couple as they're quite sizeable.
Twice cooked potato $11
I did ask if the twice cooked potatoes with smoked garlic, coriander and chilli potatoes were crispy but they weren't alas despite being told they were. They are good though and I couldn't help but ask for a small tasting pot of the toum bearnaise sauce that comes with the beef short rib (because I love both items and wanted to try them together). Can I just say that dipping these potatoes in this nigella seed flecked sauce is heaven?
Baklava our way $15
Lebanese sweets tend to be very sweet and they tell us that they have toned down the sweetness in their desserts. Their baklava isn't drenched in syrup. Instead it's three triangles of crisp, browned pastry, a cinnamon and sesame seed fresh marshmallow, cashew ice cream and goat's milk mousse. The ice cream has a blanket of honey on top and when you get some pastry, marshmallow and ice cream it's perfect together. The only improvement? You need 1 or 2 more triangles of pastry.
Middle eastern bombe alaska $16
Eleanor tells us that the bombe alaksa is based on the Lebanese fruit cocktail. It's usually a variety of at least seven fruits with ashta cream, avocado shake and cherry. Here they've made it into a bombe alaska version with a base of wonderfully crunchy kataifi pastry as the base, orange blossom, cherry sorbet, avocado ice cream and the ashta is replaced with torched marshmallow. The dessert has a wonderful crunch from the pastry and a harmonious and unusual blend of flavours. Much like the whole meal really. The bill, well it isn't cheap and cheerful Lebanese but we had cocktails and more than enough food to eat.
So tell me Dear Reader, do you sometimes sit at the bar instead of at the restaurant? Do you like sitting in the front and seeing the world go past or do you prefer a more private corner? Which dish appealed to you the most?
This meal was independently paid for.
Nour
490 Crown Street, Surry Hills, NSW Ph: 02 9331 3413 Lunch: Thursday – Saturday: Midday to 3pm Dinner: Monday – Wednesday: 5pm to 10pm Thursday – Saturday: 5pm – 12am www.noursydney.com