Soul Dining is a Modern Korean restaurant on Devonshire Street in Surry Hills. Inside the charcoal concrete walled restaurant is a menu made up of items like Kingfish in Kimchi water, Spicy Pork Jaffles, Ashed Chicken and Blood Sausage Croquettes with influences from China and Germany as well as Korea.
"I'm running 10 minutes late," messages Girl Next Door as I walk into the Soul Dining on Devonshire in Surry Hills. She has woken up with the flu and tells me that she completely forgot we were catching up today (!!). It was only when I messaged her that I'd see her soon that she threw on some clothes and got in an Uber and made her way there. That 10 minutes gives me time to look through the menu.
Soul Dining is a modern Korean restaurant owned by couple Illa Kim and Daero Lee. Inside the walls are painted charcoal and I'm sitting at the curved end of a blue velvet banquette. There is one single outdoor table for anyone that wants privacy or to bring a dog. It sits on the construction zone that is currently Devonshire Street.
Service is super friendly and accommodating by the restaurant manager Hyunchul Kim. I've already taken a look at the menu online and decided on some things that I really want to try but are then persuaded by Kim to give the tasting menu a go for $65 a person as it features most of the things that I want (plus the prawns that I'll order separately).
Illa says, "Kim (restaurant manager) and us, we used to be flatmates and we always wanted to open a restaurant together. We used to dream about what kind of a restaurant when we had our weekly dinners at home with too many glasses of wine. We didn't plan on doing a Korean restaurant, we just wanted to do something that represents what we are and what's in our memories. Naturally a lot of the dishes have Korean influences but sometimes also German as I grew up in Germany. We basically do whatever we feel like and what we think we understand well. What is most important, we always try to have our own interpretation of a dish."
Girl Next Door arrives and orders a pot of lemongrass and ginger tea to soothe her throat while we nibble on the first bites of bread. The rice bread is toasted on one side and has a spongey, chewy texture and is fermented with a milky, sparkling rice wine called makgeolli that acts much like a sourdough starter. I love makgeolli and the flavour really comes through and the texture is soft, light but also bouncy. "I could eat a dozen of those," says Girl Next Door, her appetite returning quickly. Indeed, so could I.
Kingfish in Kimchi Water
The first dish from the menu to arrive is the kingfish in kimchi water. The kimchi water is designed to neutralise the aroma of kingfish and is made using their own white kimchi or Doenjang fermented soybean paste. In comparison to Japanese miso doenjang is stronger and more aromatic. The kingfish is served with dabs of avocado puree and, radishes, jalapeno and flying fish roe.
Wagyu Tartare
Kim sets this down and explains that tartare isn't just for the French and that Koreans have been doing tartare for many years too. In Korea it is called "Yukhoe". Korean yukhoe is made with hand chopped beef, singo pear, egg yolk, chilli, watermelon radish fish sauce and plenty of sesame oil. To the side is a seaweed cracker brushed with sticky rice paste that is then flash fried that gives the beef a seafoody quality to it. It's good although I do find singo pear does tend to water down tartare a little bit and I prefer more concentrated flavours.
Kim's Eggplant
The eggplant is served in four pieces and is melting and soft underneath a blanket of tomato jam, anchovy paste and reggiano cheese. It's surprisingly sweet and I go back for seconds of this as it has the comforting qualities of both well cooked eggplant and plenty of cheese.
Curly Corn on The Cob
I have never seen corn served or cooked like this before. The corn is boiled, fried and then grilled and served as a quarter of a cob cut lengthways. This makes is very easy to eat and it's delicious. It is brushed with garlic butter and then comes with a generous sprinkling of pistachios and a pot of creme fraiche. The pistachios are an interesting choice, they suit it although you do have to spread the creme fraiche on the corn to make them stick.
Pickled Stuffed Fried Chilli
These pickled chillies have quite a history. A 4 week history to be exact. That's the amount of time it takes to pickle these chillies in a soy brine. They are then stuffed with cream cheese and served with kim chi with an extra pot of ranch dressing because why not and ranch dressing is the best. This gives the lightly spicy chillies an additional creaminess and light tanginess too.
Char Grilled Octopus
Octopus is all over menus in Sydney and has varying degrees of success. This is one of the great ones. The octopus is tender and smoky and served with a silky smooth squid ink mash, gochujang chilli sauce and a house made aioli with dill sprigs.
Rice cakes with truffle cream
Our next dish is a dish that the kitchen sent out because they just received their first truffle of the season from Tasmania. Normally the rice cakes are chilli glazed but here they are served in a cream sauce with chicken stock with freshly shaved truffles on top. If you like truffle gnocchi this is the dish for you. As they are early season truffles, the flavour is quite light but the aroma is there. The texture is like a slightly chewier gnocchi and we mop up the sauce with the bread.
King Prawn XO $20
OK so the tasting menu is comprehensive but I was curious to see what the King Prawn XO was like. Kim explains that the XO is more a soffritto than an XO made with tomato, garlic and chilli with plenty of capsicum. The prawn heads are cooked separately and are tossed in butter and then fried. It comes with a puffy, airy "not so flatbread" on the side which we puncture and use to wrap the prawn meat in and swish around the bowl of sticky rice cakes with truffle cream. But my favourite bit of the dish? Those crunchy prawn heads!
Barbecue Beef Short Rib
I saved my favourite savoury dish for last. The barbecue beef short rib is an ode to meaty deliciousness. The beef short rib is sous vide and then barbecued and finished with a galbi glaze (a sauce made with dark soy and singo pear that breaks down meat to make it tender).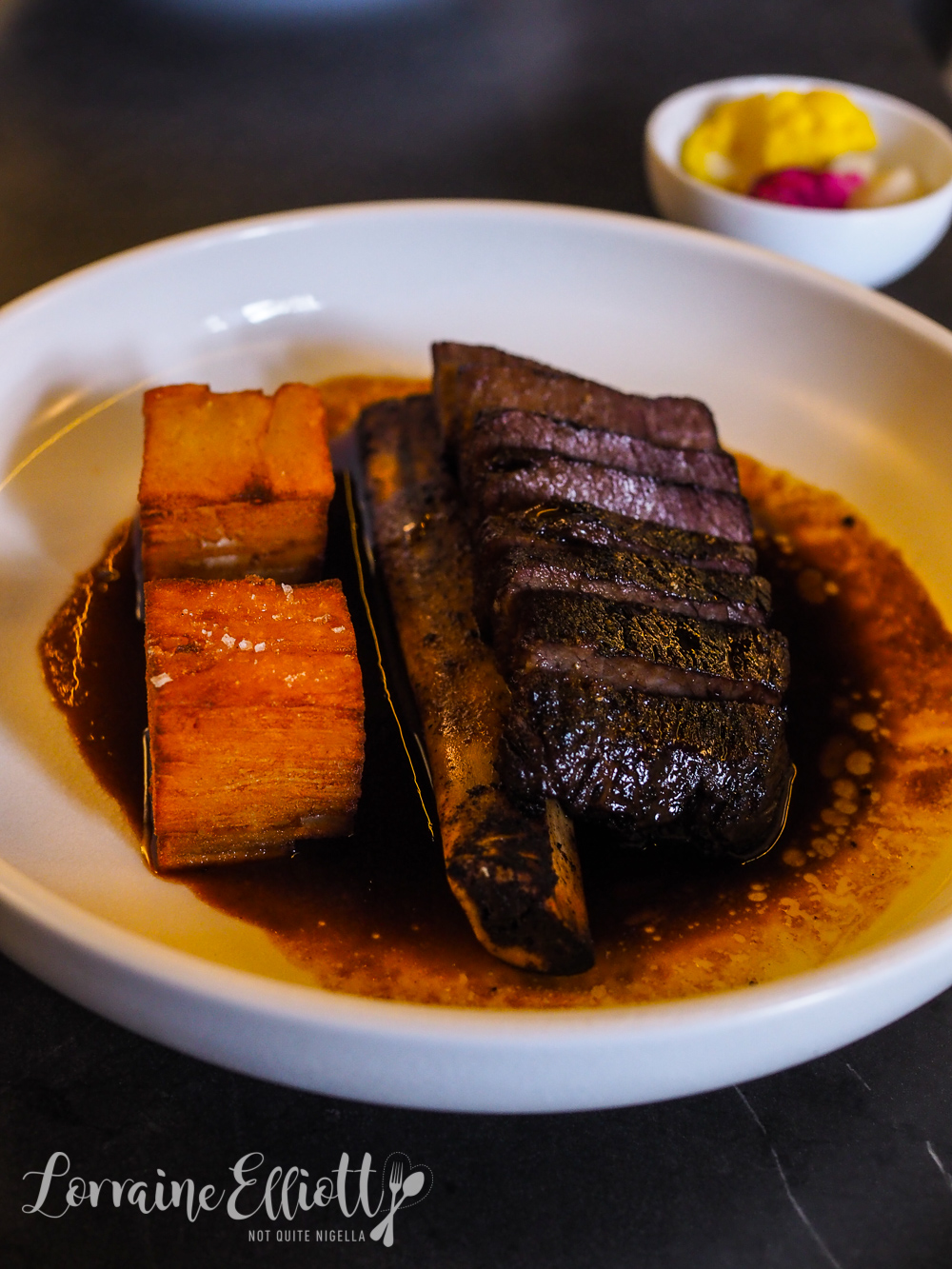 The beef takes 12 hours to cook and is luscious and simply melts in the mouth. The potato pave are crispy and a nice textural contrast. Considering how much we had eaten I must confess one thing: I ate four pieces of this and would have kept going except I was sharing.
Panna Cotta
It's dessert time and there are two on the tasting menu. The panna cotta is inspired by a Korean cereal called Jolly Pong. It's a wheat based cereal not dissimilar to honey puffs and the panna cotta itself is made of a milk soaked in the cereal. It's a lovely, mild dessert that has a nice panna cotta wobble to it.
Cinnamon donut apple thyme vanilla ice cream
But hands down my favourite dessert is the apple hottoek or cinnamon sugar donut topped with caramelised apple slices served with a thyme vanilla ice cream. First let's talk about this donut pancake. There is regular wheat and glutinous flour so it has a gorgeously chewy texture to it. The sweetness is juuust right, not overly sweet but sweet enough. Plus the thyme vanilla ice cream is creamy heaven. "Can I order 10 of these to take with me?" I ask, picturing a blissful afternoon inside by the heater watching tv and making my way through a pile of these...
So tell me Dear Reader, do you eat prawn heads? And do you ever completely forget when you are meeting someone?
This meal was independently paid for.
Soul Dining
204 Devonshire St, Surry Hills NSW 2010
Lunch: Thursday to Saturday 12pm-3pm
Dinner: Tuesday to Saturday 5pm-11pm
souldining.com/