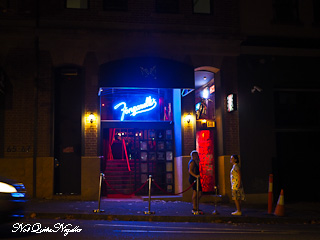 Fonzarelli's is a Fonzie/Happy Days themed bar on Foveaux Street in Surry Hills. There's a wall of retro memorabilia, a motorcycle, booths and booth decor and foot long hot dogs that might make Marion Cunningham blush. Downstairs is a bit more private with red curtained booths while upstairs is bathed in red light.
It's just before the Anzac Day long weekend when I was catching up with Alison, who I hadn't seen in a long time. "I feel under dressed," she says walking into the theme bar. It had also occurred to me whether I should get dressed up in rockabilly gear. But then again looking around we would have been the only ones (staff included).
There's a jukebox, a pinball machine and vinyl on the walls upstairs but the bartender suggests that we take a look downstairs because both spaces are a bit different. Downstairs has better light (no red lights) and plenty of booths. We pick one on the right with red curtains and framed playboy covers. It feels like fun already.
I don't know much about Fonzarelli's. I hadn't read much about it, we had literally driven past it 3 weeks ago and wondered what it was. But we're told that it is owned by Eddie Venneri who worked at Frankie's. It's bar service so I trot over to order drinks and food for the both of us.
My order is a MF Chachi with watermelon, kaffir lime, Tequila and apple juice. It is sweet and you could easily knock this sweet, refreshing number back without thinking that it had a bit of alcohol. Alison's is a Richie Valens, fresh as a garden party with Hendricks gin, fresh apple and cucumber juice, mint and lime.
Food items have names from the show or from the era. The Arancini balls are four fat balls crunchy on the outside. The inside risotto rice is flavoured with tomato with peas and strings of bocconcini. On top is a drizzle of pesto aioli. These have a good flavour to them, especially with the basil.
The menu has quite a few options so I just went with what they recommended. There's a serve of popcorn chicken, small bite sized buttermilk chicken pieces with a southern style coating served with a tangy coriander, lime and chilli mayonnaise. I sometimes find popcorn chicken a bit dry but these are tender and moist inside.
"The boys love this," the bartender said and I thought that was hilarious. Especially when they set it down it really...well I'd better stop now. It's a smoked pork frankfurter sausage in a warm, toasted bun with a spicy green tomato and jalapeno relish, char grilled red capsicum with American mustard. Alison's a big fan although I don't know if it's because of the selfie opportunities with such a sight.
I would normally gravitate towards ribs but they were emphatic that the pork belly was better. It's pretty damn good-with a sticky sweet sambuca caramel, fennel fronds and fefferoni peppers. They're sweet and meaty bites.
When I was ordering I kept thinking that we should have a salad. This is one of the two new salads on the menu which I think it really needs. This is made up of cubes of watermelon, creamed feta and balsamic reduction. It's good to have the fresh salad with all of the heavier offerings.
And neither of us manage to get the jukebox to start with just a hit like Fonzie did.
So tell me Dear Reader, do you like themed bars or restaurants? Did you ever watch Happy Days and did you have a favourite character? And are you a booth or regular table sort of person?
This meal was independently paid for.
Fonzarelli's
65/67 Foveaux St, Surry Hills NSW 2010
Phone: 0402 874 511
www.fonzarellis.com.au/