As Australia gets ready to come out of lockdown, having guests over will soon be a welcomed possibility. Here are 5 easy and delicious canapes to serve to guests. There is something for everyone including mini ricotta tarts, a range of healthy party food, pizza cones, an easy hot brie dip and deliciously simple shrimp jalapeno poppers! Let the entertaining begin!
DID YOU MAKE THIS RECIPE? Share your creations by tagging @notquitenigella on Instagram with the hashtag #notquitenigella
Rated 5.0 out of 5 by 1 readers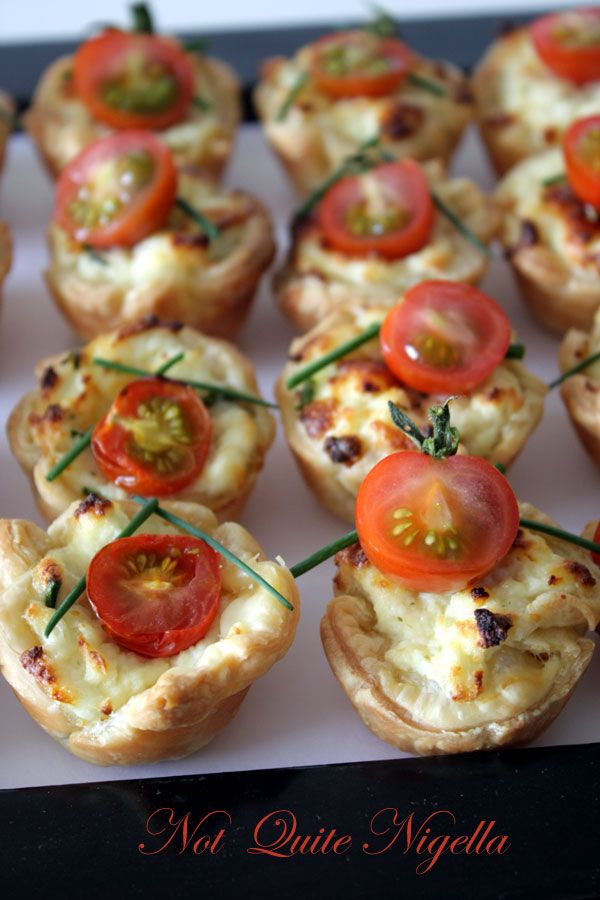 These are one of the most popular recipes on the blog. These unassuming but delicious ricotta, tomato and chive tarts are great for any sort of occasion and not limited to canapes. They're great for morning or afternoon tea too! Plus they are easy to make.
Many years ago I was asked to create recipes for the Cancer Council's Girls' Night In event and blow me over with a feather but this post still remains one of the most enduringly popular recipe posts. The food is very achievable to make as well as being healthy and tasty!
These pizza cones are seriously fun. They have a pizza filling and a bread cover-you can even use pre-made pizza dough from the supermarket to make these!
The easiest thing you can ever bring to a party is a brie dip. Not only will everyone devour it in 5 minutes flat, they will also marvel at how delicious it is. And it only took you 5 minutes prep time!
We first tried these at my friend Katie's house and they were so delicious I had to ask her for the recipe. Turns out that not only are they delicious but they're SO, SO easy! And if you're lucky/unlucky you'll get the spicy jalapeno among the lot aka the Snake Bite!
So tell me Dear Reader, which canape do you like the sound of the best?