They say timing is everything and after three years being late, I'm three hours too early. Darlinghurst's Edition Coffee Roasters has been around for 3 years and this week I thought it would be a good idea to visit the cafe that serves Japanese and Scandinavian inspired offerings. But I had my dog Mochi and that afternoon they were having their outdoor furniture delivered. But no matter, sitting right next to the door does the trick.
Batch Brew $3.50
They're very friendly here and there's an instant feeling of being welcomed or being familiar even though it's my first time. Edition Coffee Roasters has a slew of awards-best coffee, best cafe, best dish, it's hard to keep track. And even though I love tea I feel compelled to order coffee here. It's a cup of batch brew for me, a wonderfully smooth black coffee. For tea lovers there's a range of teas all with their country of origin-English Breakfast and Earl Grey from France, Gyokuro from Japan, Jasmine from China and Chai from the Blue Mountains. Owner Dan Jackson makes the coffee and the chef is Jack New.
The food menu is short and sweet. By that I mean the display of little treats at the front is rapidly disappearing before my eyes. So Sammie and I quickly order and settle in for our Mochi play date.
Porco Rollo (throwback) $18
Two items are designated throwbacks. They're the classic ones that have been revived due to popular demand and delightful sommelier James (yes the cafe has a sommelier working there but that's another story) tells us that they're revived and improved them. He explains that when the Porco Rollo was on the menu and they had 50 customers they would also sell 50 of these pork rolls they were so popular. It's a smoked and braised pork, tamagoyaki (Japanese omelette), red cabbage and ginger pickles and a white miso barbecue sauce all on a soft hot dog bun. And from the first bite I can see why it was such a hit. Everything melds together perfectly from the soft meat to the soft bun and the hit of ginger and pickle. I want to order another to take home for dinner (but resist-just!).
Black Kingfish Smorredbrod $19
This isn't the largest dish for the price but it's a beauty. A charcoal bread slice is split into two triangles with parsley, sour cream, toasted almonds, radish and cured kingfish. It has a nice amount of unexpected heat to it too although this was gone in just a few bites.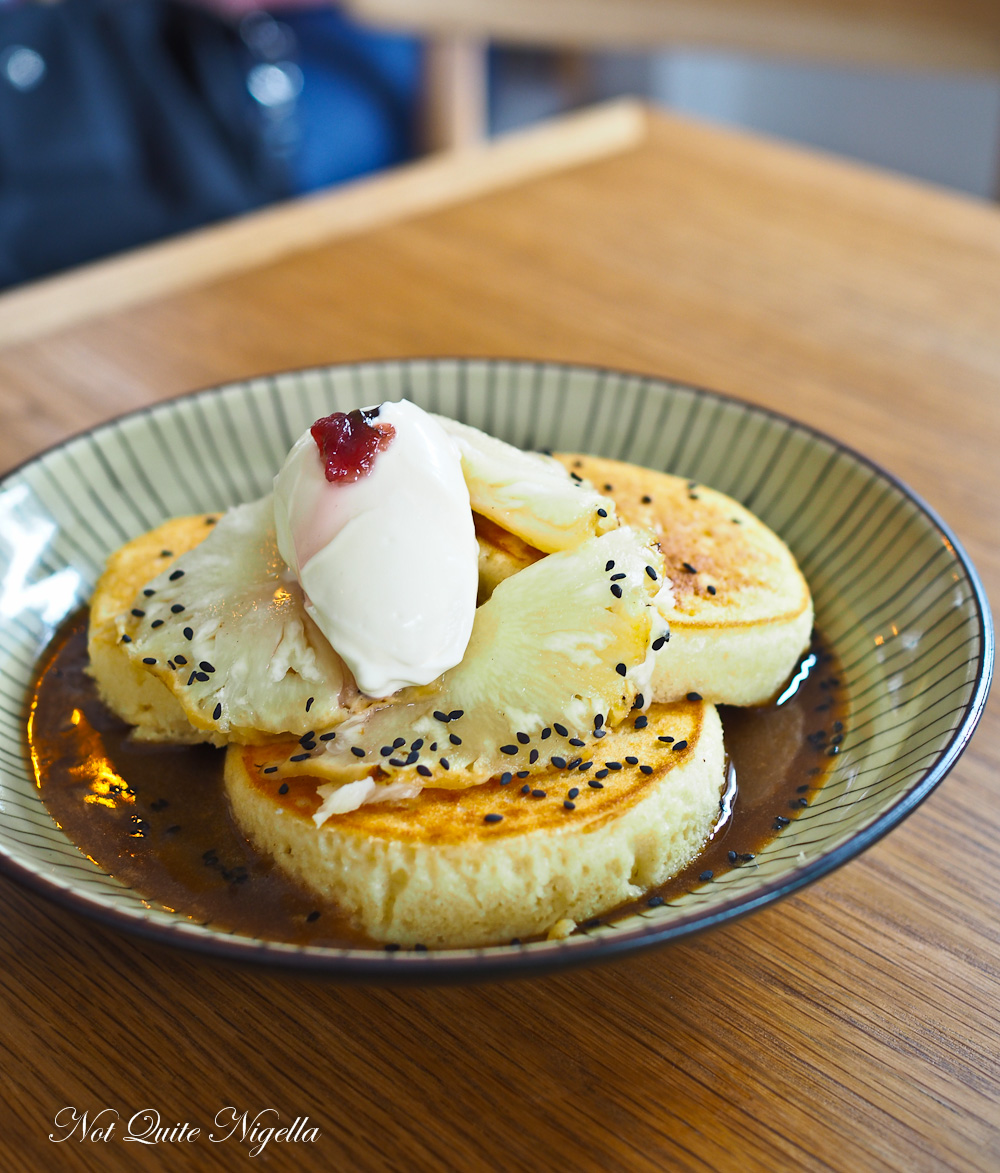 Yakuza's Breakfast (throwback) $20
It's best that we left room for the other throwback item: Yakuza's breakfast. Which is just a menacing way of describing fluffy buttermilk pancakes that are a bit spongy like crumpets served in a bowl of miso butterscotch. This sauce is like salted caramel but with more depth of flavour. There are also thin slices of pepper roasted pineapple, creme fraiche and a single candied sakura. Each bite is best redipped into the sauce to soak up the salty sweet goodness. This is a huge serve and best shared for dessert between two or three.
Baby and Mochi playing
Having sat right next to the pastry display and see it deplete before my very eyes I asked if there were any other sweets left because I wanted to take something home with me. The answer is yes!
There are two yuzu and almond cookies (which prompts a conversation about collective nouns for cookies, I suggest "a crumble of cookies rather than batch"). We order one to share because we are not in the slightest bit hungry. For those of you like me that are obsessed with the yuzu flavour this cookie is your dream come true. The almonds in it complement the tangy, fragrant citrus and it's chewy, sweet and perfect for a cup of tea. Or coffee.
So tell me Dear Reader, have you enjoyed an item so much that you've ordered another one to take home for later? And what do you think of yuzu fruit? And is it coffee or tea for you?
Yuzu and almond cookie $4
This meal was independently paid for.
Edition Coffee Roasters
265 Liverpool St, Darlinghurst NSW 2010
Monday to Friday 7am–3:30pm
Weekends 8am–3:30pm
www.editioncoffeeroasters.com/