Shift Eatery is a popular vegan cafe and deli on Commonwealth Street in Surry Hills. With an all vegan menu with superfood ingredients they do vegan versions of club sandwiches and Reubens. Started by vegan James Danaskos it is designed to shift people to vegan eating and stay there.
It's Sunday afternoon when Mr NQN, Mochi and I arrive at Shift Eatery. Shift is one of the few places in Surry Hills open on a Sunday and there are two outside tables with an outdoor heater (hooray!).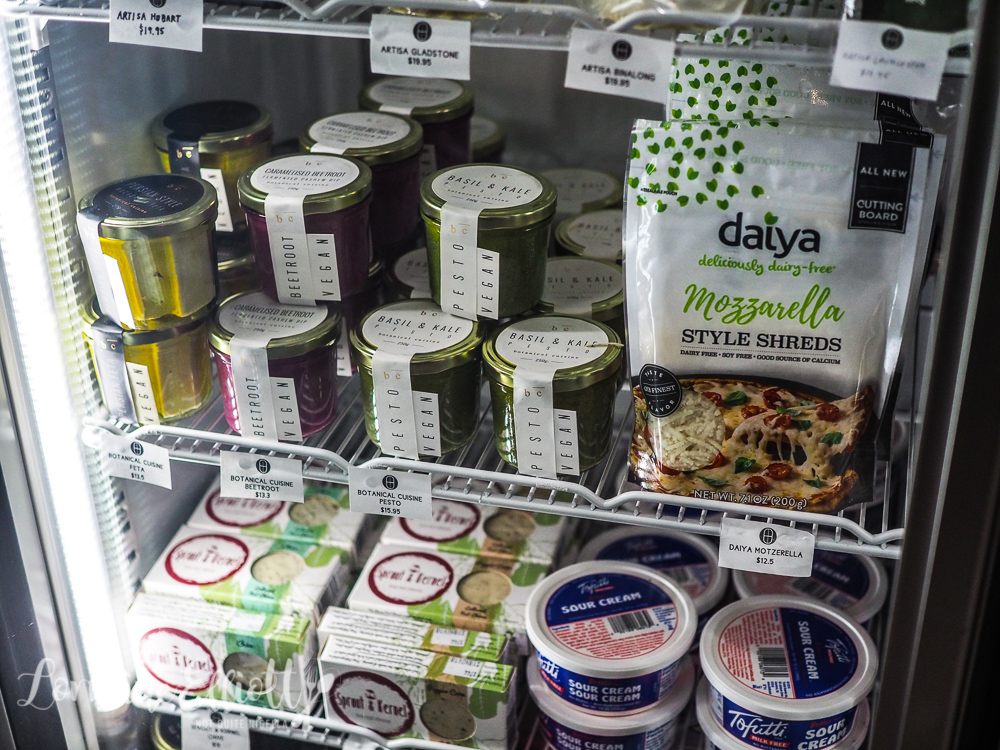 There's a fridge full of goodies that make my eyes pop - fishless tuna? Vegan mozzarella and bbq jackfruit? Yup they've got it. And there are vegan versions of things I didn't even know needed to become veganified (eg. peanut butter, seriously what am I missing?).
Service is super friendly and sweet from everyone. While there are plenty of regular options that you'll find at a cafe, I am particularly interested in their take on a club and Reuben sandwich.
Now the thing about mock meats: I don't think they're amazing quite honestly and they are dry AF when you eat them by themselves. And if I eat too much of them my stomach clenches in knots and I know that mock meat isn't ever going to be a big thing for me.
Reuben's Vegan Brother, Steve $16.50
But in a sandwich with other items in smaller doses they can take on the qualities of meat. Take the Reuben sandwich or actually the Steve sandwich (aka Reuben's vegan brother) for example with slices of "pastrami", sauerkraut, Russian dressing, "cheddar cheese" and pickles on toasted rye. The "pastrami" mixed with everything else makes it taste quite Reuben-y and it's a satisfying sandwich. It does look different from the ones on social media where there are several layers of "pastrami". I think that's just for the look of a pastrami sandwich but given how dry and thick faux meat can be, you definitely don't want it that layered.
Join the club $17.50
There's also the club sandwich. It's got slices of fry's "chicken" soy schnitzel, house-made "turkey" seitan slices, cheddar "cheese", mashed avocado, sliced tomato and greens with aioli on toasted seeded sourdough (and by now I feel like I've used up all the quotation marks). That's also quite good but the aioli really helps in that regard because there is double the amount of mock meat and it needs the sauce. Out of the two the Reuben was probably the most convincing and both of our favourite.
Banana Salted Caramel $10 70%cacao hot chocolate $5.50
We also tried some drinks- a hot chocolate using Mork's chocolate and macadamia milk. It comes in a deep cup with a good chocolatey hit. You can choose between soy, almond, macadamia or coconut milk with drinks. The banana salted caramel shake is sweet but not overly so and creamy. The salted caramel is thick and drips down the inside of the cup.
Chia Waffle $18
Dessert at lunch? Sure waffles count as dessert right? The gluten free chia waffle is crispy and comes drizzled with orange syrup and topped with a creamy, sweet, house made cashew gelato, sliced bananas and strawberries and a fudge sauce as well as turmeric granola with coconut and seeds. There is the choice to add either peanut butter or their house made notella and I'm feeling unexpectedly benevolent towards Nutella lover Mr NQN so we go with that. It's enormous and really sizeable enough to share and the waffle stays crisp. We both like the mild orange syrup and fresh fruit although it doesn't really need the granola sprinkles which are perhaps more for decoration.
So tell me Dear Reader, are you team peanut butter or Nutella? What do you think about mock meats? Are you a part time or full time vegan?
This meal was independently paid for.
Shift Eatery
shop 4/241 Commonwealth St, Surry Hills NSW 2010
Hours 7 days 8am–3pm