Cafes come and go in Sydney but there's one cafe where the queues are a given. Down Llankelly Place lies Room Ten which is a cafe with a bit of a cult following. People line up to squeeze around a tiny table. And why? Because the food is so tasty you'll forgive the table balancing act.
I was trying to be clever. I had Room Ten on my list for say... a year? Ever since my sometime vegetarian friend and Potts Point local Laura raved about it. But I never quite made it there because parking in Potts Point is a headache and I knew that the queues were relentless. So I thought going during the holidays might help because everyone else seemed to be away.
I was wrong. Oh so wrong.
"Wow is that queue for the place we're going?" says Garth. He and Mr NQN slow down when they approach the crowd outside Room Ten. The three of us are here for brunch or really lunch while Nina is away in America. The small cafe has a throng of people standing around it all waiting for either a table or a takeaway order.
They put our name down on the brown paper bag list and tell us that it will be around a 20 minute wait. We watch as some people order drinks to sip on while they wait. About 15 minutes later they hand us a couple of menus to take a look at and then we are seated a couple of minutes later. Service is very friendly and attentive even though they are very busy. We order drinks first and then food.
I don't drink much coffee but it's hot and the cold teas don't appeal as much as an iced coffee. I order the R10 cold brew coffee with almond milk, maple and cinnamon which is perfectly pleasant and not overly sweet (I also like the big, fat square ice cube and the cute cup) while Garth has a cappuccino and Mr NQN a long black.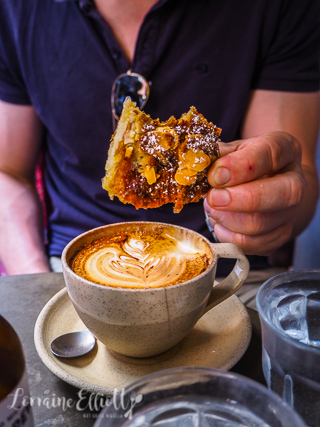 One thing is that the food doesn't arrive at the same time. Sometimes there's 5-8 minutes between each dish arriving which helps in terms of table space but can be awkward if you're not sharing (which we are). I am guessing that's mostly because the kitchen is a tiny space where they miraculously manage to churn out the dishes.
First is an almond croissant. Although Nina and Garth are super healthy they do have their moments of weakness and one thing they both love are croissants. This one is a beauty (although I think I'd want this slightly warmed). With a generous filling of almond frangipane, this double baked almond croissant has delicious, soft filling and crunchy almonds on top.
The mushroom melt is a beauty. With three cheese and field and shiitake mushrooms, grilled fennel, jalapeno and marjoram it's everything and more. "It's like a pizza as a sandwich!" exclaims Garth happily.
The Mediterranean breakfast is a weekend special and it's so colourful that I can't stop taking photos of it. It's three slices of unbuttered grain toast, half an avocado with some Kristen Allan labneh, spicy harissa, soft boiled egg, a fat cube of feta, za'atar and a pot of tomato, cucumber and pomegranate salad. We added a side of ocean trout for goodness. It's fantastic and all I could think was how much Nina would have liked to have been here to order this as this is pretty much her ideal Israeli breakfast sans the trout. And just because she her ears must have been burning she facetime calls Garth from her holiday in Arlington to say hello and we all chime in to talk to her briefly.
I have to admit that I was at great risk of taking off with my half of this sandwich and not giving any to Mr NQN. I could see him eyeing me with slight alarm (he knows that he sometimes has to gently remind me that we're sharing). It is a 8 hour slow cooked beef brisket with sweet onion jam, cabbage slaw, pickled, rocket and mustard and comes with a bottle of sweet barbecue sauce on the side. We added cheddar and chilli and I'm very glad that we did. It's an enormous sandwich, half would do most people but I suspect if you ate a whole one it would be because it is so damn tasty. And I wish I had another right now as I'm writing this!
So tell me Dear Reader, do you mind queueing for breakfast? And how do you like your coffee or tea?
This meal was independently paid for.
Room Ten
10 Llankelly Place, Potts Point NSW 2011 Monday to Friday 7am–4pm Saturday and Sunday 8am–4pm Phone: 0432 445 342