During the holy time of Ramadan, the suburb of Lakemba lights up at night with Iftar celebrations going on until 2am. Iftar is when Muslims break the day's fast at sundown and in Sydney, the suburb of Lakemba plays host to street party fun.
"I'm starving, we need to find a park soon!" says my sometime vegetarian friend Laura. We are circling the blocks around Haldon Street and Railway Parade looking for a park. "I have a Kinder surprise in my bag," I offer her and slip it out lest she get hangry from lack of food.
It's a chilly Autumn night and we find a park and quickly hurry towards the crowds on Railway Parade. We were initially worried that coming to Lakemba on a Sunday would be less vibrant or quiet but we needn't have worried. People are out in full force (although I'd recommend not driving in if you're coming on a Friday or Saturday night).
Some restaurants have street stalls outside their restaurants like the ones on Railway Parade while the ones on Haldon Street are street stalls located outside closed shops and banks.
Our first stop is based on proximity and aroma. Island Dreams Cafe is turning chicken satay sticks on a grill and we order one each. "These are my last four satay sticks and I can't sell the extra two," says the man behind the counter who generously gives us all four satay sticks. They're so tender and full of peanutty goodness that although we intend to eat just one, we finish all of them.
And for good measure we also buy a custard filled pandan donut. It could have a bit more pandan flavour but the donut is delicious.
Laura goes back to the car to collect her picnic cooler. Whatever food we don't finish we take home and divide up for leftovers to eat over the next week. I cross the road to Dhaka Delight where there's a big crowd. I order a Mughlai paratha with chicken and then I bump into a couple of lovely NQN readers and then order a milk tea and a freshly fried jelabi.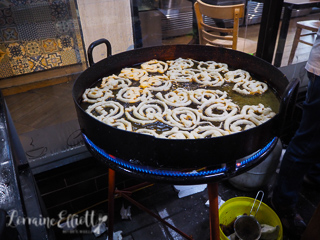 You might be familiar with the bright orange jelabi sweet, a deep fried circular sweet soaked in syrup but these ones are thicker and darker. They're made with jaggery and they're freshly fried giving them a whole new flavour and texture dimension. The jaggery tastes like treacle and you can't beat it freshly fried.
The man making the Mughlai paratha says, "Are you having the tea and jalebi? Have the tea first," he says and I thank him for the advice. The jalebi is very sweet and the tea less so (although still sweetened). The tea does a very nice job of warming us up from the inside. The chicken Mughlai paratha is delicious and we talk about how good any sort of stuffed bread is.
A dozen felafel, pickles, extra large garlic sauce and drink $27
Our next stop is a sentimental favourite for Laura. We stop at Jasmin for felafel, garlic sauce and pickles. They're her favourite felafel in Sydney and she orders an extra large garlic sauce to go with it and the brightly coloured pickles as they are closing early. We can't resist and try some felafel piping hot and dipped in the garlic sauce.
To chase this we have some of their house made lemon drink, a mix of lemon and orange juices that is thirst quenching. The owner of Jasmin encourages us to try the lemon drink quipping, "If you like it you pay for it, if you don't like it you still pay for it." We also try Kazouza a delicious tamarind and rose drink that reminds us of Coke, albeit a more interesting cousin thereof.
We go around the corner to see what else is available and pass restaurants with mysteriously named dishes like "Chicken 65" and $10 Ramadan specials and the local travel agent and butcher is also open late at night.
At Khushboo there's a crowd gathered around a big pot. "I wonder what's in it?" I say and the man standing next to me overhears and explains that it is a goat and lentil stew called Haleem. We try this goat version and it's thick and rich and very comforting (and also said to be a great hangover food).
Goat Haleem $6
We walk down a bit further and peek into another large pot at Grameen Chotpoti and there's more haleem. This time it's a beef version and the young guy is so confident he gives us a taste.
Beef haleem
It's so delicious and even better than the goat version as the flavour is more well rounded. We buy some rice and beef haleem and it warms up us nicely. "We are smouldering, like a curry," quips Laura.
And then we stop by a stand where they are selling freshly steamed Idli. These coconut cakes are filled in the centre with coconut and jaggery and are filling and substantial.
Idli $5
Kaak $5
It's time to cross the bridge and railway tracks to the other side which is where there are some serious crowds. The first stop is to try a kaak. This sesame topped bread is a Ramadan only special and you can buy bags of it outside many shops and bakeries either plain or filled with sliced cheese.
If you buy it from a street stall they add cream cheese to the sliced cheese and a beef sandwich meat, grill it to order and brush it on both sides with butter. It's delicious done this way and like a toasted cheese sandwich.
Sesame seeds all over us we walk around the corner to try one of the most written about foods: camel burgers. There are lots of stands making these on this side of the railway tracks. They ask which sauce we would like and recommend the bbq sauce and mayonnaise which we go for.
Camel burger $10
The camel burger tastes not unlike a beef burger and it is pretty damn good and not gamey at all.
There's a man selling corn and seasoned Ful or broad beans in a cup. He layers on the seasoning and makes a big show of sprinkling the seasoning on the beans for the camera.
Ful $2
Then comes the knafeh. We wait for them to heat up the knafeh at the Al Fayhaa chicken stand. While we wait a man comes up and asks for a teaspoon of black seed oil or kalonji. He explains to us that he's taking it for a sore throat.
Everyone is so friendly here and happy to explain things to a couple of gals that clearly are curious and want to know more. The stallholder or "Master Juice" who has two wives gives us a sample of the black seed oil to try. It's a strong tasting oil that has a bitter finish to it. He then passes up spoonful of honey to take away the bitterness.
Knafeh $8
By then the knafeh is ready in all of its stretchy cheesy glory. It's sweet, syrupy and cheesy in every mouthful.
More camel burgers
Then we stop for a Muglai Murtabak with a sardine filling. Laura was curious to see how the sardine version would compare to the chicken version. It takes a while for them to make this fresh as there is a long queue but it's pretty good although we both like the chicken version.
Laura needs a coffee and there are lots of stalls selling sandpit coffee which is made in front of you and heated on 110°C sand until boiling. It creates a rich, thick coffee that you can have sweetened or unsweetened to order.
Sahleb $5
Instead of coffee I go for the sahleb, the milky creamy drink made with the orchid tuber to thicken the milk. The seller tops it with pistachio, cinnamon and sugar and wants to know what I think of it. I give it a massive thumbs up as it's so delicious, like a creamy, silky dessert in a cup.
It's time for our last bite of the night and we see lots of people walking around holding a spiral shaped donut that I immediately want to eat. The Mshabak is a Lebanese sweet found during Ramadan. The gentleman takes a piping bag full of batter and pipes it straight into the hot oil and turns it over so that it is golden on both sides.
It then gets a final dip in syrup. It's utterly delicious with a crispy texture and syrup. We walk back to the car eating our piping hot syrupy donut while making plans to come back. And the Kinder Surprise wasn't even needed.
So tell me Dear Reader, do you enjoy street festivals like this? Have you ever been to Ramadan by night? Do you observe Ramadan or any sort of fasting?
Mshabak $5
All meals were independently paid for.
Ramadan at Night
Haldon Street and Railway Parade Ramadan at Night runs until the end of Ramadan on the 5th of June, 2019. It goes from dusk until 2am. Road closures around Lakemba will be on Saturday 11, 18 and 25 May and Saturday 1 June.