One of the most popular recipe posts last year was one for the unassuming cut of the salmon belly. While tuna belly commands high prices salmon belly is a cheap cut, only around $8-$10 a kilo for luscious fillets. Along with being great value it is rich in Omega 3's so I love to buy it and create new recipes for it including this Salmon Belly Superfood Bowl which is rich in nutrients and wholefoods.
This salmon belly recipe has a base of brown rice which is cooked in a delicious mix of stock, coconut milk, ginger and garlic to add some flavour to it. The salmon belly cooks on top of this and then it is all stirred together with chilli sauce, snow peas and sesame seeds. If anything it reminds me of a bibimbap bowl except made with salmon with other flavours added to it. And it is absolutely delicious. Mr NQN ate it without his usual complaint about cooked fish (he only likes raw fish, go figure).
I ended up making this the day after we went to Bondi Beach with Nina and Garth. Garth mentioned that Sunday is Nina's "Cheat day" for food. This meant that she could eat anything that she wanted. "That sounds like fun!" I said, "So what do you eat?" picturing creamy cakes, pastries and French fries.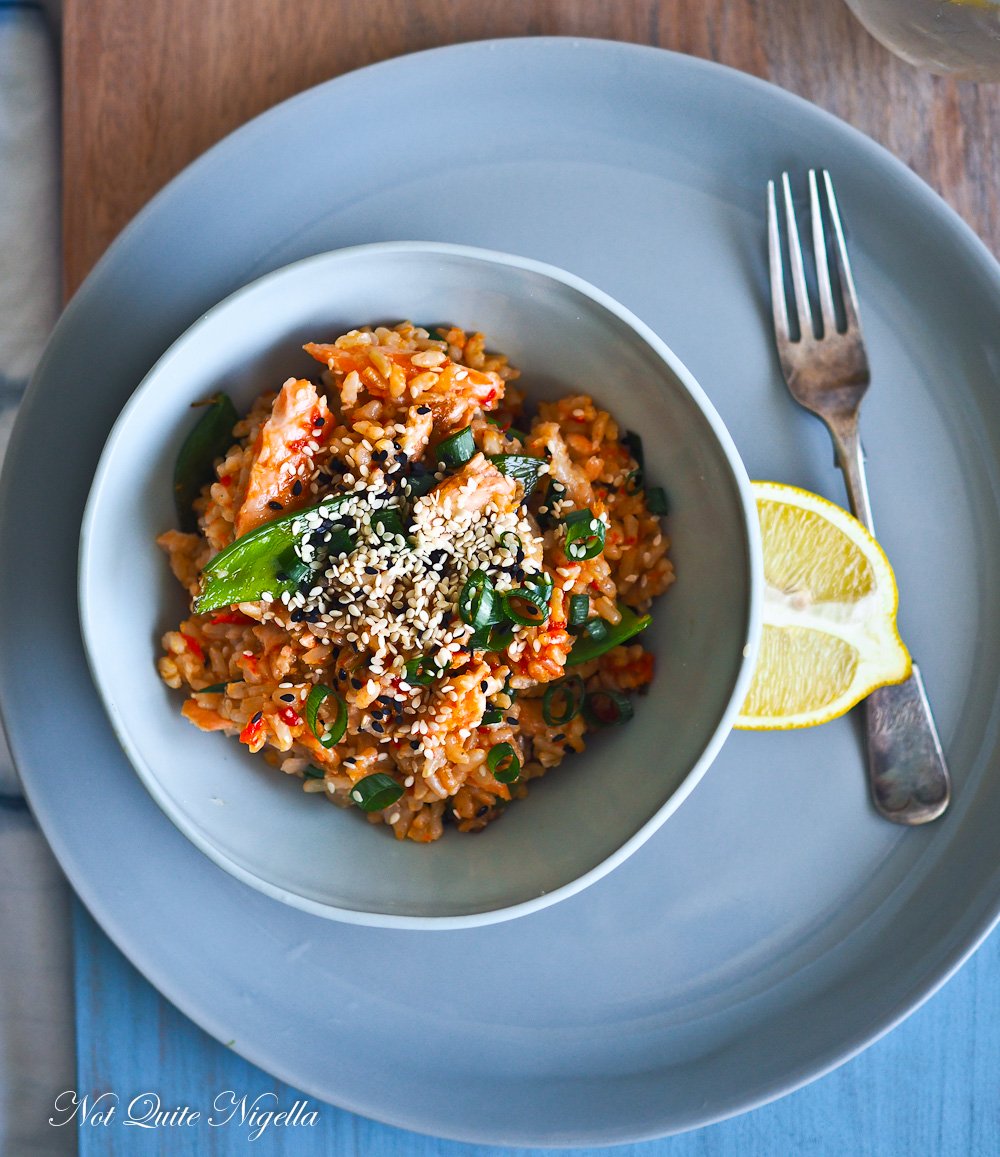 "On a typical cheat day I will have oats for breakfast and then I pick up a gluten free pizza for dinner and then I will have a Magnum ice cream," she explained.
I stared at her and paused for a few seconds, "Is that it? For the whole day??". She nodded and I swear a halo popped up on top of her head. Honestly, I think she lives in a whole different food world!
So tell me Dear Reader, do you have a thing for raw fish over cooked too? Have you ever tried cooking with salmon belly? And what you would you choose to eat on a cheat day?
DID YOU MAKE THIS RECIPE? Share your creations by tagging @notquitenigella on Instagram with the hashtag #notquitenigella
Salmon Belly Superfood Bowl
An Original Recipe by Lorraine Elliott
Preparation time: 20 minutes
Cooking time: 40-50 minutes (depending on your rice cooker)
750g/27ozs. salmon belly*
2 cups brown rice
3.5 cups chicken, fish or vegetable stock
1 cup coconut milk
2 cloves garlic, peeled and finely diced
5 slices fresh ginger, finely diced
300g/7ozs. snow peas, trimmed
1/4 cup sliced green onions
1-2 tablespoons chilli sauce (depending on how hot it is and how hot you want it)
3 tablespoons white sesame seeds
2 tablespoons black sesame seeds
Juice from 1/2 lemon
Tip: if you want to leave the white fat on the belly then cut the salmon into squares. I like taking off the fat once the salmon is cooked so I leave it as strips to make it easier to remove.
Step 1 - Wash the brown rice well and then place in a rice cooker with the stock, coconut milk. garlic, ginger. Cover with the salmon belly and cook until the rice and the salmon are cooked. When the rice cooker shuts off but is still keeping the rice warm, add in the snow peas. They only need a few minutes of steaming.
Step 2 - The next step depends on how much of the white fat you want to eat. Honestly it tastes good but it is still fat so I discard most of the white fat and the skin keeping the orange flesh and a bit of the white fat. Or if you want all of the goodness of the fat just mix it with the rice.
Step 3 - Stir in the green onions, chilli sauce, sesame seeds and lemon juice.