Does luscious bone marrow drive you crazy with desire? This gourmet treat couldn't be easier to make at home. The butcher does the hard work (slicing the bone in half) and then you simply roast it and serve it with a simple herb salad. This is for when you want restaurant quality food at home without fuss!
I've wanted to make this bone marrow for years. Ever since I interviewed Fergus Henderson in 2009 and he mentioned serving bone marrow. He was what many say responsible for the resurgence of bone marrow and secondary cuts. His restaurant St John focuses on cuts like tongue, liver, pork cheek and ox heart.
I actually saw some bone marrow at the supermarket, took it home and promptly broke my knife trying to cut it in half. That was one of my less than stellar cooking moments. And it only took me 3 years to do it again, prompted by a desire to eat it.
This time I pre-ordered it from the butcher. It doesn't take long and they arrived the next day. They showed me each bone-it was enormous and they cut off the ends and then sliced in half lengthways for me (I'd truly be a fool if I tried slicing it again and the bone saw makes such a loud noise I realised that there was no way I could have ever cut it!). I made the roasted bone marrow and it was done and dusted in less than 20 minutes and I gave some to Mr NQN.
He can be rather funny when it comes to fatty foods. Because marrow really defines unctuous. You grab a little spoon and scoop out the jellied, luscious fat and spread it on toast. The only way I will get him to eat it is if I top it with herbs. That's also how I like to eat it. He is Jack Sprat and once fresh herbs like sorrel and parsley and lemon juice are added he adores it. Go figure! "What is this? It's great," he said surprising me.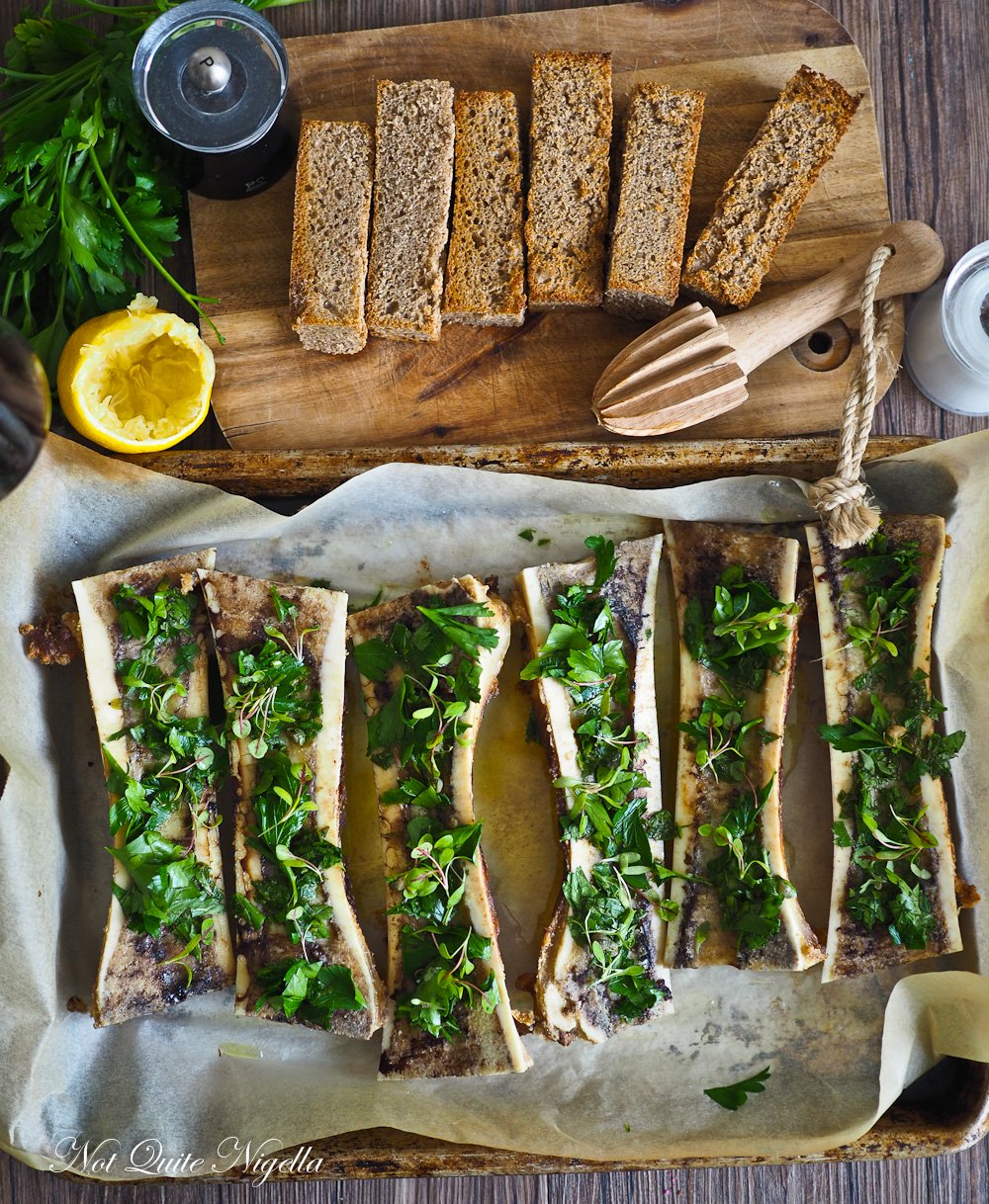 Something also surprised me about him recently. There's a full blown bromance going on between Nina's fiance Garth and Mr NQN. They're almost lost in the own world because they bonded over an augmented reality game called Ingress and sometimes they talk in code and only hear each other.
Nina and I realised that this had happened while we were all out at lunch together. When Garth went to pour water Mr NQN removed the lid from the bottle. "That's why we make a good team, you complete me," says Garth while Nina and I fall about laughing. "Are you going to share a strand of spaghetti too?" she quipped. Mr NQN may even share his bone marrow toast with Garth!
So tell me Dear Reader, are you a bone marrow fan? Do you like unctuous, fatty food or do you prefer leaner food? Do you enjoy eating secondary cuts and if so, what is your favourite and how is it prepared?
DID YOU MAKE THIS RECIPE? Share your creations by tagging @notquitenigella on Instagram with the hashtag #notquitenigella
Bone Marrow Toast
Makes 6 toasts
An Original Recipe by Lorraine Elliott
Preparation time: 10 minutes
Cooking time: 18 minutes
3 x veal or beef marrow bones, sliced in half horizontally*
1/3 cup finely chopped chives
1/4 cup chopped parsley
1 teaspoon baby capers, rinsed
2 tablespoons lemon juice
Micro sorrel to decorate
10cm/4inch section of rye or wholemeal sourdough loaf, trimmed of the crusts
Salt and pepper to season
Bone marrow bones usually have to be ordered ahead of time. Get the butcher to slice them in half lengthways. You can also get them cut across to make little towers but I find it easier to get the marrow out when they're cut lengthways. The bones were $6 each and yield a small amount of marrow so they're not a cheap cut but they are delicious. Veal bones are milder in flavour than beef bones and are what they serve at St John.
Step 1 - Preheat oven to 230C/450F and line a baking tray with parchment. Place the 6 marrow bones cut side up and roast for 18 minutes.
Step 2 - Meanwhile slice up the bread into 2cm/3/4inch batons and toast lightly under a grill.
Step 3 - Mix the chives, parsley, capers and lemon juice in a small bowl. When the marrow has finished cooking, divide the herb mixture among the six bones on top. Decorate with sorrel leaves and serve with the toast fingers with small spoons. One split marrow bone should provide enough topping for one toast finger.