Shandong or Shantung Chicken is a popular Chinese restaurant dish made up of crispy chicken pieces with a simple black vinegar sauce. And today my mother shares her recipe for Shandong chicken plus a great hack for when you want to make it but only have 5 minutes to spare!
So what is this hack you ask? When I asked my mother if she would share her recipe for Shandong chicken she asked if we were roasting the chicken or not. I was confused. Was there an alternative? Little did I know that over the years that when she made it she would sometimes use a bought takeaway roast chicken simply tossing it in the Shandong sauce! The sauce takes less than 5 minutes to make and admittedly none of us really noticed her little shortcut!
Shandong chicken is actually from a coastal area of China. Culinarily speaking the area is best known for their vinegars and the sauce for Shandong chicken is made using black vinegar, a less acidic vinegar. It has a slight smokiness, is almost woody and reminds me of a treacle. This combined with garlic (another favourite in Shandong cuisine), shallots and a little sugar makes a potent sauce that spikes the chicken with flavour.
If you're brave enough, you can top with Shandong chicken with chopped raw garlic which is how it is sometimes served - in Shandong they eat raw garlic in the same way others would peanuts. I actually love raw garlic, I have a habit of rubbing a clove on my bread before I make a sandwich although I haven't worked my way up to whole cloves just yet ;) I do like a little on this dish though.
I was telling a friend about this and we only realised that we were talking about the same dish about 5 minutes into the conversation. She was calling it Shantung and I was calling it Shandong chicken. Admittedly my Chinese accent is totally terrible, most people can't understand when I try and speak it. And no matter how hard I try to imitate the Chinese words it doesn't work.
How to make Shandong chicken with my mother
Do you remember last year sometime when people were talking about Linsday Lohan speaking with a Russian accent which may have rubbed off from her Russian husband? It was quite strange hearing her with a Russian accent instead of an American one but I had my very own Lindsay Lohan accent slip myself.
When I was in Italy a television crew wanted to interview me about my impressions of the Michelin awards. I answered their questions but then something strange started to happen. I started speaking with a bit of an Italian accent (a bad one mind you). I could hear myself saying things in an accent and I was wondering why I was doing it. I guess the week listening to Italian had rubbed off. And somewhere there is a tape of me answering questions in English with an Italian accent. Honestly if it hadn't happened to me I wouldn't believe it either! LOL.
So tell me Dear Reader, do you pick up accents easily? Can you eat raw garlic? Have you ever tried Shandong chicken?
DID YOU MAKE THIS RECIPE? Share your creations by tagging @notquitenigella on Instagram with the hashtag #notquitenigella
My Mother's Shandong Chicken
Rated 5.0 out of 5 by 1 readers
An Original Recipe by Lorraine Elliott
Preparation time: 20 minutes (plus overnight marinating time)
Cooking time: 45 minutes
1.5kg chicken, cut into 8 pieces
2 cloves garlic, peeled and finely diced
1 inch ginger, sliced
3 tablespoons maltose or honey (heat a little to make more easy to work with)
2 tablespoon light soy sauce
1 tablespoon dark soy sauce
1 tablespoon Shaoxing cooking wine
1 tablespoon black vinegar
Shandong chicken sauce
5 tablespoons black vinegar
1 tablespoon sugar or honey
3 garlic cloves, peeled and finely chopped
2 spring onion sticks, chopped (white and green)
1 teaspoon sesame oil
1 red chilli, sliced
To serve:
1 cucumber, cut on the diagonal, into bite sized pieces
1/4 cup coriander and parsley
1 spring onion stick, cut into inch long pieces
Step 1 - Use paper towels to pat of excess water from the chicken pieces. Combine the marinade ingredients (garlic, ginger, maltose, soy sauces, cooking wine and vinegar) and brush it over the chicken pieces twice. Place the chicken on a rack over a baking tray and leave in the fridge for 2 hours or overnight, uncovered so that the marinade penetrates and the skin dries out.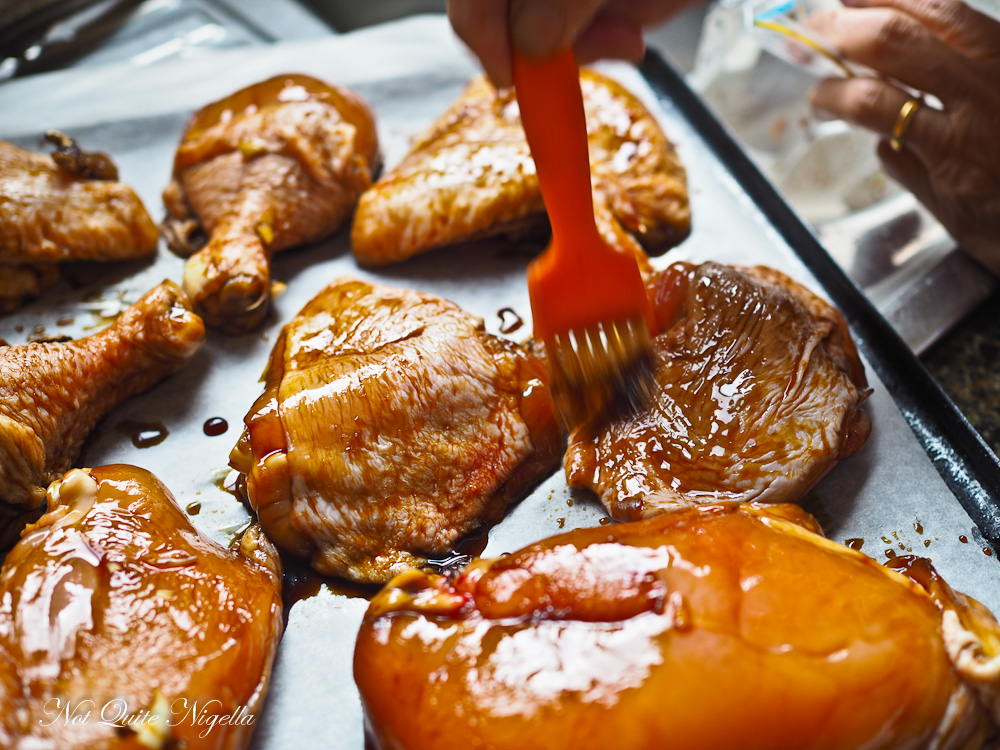 Step 2 - Preheat oven to 200C/400F and brush the pieces with the marinade once more. Roast for 30 minutes or until cooked through. At times my mother also deep fries the chicken for a few seconds to crisp it up although this is not that necessary a step.
Step 3 - While the chicken is roasting, simmer vinegar, sugar, garlic, chilli and spring onion for a few minutes until thickened slightly. Then add sesame oil. Set aside. When the chicken is done, chop into pieces (or serve as large pieces) and toss in the sauce. Add cucumber, coriander and extra spring onion.