This Singaporean chicken curry is a recipe that my mother has been making a lot over the past year because it makes so much of it and is easy to freeze. It's one that we sort of take for granted because it's always there in the background. But make no mistake this delivers in spades with a rich coconut gravy. If you love chicken curry this is a pushy recipe Dear Reader!
This chicken curry is also a nice surprise because there are surprisingly few ingredients. This is also a curry that is perfect for roti if you don't want to make rice (frozen roti works a treat).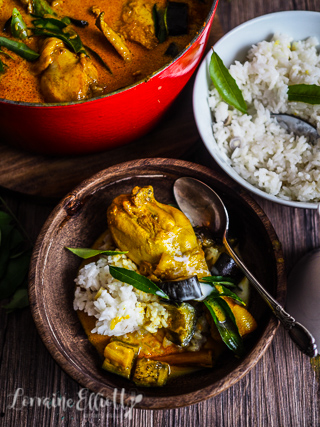 My mother was too busy packing (they're downsizing) to show me how to make this but she emailed me the recipe. There's enough for 6 people easily, even 8. I added my own rice to the recipe because I had some coconut cream and lemongrass left over.
The rice suits the curry really well as the curry has quite a liquid sauce to it that absorbs nicely into the rice. I also added some vegetables to the curry because I wanted to make it a one pot meal and I used eggplant as that was what I had in the fridge and it needed using. I think next time I'll make this with potatoes. This makes A LOT of it, enough to feed a crowd so keep this handy if you want to have friends over-it's homestyle food but very tasty and freezes well. This has been on the table for every family dinner this year as my mother has less and less time to cook.
Recently we had a family dinner involving my much older cousin. He was visiting from Hong Kong with his wife and the last time I saw them was over 30 years ago. They are retired but successful and it's a thing that despite having the means, they stay with my parents, perhaps to spend a bit of time with them while at the same time saving money. My other cousin did the same even with a work expense account that he could use on hotels.
The usual scenario goes that they take everyone out to dinner to say thanks. I think my mother was hoping for a seafood feast and in a Chinese family if they take you out for live seafood from the tank, that's a extravagant gesture because that can cost $300 or so for a family group although compared to paying for a hotel that is a good deal.
They ordered but there was no live seafood. I think everyone in my family was hoping for some crab but that was not to be. "We don't want bones or shells because we're too old for that," they said laughing. This meant a range of pleasant but not particularly exciting food.
I should know not to talk politics because I tend to be extremely left leaning and I had every intention to not say anything about the Hong Kong protests but they brought it up. "It's chaos in Kong Kong, absolute chaos these young people!" they scolded shaking their heads.
Stay neutral, stay neutral, I said to myself but they looked at me expectantly. "Well these young people are fighting for their future..." I said.
"What about our future? We are young!!" they cried beating their chests. I looked at my parents who were silently willing me. In their eyes I read, "They're paying for dinner, be quiet".
This time I didn't take the bait, I just smiled and rolled my eyes internally remembering that I may not see them for another 30 years. All I could think was, "Hang on, a minute ago you were too old to eat bones, now you're young???". Yep family, you can't pick them!
So tell me Dear Reader, do you tend to talk politics at family dinners? Do you tend to argue or be the peacemaker?
My Mother's Chicken & Vegetable Curry