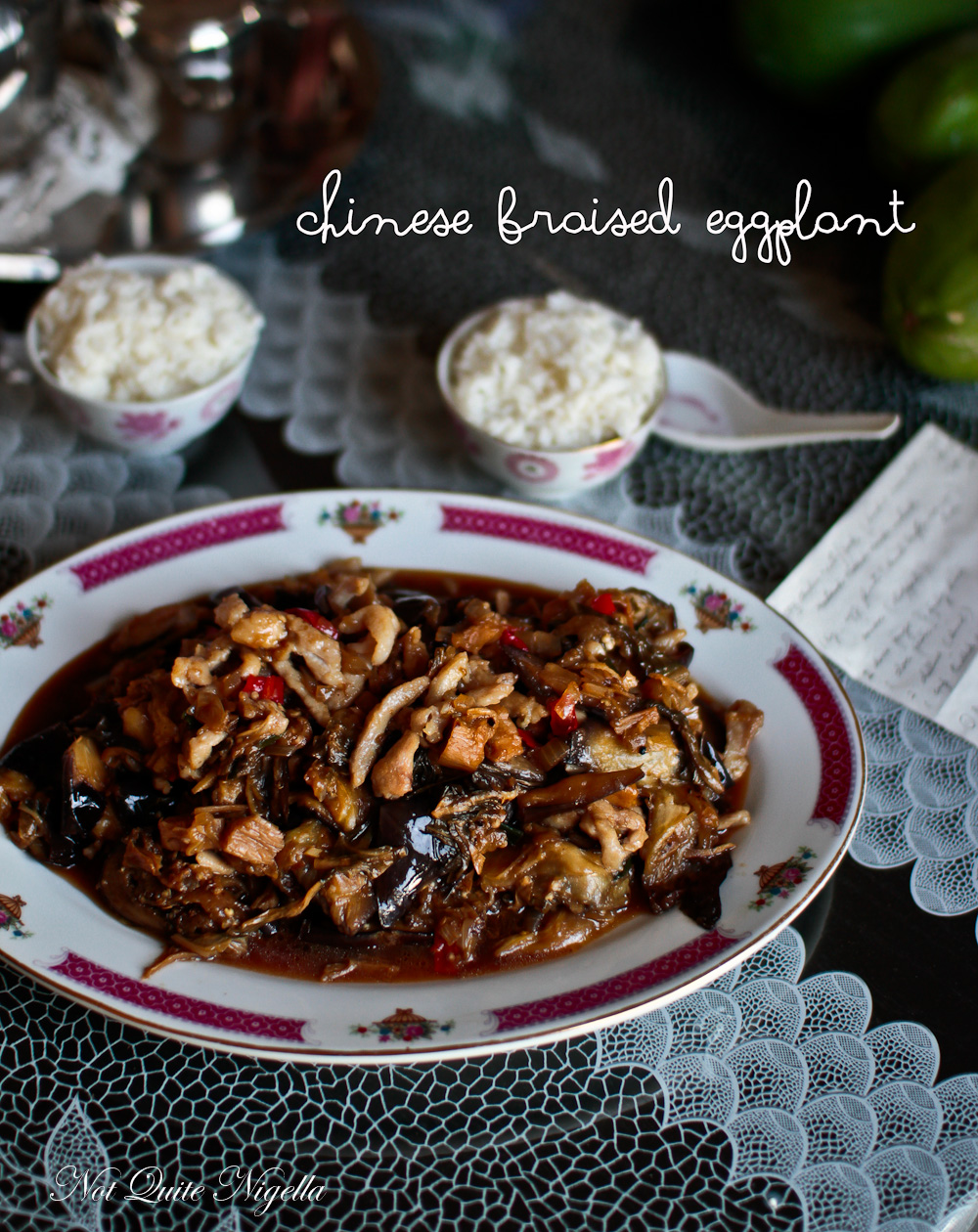 I'm not a betting person but I'm almost willing to bet that anyone that loves eggplant will love this braised eggplant dish by my mother. It's one of the most requested dishes because while we love pretty much everything that she makes, this is one of those always welcome vegetable dishes that really makes eggplant come alive with flavours. The eggplant is simmered and braised in a simple sauce that brings out the silky quality of eggplant. Yet there isn't a lot of extra oil soaked up so that it ends up being a dish that you want to make over and over again!
Eggplant or aubergine is one of our favourite vegetables but many of our favourite eggplant dishes is need a lot of oil to get that wonderfully silky texture to them but not this one. Better still, it doesn't require a large amount of ingredients-not that you can tell from the taste! Unlike a lot of her other recipes that she has been cooking for year I have never seen her make this. She only developed this recipe one we had all left home. But a few days after she bought some eggplant I caught the flu. There's this thing that happens when you've been sick for 4 days.
Day 1: Bliss. You get to watch tv all day!! And sometimes people even bring you drinks when you ask for them.
Day 2: Yay more tv. Except you've run out of tv shows so you loll around bored. Everyone else is at work. Where is everyone?
Day 3: I hate being sick. When I get better I'm going to appreciate my health and what my body can do. But for now THIS IS BORING!
Day 4: I'm still sniffling but feeling a bit better so get me out of here! Let's do everything! Fresh air feels AMAZING on the face. Let's devour everything, let's see everything. Oh my god my body is incredible, it is healing itself!! I'm alive!!!
Day 5: I overdid it. Back in bed. Whyyyyy...
It was around day 4 that I visited my parents' house and we filmed a little video of how to make this eggplant dish. What struck me was how simple it was and how few ingredients were needed to make something so delicious. This is my mother's first video and I'm sure it won't be the last because she has so many more recipes to share. And she loves reading your comments so if you do make it, please feel free to let her know what you think of it!
So tell me Dear Reader, do you go through something similar when you are sick? Are you a good patient or an impatient patient? What is your favourite way of cooking eggplant or eggplant dish?
DID YOU MAKE THIS RECIPE? Share your creations by tagging @notquitenigella on Instagram with the hashtag #notquitenigella
Braised Eggplant with Chicken
Preparation time: 40 minutes
Cooking time: 35 minutes
1 cup pickled and salted mustard vegetables (optional, see note)
Oil for frying
150g/5ozs. chicken thigh, sliced thinly
1.5 teaspoon cornflour/cornstarch
1/2 teaspoon salt
1/2 teaspoon sugar
1kg/2.2lbs eggplant (around 2 medium eggplant), sliced lengthwise, around 1cm or half an inch thick
1 onion, peeled and roughly chopped
2 slices ginger
1 clove garlic, peeled and finely sliced
2 large red chillies, sliced
Sauce mix:
3 teaspoons sugar
2 teaspoons salt
1/2 tablespoon light soya sauce
1/2 tablespoon dark soya sauce
Dash of white pepper
1 teaspoon sesame oil
1.5-2 cups water
*these pickled vegetables are available at Chinese grocery stores. They're preserved in salt and add a lot of flavour to this dish. You can do without them but if you can find them, they're great to use.
The vegetables out of the packet
**Step 1 - Soak the pickled and salted vegetables in very hot water for 15 minutes. Allow to cool naturally and then massage them to get all the salt off them. Rinse them under cold running water three times making sure to get rid of all of the salt. While the vegetables are soaking, in another bowl mix the cornflour, salt and sugar with the chicken slices and allow to marinate for 10 minutes or so. Then in a third bowl mix all of the sauce ingredients together excluding the water and have that ready.
Step 2 - Add a couple of tablespoons of oil to a saucepan and pan fry the eggplant slices and set aside. Then fry the chicken and place in a bowl and set aside.
Step 3 - Add a tablespoon of oil to the pan and fry the onion, ginger, garlic, chilli and pickled vegetables until aromatic (a few minutes). Add the eggplant back into the pan. Add the sauce mixture into the pan and then braise the eggplant. Cook for 15 minutes or so adding in the water in three lots when it seems like it is getting dry. I find the longer you cook it the more velvety and soft it is. I press down on the eggplant so break it up as that makes it softer and easier to eat too.