A florist and a cafe in one? It's the perfect place to take your mum for a belated Mother's Day lunch (or your Instagram addicted friend). Cuppa Flower in both Mascot and Waterloo is a florist on one side and a cafe serving a neat menu of on-trend goodies on the other. And don't forget a slice of Totoro swiss roll cake!
Superfood? Tick! Avocado toast? Tick! Instagrammable cakes and flowers? Tick! Cuppa Flower seems to have all of the current trends sorted. "Acai?" my dad says his brows furrowing. "Never heard of it," he says looking perplexed and a tad grumpy at the menu item before him. He's a superfood enthusiast and when I explain that the drink and bowl in front of him contain acai and it's a superfood then he's all "How did I not know this?".
Cuppa Flower is located at the new residential and shopping complex in Mascot on King Street. The food menu is short and sweet and full of healthy options at a very reasonable price. We order pretty much one of everything (except toast) as well as some sweets from the display.
Plus a bunch of flowers for my mother for Mother's Day too!
I have to admit that I thought that the food might be highly Instagrammable but fall short in taste but this simple avocado and tomato on toast really hits the spot. We've been away overseas and I forgot how much I missed avocado toast. "Aren't you allergic to avocado?" I ask my mother who seemed to enjoy it. "Shhh, don't say anything," she says looking around as if her avocado allergy can hear.
How good are toasted ham and cheese croissants? Filled with ham and gruyere cheese it comes warm and toasted, perfect for a chilly Autumn day.
Now comes the Acai bowl. I usually find acai quite tart but this is on the sweet side. It is topped with chia seeds, coconut, banana, house made muesli, halved grapes and cherry tomatoes. It's pretty good if you can used to eating a smoothie with a teaspoon ;) And if you prefer to sip it through the straw, there's always the acai shake which is the same base as the bowl.
Next is the mountain granola with vanilla yogurt, granola, chia seeds, banana, grapes and cherry tomatoes. This is mostly yogurt although I thought the ratios might be flipped around and it would be more granola. I actually prefer granola over the yogurt and it's quite a sweet yogurt whereas I like thick, tangy Greek yogurt. But Mr NQN and my mother really enjoy this and Mr NQN really likes his long black coffee though.
Alas there is no Totoro cake at the Mascot branch but they do have Oregano bakery scrolls in original, chocolate, Oreo and mocha-we go for the mocha which has lots of layers of filling and a cinnamon hit more than one of coffee.
And because my mother loves shortbread and cookies I order a pistachio cookie to go with a matcha latte. The latte comes with a cute pattern on top and it has a good level of sweetness and matcha to it.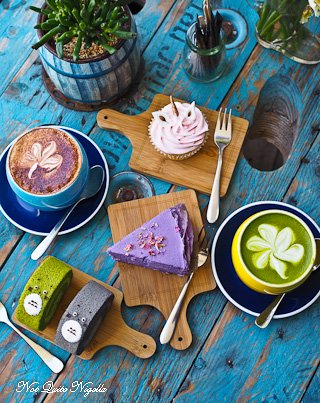 I can't help but feel compelled to visit the other branch of Cuppa Flower with Nina a couple of weeks later. The Waterloo cafe has a more comprehensive menu and it also has the famous Totoro cake. And a warning: weekends are absolutely hectic here-even at a Tuesday lunch, people were waiting to get in.
We have Samantha the labradoodle and Mochi with us so we take a seat at one of the two tables outside while I order at the counter. I order a matcha latte for me and a cappuccino for Nina and they come out with pretty flower patterns. The matcha latte is sweet although it is a little on the strong side while Nina likes her cappuccino.
Now take a look at Nina's lunch vs mine. Nina's is a pitaya or draongfruit bowl. There's kiwifruit, blueberries, muesli, roasted coconut, pumpkin and almonds with pureed pink dragonfruit. It's fresh and mildly sweet with lots of texture from the toppings. It's also ridiculously healthy compared to my lunch.
Yes there's my lunch, the benedict. Instead of an English muffin or bread they place the poached eggs and crispy bacon on top two beetroot and potato patties. They call them roesti but they're not quite as crispy or thin as a roesti. Still they're delicious and there is avocado on the side and a creamy hollandaise sauce. I'm really in love with this benedict. I can also see why Nina has a thigh gap while it's really just a dream for me.
Nina is however rather smitten with the look of the cakes and yes I did buy one of everything...Another reason for absence of said thigh gap.
I try the unicorn cupcake first-it's so cute. The cupcake itself is a bit dense and dry and I'm not really fond of the frosting. Honestly I bought it because it was a unicorn (and no I didn't see the price until I paid the bill-eek!).
There were two crepe cakes available: one matcha and one taro. Since I had a matcha latte I decided to go for taro. It's soft and fresh and very pretty. Nina marvels at the layers but isn't a huge fan of the flavour as it's a bit one note (she prefers cakes like carrot cake, walnut cake or hummingbird with more texture and flavour). Taste wise it's mild and creamy with a floral element to it from the dried rose petals on top.
I did however really like the matcha and black sesame Totoro cakes. They are well known for these and they're super fresh, soft and moreish, particularly the black sesame. That is, if you can bring yourself to stick a fork into their cute little faces!
So tell me Dear Reader, thigh gap or no thigh gap? Do you have ever hesitate to stick a fork into pretty dishes or cakes? And do you have an Instagram account? Share your username here! :)
Cuppa Flower
33 Kent Rd, Mascot NSW 2020
Tel: +61 8319 4022 Monday to Friday 7am-5:30pm Weekends 8am-5:30pm Dog friendly area outside (although not many tables)
1/15 Allen St, Waterloo NSW 2017
Monday to Friday 7am-3pm
Saturday to Sunday 8am-3pm
Dog friendly area outside (two tables)