When your friends eat like sparrows you need to visit a place a couple of times to get to know what the food is like. Indigo in Double Bay is located on Transvaal Avenue and occupies three areas including a large al fresco area in the street. It's the sort of place to people watch and enjoy the sunshine. And bonus: it's dog friendly too!
Nowadays the first question to eateries are if they are dog friendly. It's just easier for me to get there if they are and Mochi is a very amiable companion who literally sleeps through a meal, as long as she is close by and within sniffing distance.
Alyson and I are sitting outside at Indigo looking at the menu. She isn't particularly hungry while I am quite hungry having finished a training session with Nina. I am in my training gear without makeup and I feel woefully underprepared for Double Bay.
Indigo Juice $9
We start with drinks. An Indigo juice sans the celery for me (there's pineapple, lychee, mint, apple and aloe vera) and a coffee for Alyson. The menu has so many things I want to order. There's cod fish accra, Uruguayan bean salad as well as healthy offerings like green brekkie bowls, superfood chicken salads and egg white omelettes. Service is friendly and easy going.
Lamb Kawarma $18
Alyson's order is a lamb kawarma with chopped grilled lamb on a bed of hummus with garlic, ghee, coriander, spring onion, mint, parsley, cinnamon, chilli, tahini, nutmeg, za'atarand grilled pita. They put a lot of detail in the menu and it's a nice dish with the spicy lamb going well with the hummus and pita.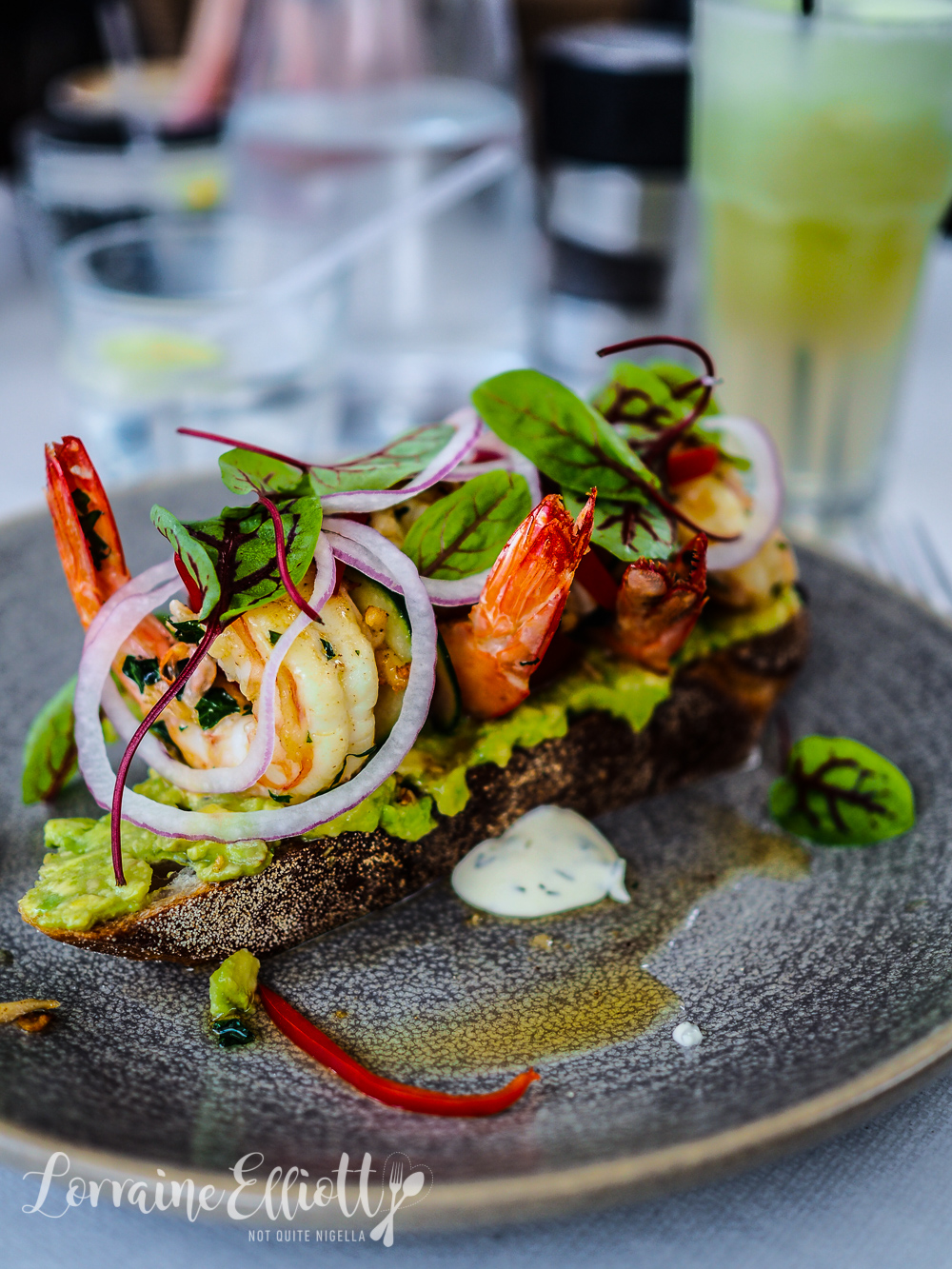 King Prawn Bruschetta $27
My choice is the king prawn bruschetta which is a slice of garlic levian toast topped with mashed avocado, cucumber, red capsicum, red onion, grilled king prawns and dill aioli that hits all the flavour points for me. It's so delicious and I can see that this is a really popular dish. It's not enormous which is fine, it just the right size for me.
Because we only tried two things, I revisited Indigo a few months later with Sammie. At first she tells me that she might just have to eat salad (is everyone on a diet?) but she runs plenty of marathons and the menu looks tempting. I bring along a beach towel and situate Mochi on a chair next to us in the same outdoor section as before. Service is fabulous from our French waitress. She's sassy and friendly and we like her from the get go. There is so much I could happily eat from the menu but we choose one sweet (chocolate French toast) and one savoury (vegetarian burger). When she asks us whether we would like aioli, tomato sauce or bbq sauce for our fries I ask her if we can get all three (I LOVE sauce-note to self: make it into a tee) and she gets it straight away.
We start with drinks, a hibiscus lemon myrtle iced tea for Sammie and a pineapple kombucha for me. I preferred the hibiscus iced tea, the pineapple kombucha had too little pineapple flavour for my liking as I prefer stronger flavoured ones that help to balance the fermented vinegar flavour.
Halloumi Burger $24
Our food arrives quickly. The burger is a sight to behold and I want to dive in immediately as I've skipped breakfast. It's a milk bun with slices of fried halloumi with a beetroot & truffle chickpea patty, a generous amount of dill & crushed pea aioli, caramelised onion, baby spinach and a mushroom duxelle with a side of beer battered chips. It needs a touch of seasoning but it's enormous, luscious and absolutely delicious. I liked that it had both the halloumi and a patty as well as you generally get one or the other. And yay for three sauces (at no extra charge too, what a bonus).
Chocolate French toast $24
Sometimes French toast is all for looks and not so much for the flavour. This one has both and although it has a cast of thousands (strawberry & raspberry jam, bacon, nutella & honeycomb butter, freeze dried raspberries, pistachio, fairy floss, Oreo crumble and vanilla ice cream) it all works together especially with the bacon. I thought that the jam might be too sweet against the chocolate and the rest but it isn't an overly sweet or thick jam. I adore the crispy bacon with it all as well but try as we might we can't make a dent into it. The pashmak or fairy floss does dissolve in the unseasonably warm Autumn weather so you do have to get to this quickly. And Mochi sleeps through lunch only waking up when she smells the bacon!
So tell me Dear Reader, are most of your friends on a diet? And is dog friendly important to you? And do you like bacon with sweet dishes?
Indigo
1 Transvaal Ave, Double Bay NSW 2028
Open 7 days Monday to Saturday 7am–4:30pm
Sunday 8am–4:30pm
Phone: (02) 9363 5966
indigodoublebay.com/