Vadouvan is a French style curry mix where the onions and garlic are cooked into a curry spice mix. Shaped into balls they make a wonderful "flavour bomb" of aroma and flavour when added to food be it soups, stews, to marinate meat or curry dishes (it's said to be wonderful in a lamb curry). The mix is first sauteed in a pan and then slow roasted in the oven to bring out the incredible flavours.
Vadouvan was said to originate in Puducherry or Pondicherry, a French colonial town in South East India. When they make it traditionally they dry the mix in the sun. Nowadays you can use ovens to dry it out which reduces the time and also helps on days where there isn't much sun, only rain!
Many places sell it as a dry mix of the various herbs and spices that you see below plus dried onion and garlic-it's certainly easier and less time consuming to use this sort of dry spice blend. But I wanted to make the full Vadouvan "wet" spice blend with fresh onions and garlic with the spices cooked down until sweet.
I found that the wet balls with gently cooked down eschallots and garlic were absolutely miles ahead in flavour than the dry spice mix. That's the bad news. In fact I was a bit disappointed that the dry mix was so different because the balls were quite a bit of work and I was hoping to short cut them. Now I treat them like precious balls of flavoursome goodness.
I have even gifted one to a friend to use in a dish. When I gave them to her she was making a stir-fry fry that she wasn't so sure of. It lacked oomph and it lacked flavour. Mr NQN tried it and told her that it reminded her of a stir fry that his father used to cook up.
His father is an eccentric man but one who was ahead of his time. Mr NQN comes from a family that ate tofu, wheatgrass, tempeh and superfoods decades ago before they came into the mainstream (they were the definition of alternative). In this stew his father Roger had put in farmers friends weeds and cooked it up. Mr NQN doesn't remember being very impressed by the farmers friend stir fry but once the vadouvan ball was added, that was another matter and it was much more palatable! I promise, it is worth the effort :)
So tell me Dear Reader, have you ever tried vadouvan? Have you ever eaten farmers friends? And do you often try to create recipe shortcuts?
Vadouvan Balls
An Original Recipe by Lorraine Elliott
Preparation time: 20 minutes
Cooking time: 2.5 hours
1 tablespoon cumin
2 teaspoons salt
2 teaspoons ground coriander
2 teaspoons turmeric
1 teaspoon fenugreek
1 teaspoon cardamom
1 teaspoon sugar
1 teaspoon yellow mustard seeds
1/2 teaspoon fennel seeds
1/2 teaspoon ground nutmeg
1/2 teaspoon cayenne pepper
1/2 teaspoon black pepper
2 cloves, ground
Oil for frying
900g/2lbs eschallots, finely chopped
12 garlic cloves, finely chopped
1 inch piece ginger, grated
1 tablespoon finely chopped curry leaves
Step 1 - Heat a frypan onto medium high heat and toast all of the dry spices first until fragrant. Remove from the pan and set aside. Then add some oil and add the eschallots, garlic, ginger and curry leaves and saute on low heat for 30 minutes. Add back the spices into the mix and saute for 10 minutes.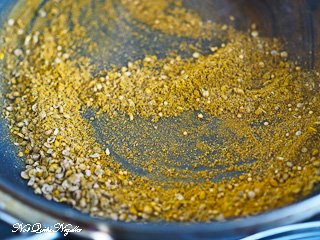 Step 2 - Preheat oven to 135C/275F. Line a baking tray with parchment and spread out the onion spice mixture thinly. Roast on this low heat for 2 hours. Then cool and shape into balls. These balls freeze well if you do not use them straight away.