The star of an episode of Chef's Table gently scoops up bright green algae balls from the swamp. Virgilio Martinez, 39 years old is owner and head chef at Central, the number 5 restaurant in the world. He scoops up the algae in one hand and picks through the balls for a perfectly shaped bright green sphere. And it, along with a dozen after carefully hand picked balls will appear on one of the 17 courses on the menu at Central.
The numbers next to the dishes on the menu at Central don't represent prices, they represent the elevation of the item and where it is found whether it be -10 metres elevation for "Marine soil" aka sea urchin, pepino melon, razor clam and seaweed to a 3,700 metres for "Humid Green" or caigua, cushuro, sweet lemon and edible chaco clay. Most of the 17 courses feature items that you may never have heard of. This represents the unique yet rich diversity of food available in Peru.
Virgilio was apparently a poor student at school but he worked for Peru's first celebrity chef Gastón Acurio in Spain where he transformed Gaston's dishes, sometimes without his explicit permission. He now has five restaurants around the world including London (where he is at the time that we dined at Central) and Dubai. Pia Leon is at the helm of Central tonight and she plays a crucial role in its success. The two have been married since 2013.
The restaurant itself is made up of natural materials in neutral colours. It reminds me of a desert setting with the colours and Lima has mostly a subtropical desert climate. Service is, as expected wonderful and there are staff to gently guide you to your table or to anywhere you may want to go. There is a downstairs section which is a bit closer to the action but there is also a sizeable upstairs section too. Matching wines are available as are wines by the glass or bottle. The water served is water from Arequipa down south (where we are headed next).
There is wine matching available as well as wines by the bottle and glass. The wines tend to be more European based wines rather than South American.
Rock Molluscs -10 m
The first dish is the rock molluscs. The cracker is made of sargasso seaweed and the cream is made with mussels, limpets and sea snails. It's a beautiful start to the meal and we dip the cracker into the mussel cream. And just in case you don't know what to eat, the spongy looking base is frozen rock hard.
Desert Plants 180 m
Although there are 17 courses on the menu some courses are made up of 3 components which makes keeping count and remembering everything quite a task. We move up in elevation to the Desert Plants. This course has three parts and they tell us which order to eat them in. The first one is a red tuna and cactus round that sits atop what looks like rocks with a browned butter flavour. The texture to this is quite dry and not immediately appealing. There there is a fine sweet potato thread dish that reminds me of kataifi pastry and then lastly is a huarango (a mesquite tree) coated camote or sweet potato leaf that tastes a little like nori with a salty appeal to it.
Lofty Andes 3500 m
We're climbing higher now at 3,500 metres to the Andes. Peru has over 3,500 types of potatoes. They bring us each a potato resting atop the ashes that it was cooked in. This comes with a small pot of fresh yellow cheese, cream, tree tomato, muna mint and alpaca hearts that is fresh like a salsa verde with a creamy finish. "Do we double dip?" I ask and we agree that double dipping in this instance is perfectly fine.
Thick Stems 3500 m
The main ingredient in the Thick Stems dish is the Olluco both on the inside and outside of this morsel. Alongside the dish they bring us an example of the Olluco, a pink root vegetable. The outside is made of thin crispy strands with chincho (an aromatic herb), onion and field mustard and the inside is soft and creamy. The liquid is also made of Olluco and is refreshing like a kaffir lime. And oddly enough some of these dishes have an almost Thai flavour to them from the use of the lime which is similar to kaffir lime.
River Scales 680 m
This is a beautiful dish set atop of dried plants almost like a Thai betel leaf dish. It's a leaf filled with river shrimp, and a resin made from huampo tree, doncella fish and achiote, a spice that resembles red seeds. It's a superbly tasty course and they recommend eating this in one bite.
Forest Cotton 300 m
The next course is a three part dish. They recommend that we start with the pacae fruit (also known as ice cream bean tree) filled with gamitana fish cream. The pacae is a sweet, soft fruit that goes well with the fish cream. The second bite is a little parcel made with llanten leaf and filled with onions that has a sweet and savoury aspect to it (a favourite) and the last is a hot tiger's milk drink-much like the leche de tigre with lime, chilli and huito fruit.
Air potato
They bring an example of the air potato which is found high in the trees. It's a light, large, knotty potato that grows on a climbing plant in the jungle.
High Jungle 2800 m
They bring another three parter with a small round loaf of cacao bread in smoked coca leaves (which promptly starts us coughing). Another bite sized morsel is the cassava round, caramelised on the outside and there is also a thin crisp. We are given two pots: a tart creamy cocona spread as well as a toasted butter seasoned with Maras salt which goes very well on everything particularly the crisp.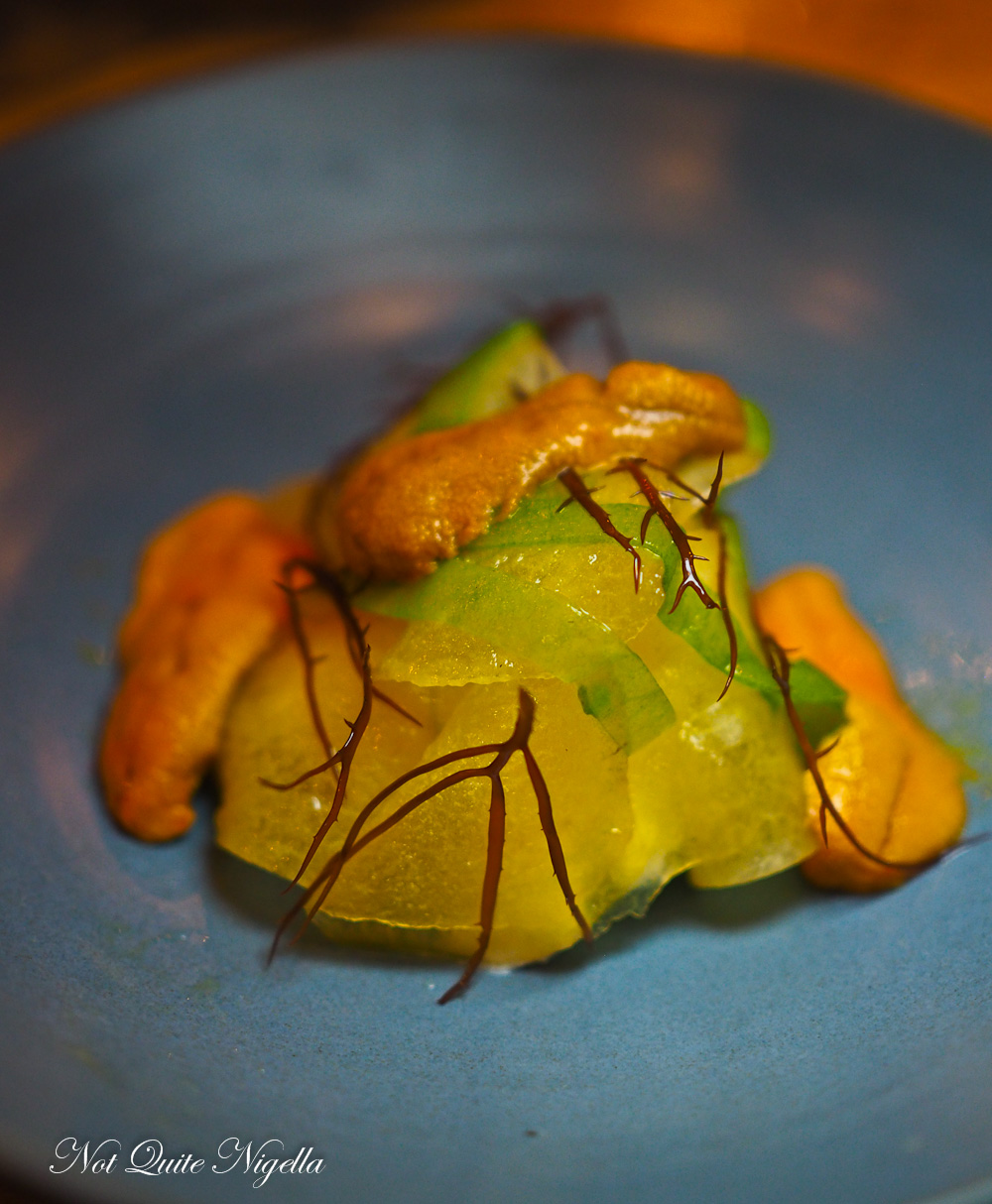 Marine Soil 0m
We're plunging back down to earth or more correctly the sea and the next dish is the start of the more substantial dishes and also dishes where the ingredients are a bit more familiar. There is a generous amount of sea urchin, thinly shaved pepino melon, razor clams, seaweed and a sweet cucumber cream. It's a very rich dish and for the next few courses they will replace the bread.
The bar at Central
I get up to use the facilities and the ladies room is downstairs just past the warmly lit bar (a great option if you can't get a table at the restaurant). The men's bathroom is upstairs and Rich and Ali recommend taking a look up there. When they see that I'm curious to go up, they offer to give me a little tour.
There's a stone table with samples of many of the native foods that are on the menu in their natural form. Next to this is Virgilio's office and that of his personal staff as well as a place for much of the new ingredients that they use. Virgilio's sister Malena Martinez studied as a scientist and works as Central's research director gathering many of the indigenous and hard to find foods that they use in the restaurants. The lab where she is based is not at this location.
Planning your next trip? Ensure you have the right coverage with HeyMondo travel insurance that includes COVID-19 protection. Plus, if you use our link, you'll receive 5% off the price. Find the best deals on flights from all airlines in various currencies with SkyScanner and set up alerts to get notified when prices drop. For reliable transportation options, look no further than 12Go Asia, offering train, bus, ferry, and flight transfers worldwide. Book your transportation now and enjoy a stress-free journey.
When you purchase through these links I will get a small commission at no cost to you. Thank you for supporting me! :)
The lovely maitre'd also shows me to the small garden which furnishes the restaurant with many of its herbs and edible flowers. Virgilio wanted to have something grown on the land of the restaurant. Every day twice a day the chefs visit the garden to pick flowers and herbs for the service.
Tree Skins 1200 m
The next dish is a stunner. It is made up of warm avocado pieces, a macre squash cracker, pere jay fish crisps, crunchy black kanihua similar to quinoa and a divine sauce made that brings it all together with a satisfying crunch.
Land of Corn 2010 m
This is another one of my favourite courses. Titled simply "Land of Corn" it is made up of four types of corn: kculli, purple, chilpi and piscorunto corn. There are small deep fried balls of a corn pudding, soft on the inside and lightly crispy on the outside and there is a wonderful almost sticky corn leaf demi glace sauce. On top are paper thin corn crisps in different colours of the corn. They bring a cob of Piscorunto corn to show us the colour of the corn.
Piscorunto corn
Colours of Amazonia 450 m
These are some of my favourite courses of the night and the Colours of Amazonia is a visually stunning dish using pinks and greens on the plate. It's slices of paiche fish edged in pink-they explain that the Paiche fish is a giant fish from the Amazon River (they're really are enormous!) . They pair this with sweet yacon root, lemongrass and a creamy guanabana or soursop puree that coats the top palate with its texture.
Chef Pia Leon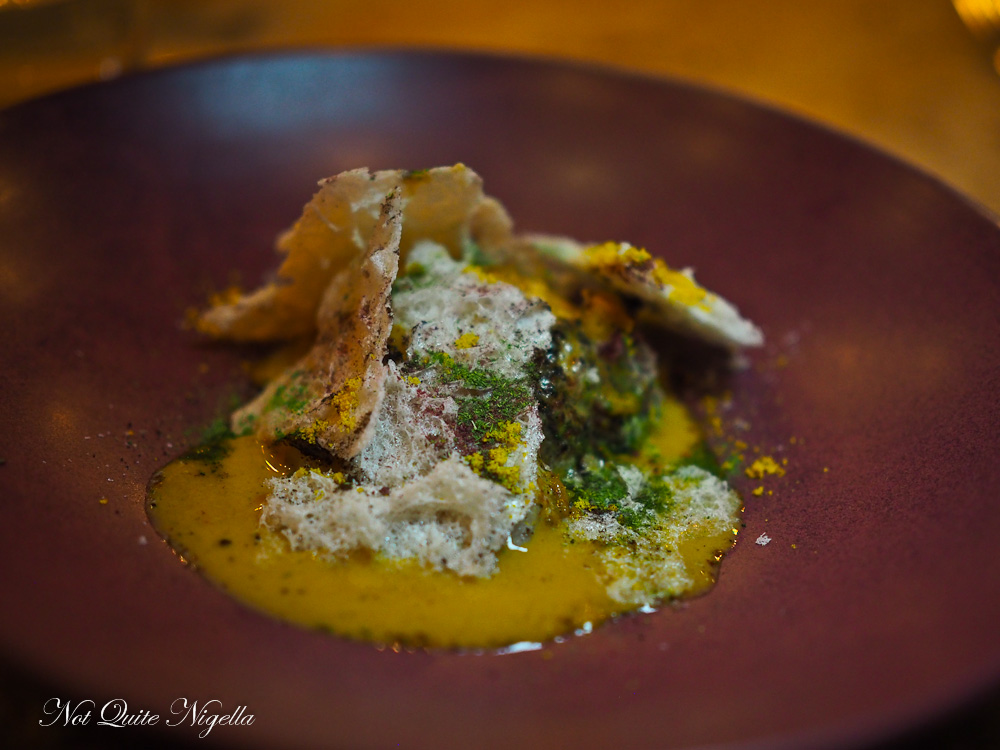 Coastal Harvest 20 m
Pia comes out from the kitchen and brings over the next dish. This is like a hot ceviche made with scallops, borage, tumbo (banana passionfruit) and yellow chilli pepper. She pours the yellow chilli pepper sauce over the dish and it's tangy and luscious just like a ceviche.
Sea Coral -10 m
Admittedly the next dish doesn't actually look very appealing as we thoughts that it looked like pieces of grey boiled meat. It's actually a slightly crunchy but melt in the mouth calamari ink texture with green sea lettuce, perfectly melting octopus pieces with crab foam. This is a combination of perfect seasoning and wonderful textures and is another favourite course.
Low Andes Mountains 1800 m
This is the final savoury course and it is made up of soft, melting glazed pork fillet pieces topped with black mashwa tuber, kiwicha grain similar to quinoa, aji panca chilli and it also has a wonderful depth of aroma and flavour with familiar spices like ground coriander and cumin.
When guests visit the bathroom they take a fork and spoon and pick up the guests napkins and spin them and lay them back on the table. And between savoury and sweet courses there is a change of napkin.
Humid Green 3700 m
The next course is one of the prettiest. It's a refreshing sorbet course with sweet lemon, caigua ice, cushuro edible algae balls which is what we saw him collect in Chef's Table, and an edible clay which is like a meringue. It's wonderfully fresh and the algae bursts in the mouth imparting a sweet, slightly viscous liquid.
Amazonian White 400 m
If you're looking for a "chocolate course" this is the Central version. It is a creamy cacao pudding made with 85% cacao, cubes of the sweetest chermioya or custard apple and thinly shaved Bahuaja nut on top (similar to macadamia in flavour) it's rich but not overly so particularly with the fruity element.
Medicinals and Plant Dyes 3050 m
The last bites are petit fours. There is thin crisp delicious frozen cookies with a strong anise flavour and squares of 70% cacao made with tubers. They use congona, matica, malva (or mallow) and pilipili.
"Would you like to visit the kitchen?" they ask and I don't think we saw one table refuse the offer. You can take photos with the friendly chefs and they all line up for a photo en masse. Our epic meal is coming to a close. We've eaten foods that we've never tasted or even heard of before. Lastly they bring a book as a gift for each customer. It's a beautiful book made up of pressed flowers and native Peruvian seeds embedded in the paper that tells a story of everything that we've eaten. Much like the food has told us a story of Peru.
Want to try Central restaurant? It's part of our September tour! Come along-there are just a couple of places left! Take a peek at the full itinerary, dates and prices here! Can't make it in September but still want to book a tour? No problems, you can also book a modified itinerary and explore Peru yourselves with luxe hotels and all transfers included. Just send us an email on info@experientialtraveller.com or on the website for a quote.
This meal was independently paid for.
Central
Santa Isabel 376. Miraflores, Lima, Perú
+5112428515 / 2428575 / 2416721
www.centralrestaurante.com.pe/en/