Arequipa is the second largest city in Peru and yet visitors sometimes don't pay it a visit skipping it in favour of Cusco and Macchu Picchu. The White City is surrounded by volcanoes (1097 of them!) that loom above the city from practically every viewpoint. There's one of the most stunning monasteries in the world as well as an incredible food scene here.
Some say the best food in Peru is in Lima. It makes sense, it's a large city and the capital but others argue that the best food is actually in Arequipa, the food bowl of Peru. A place where tradition meets food innovation. It is also home to a unique type of restaurant called a Picanteria. This translates to "spicy food restaurant" and is usually a lunchtime local restaurant that serves foods like stew and cuy (guinea pig). The menu can also have a daily special dish.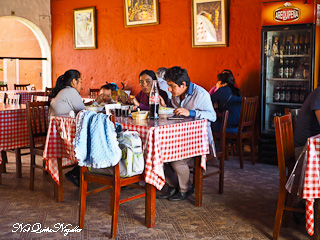 I look up at the picanteria we are at. My partner at Experiential Traveller Rich used to live in Arequipa and this was one of his favourite places to eat and where you'd find him every Sunday. And hanging up above the wood fired stove are guinea pig. "Cuy"(pronounced "kwee") the woman says gauging my reaction. We order one to eat.
There are a few different ways of preparing guinea pig depending on where you eat it. In Arequipa it is simply fried until "super crispy". She lets us in the kitchen and we watch the guinea pig being prepared. They heat a large skillet up with oil and then they place the guinea pig skin side down. They weight this down with two enormous rocks with a handle fashioned from a coat hanger. This keeps the guinea pig flat otherwise it would curl up when frying.
So how does it taste? Well you know the adage that it tastes like chicken? It sort of does but it's richer and oilier and with less meat so it reminds me more of duck. It's very crispy and simply seasoned and it is served with broad beans and a yellow pepper sauce that has a mild tingle to it.
After eating guinea pig we help ourselves to the bottle of Anis Najar a very strong alcoholic drink of which you take a shot of to cleanse the palate from the rich flavour of cuy.
Our next stop in our tour is at a larger picanteria that is the polar opposite of our first one. While the first one has atmosphere in spades this one is more upmarket with business lunchers and it is frequented by the tourist trade.
However the food here is also fantastic - you just have to ignore the band playing cheesy music and the touts that wander from table to table that detract from the food.
I try the local Arequipan papaya juice and I'm in love. I don't usually like papaya because of the smell but this is sweet and without that distinctive smell. Usually at a picanteria there is a dish of simple appetisers. It can be as simple as a few slices of tomato and chilli and a boiled potato or it can be a bit more elaborate like the crispy fried potatoes, fried queso cheese squares here. They come with a Llatan ground pepper sauce with onion and garlic.
Soltero de Queso is a typical Arequipan dish. It's a chopped salad that contains cheese, broad beans, capsicum, onion, tomato, potatoes and olives. This is as far as you can get from a boring salad and it sings with freshness and flavour.
Usually rocoto rellenos or stuffed peppers are filled with beef mince but at Sol de Mayo they are filled with shrimp. Although Arequipa is an inland area about 100km from the coast there is still a strong seafood tradition here. Rocoto Rellenos is always served with pastel de papa or a potato bake. I actually prefer it to the beef filling.
And then there's the Chupes de Camarones, one of the best things I have eaten in Peru. I love soup when travelling. Dusty air, air conditioning and scratchy throats always threaten to derail but this perfectly seasoned prawn soup is the kind of dish that you just find yourself sitting over, not wanting to share. There's a wonderful depth of flavour to this soup that's a bit sweet from the prawns and a bit a salty and a bit creamy.
Another popular Arequipan dish is Adobo arequipeño a pork chop stew simmered overnight and made with chicha de jora, spicy rocoto pepper, aji panca, garlic, spices and onions. It comes with triangular shaped hollow bread (I wasn't a huge fan of the high country bread, it was very dry) and it is a popular Sunday brunch item as it is said to be good for hangovers. The meat is served on the bone and it was soft and the stew is full flavoured and fortifying. After this you also have a glass of Anis Najar.
And last but not least is a uniquely Arequipan dessert which translates to "frozen cheese". Some people call it cheese ice cream but in fact it is made with condensed milk and contains no cheese. It's like a milky rice pudding ice cream with cinnamon and nutmeg but without the rice grains.
We take a walk through the white city with its beautiful buildings before we arrive at the Santa Catalina cathedral. You may have seen pictures of the beautiful red indigo buildings. Built in the 16th century it is 20,246 square metres so it was like discovering a city within a city.
In the 16th century it was home to a group of cloistered nuns. You can see the rooms in which they were allowed to speak to their family once a month through a grill and the side rolling gift window where they were permitted to receive gifts. Gifts of mirrors were forbidden because they encouraged the sin of vanity.
In these times the first child got married while the second led a religious life. The dowry paid by the family (equivalent to $50,000USD) paid for the accommodation. In Santa Catalina there are 80 houses each with their own kitchen and living area.
We wander through with our guide and stop to take photos. We have timed out visit of the day to be the best for light. Buildings are painted white, Indian red or in some cases Indigo blue the most expensive colour as it had to be imported from Mexico.
Currently 16 nuns live here in a separate area but they are not a cloistered sect. They make cakes and sweets and serve real coffee in the cafe. During our September tour we will stop here for afternoon tea hand made by the nuns and coffee and tea.
Dinner is at Zig Zag restaurant in the heart of the historical area. Zig Zag restaurant has been open for 17 years. When Swiss German chef Michael Hediger first came to Peru and lived in Arequipa he decided to combine the concept of the ever present volcanoes and the volcanic rock with Peruvian ingredients and Swiss cuisine to create Alpadina Cuisine.
The restaurant is warmly lit and welcoming with two floors. The upper floor with its arched stone roof is the pick - the winding staircase was designed by no less than Gustav Eiffel. This is where we take our guests to feast on alpaca (but don't worry if alpaca isn't your thing there's lots more on the menu).
There are dishes like Alpaca Tonnato which is a delicious riff on Vitello Tonnato. It's made with thinly sliced alpaca topped with a tuna sauce.
One of the mains is a fondue using Alpine and Andean cheese with a variety of meats and fish from paiche a prehistoric, enormous fish from the Amazon River that is gorgeously delicate in flavour, salmon, alpaca and beef. You wind around the piece of meat or fish around the fondue stick and submerge it for a short amount of time before dipping it in one of the four sauces: a garlic herb one (my favourite), a Peruvian herb butter, a black olive sauce and a rocoto chilli sauce.
The most popular main is the sizzling volcanic rock plate. This comes with a quinoa tomato risotto with cheese and a side salad or ratatouille. You can choose the meats or fish that you want from giant crayfish from the River Tambo to alpaca, beef, fish, Oxapampa duck lamb and chicken. I particularly like the lamb on the volcanic rock.
Although I was full there was no way that I was going to skip dessert. So I've discovered one of my favourite chocolates while here. Quillambamba is an area about 10 hours away from Arequipa but they have fantastic chocolate and coffee there. Although I don't usually order chocolate mousse this version is creamy and very moreish and comes with a shot glass of Pisco.
And the same Quillambamba chocolate is used in these wonderful truffles that are so smooth and delicious with the right balance of chocolate (not too bitter, not too sweet).
So tell me Dear Reader, have you ever tried cuy or guinea pig or would you? And we're busy devising our next Experiential Traveller tours-where would you like us to take you?
Come and join us on our September tour! There is just one place left! Take a peek at the full itinerary, dates and prices here! Can't make it in September but still want to book a tour? No problems, you can also book this tour and explore Peru yourselves with luxe hotels and all transfers included. Just send us an email on info@experientialtraveller.com or on the website for a quote.
All meals and accommodation were paid for independently.