It's my first time at a Belmond Hotel, the legendary chain across Europe, North and South America (and the same company that owns the Orient Express trains) and I'm curious to see what it is like. And if the VIP guest amenity list is anything to go by, I'm in for a treat...
"Ms Elliott, here is a choice of welcome amenities. Please let us know which you would like," says the smiling woman checking me in.
They slide over a list of items. After two weeks of eating around Peru I bypass the sweets, wine, cheese, popcorn and cookies and go for the fruit bowl. I pause though, I only like specific fruit - granadilla and cherimoya (custard apple). That is no problem, they place a quick call to the kitchen and my customised fruit bowl makes it way upstairs to my room.
I'm staying in a junior deluxe club suite with a sea view along the coastline of Lima. The Belmond is an all suite hotel and while this room is large at 50 square metres the suite area isn't a separate one. It's decorated in tones of cream, echoing the misty Pacific Ocean outside.
Let's start with the bed shall we? It's heaven. There's no other word for it. Smooth, silky sheets, a perfect range of pillows and it feels like sleeping on a cloud. The key word to this hotel is quality.
Everything works as it should and as I've checked in in the late afternoon, the turndown is already performed with a pair of thick slippers by the bed (some of the best quality hotel slippers, almost up there with the Mandarin Oriental's) and a delicious miniature alfajore cookie and water on each bedside table.
International plugs are within easy reach and internet is fast and free for an unlimited amount of devices. When I see the coffee machine and ask for a kettle and tea this is brought within a ten minutes, a man carrying a kettle full of freshly boiled water (!), delicious freshly baked cookies and tea bags. Now that is service.
The work desk is large and there is also a day bed for staring out the window at the view. There is an expansive marble bathroom with sublime spa products.
The Italian made Prija amenities smell divine and come in shades of liquid gold and cream. In the bathroom there is a separate bath and shower with two heads. The shower has excellent water pressure and the monsoon head provides massage.
The hotel's location is near Larcomar so it is convenient if you want to try to do a spot of shopping or check out some of the highlights of food or just walk along the beach.
But speaking of things to do, make sure you arrive by 5pm for the Pisco Sour making class. The Belo bar on the ground floor is a cosy, welcoming space and bartender Andre holds a fabulous complimentary Pisco sour making class for hotel guests. It gets booked out so be sure to book ahead of your stay as it is really worth doing. He shows us the 8 different types of Pisco, each using different types of grapes from Quebranta, Italian to Acholado.
He explains that the inventor of Pisco Sour was a bartender originally from Utah called Victor Vaughen Morris. The Pisco Sour was invented when they ran out of whisky for whisky sours. It is made up of three parts Pisco, one part each of sugar syrup and lime juice and then 1/2 a part of egg white. Andre prefers to put less egg white and foam in his drinks as it makes the drinking experience and value better for the guest.
He explains that in Peru they make the Pisco with grape juice only while in Chile they use the seeds and skin too. Around 7 kilos of grapes produces one litre of Pisco. After a 24 hour fermentation and a day it then rests for 2 months to develop the flavour. He also cautions us that you don't need to pay a lot of money for Pisco-around $20USD will get you a really good Pisco. Any more and you're likely to be paying for marketing and the bottle. And if you don't have Pisco? Andre suggest using vodka, whisky or amaretto!
Andre asks me if I'd like to get behind the bar to make a Pisco Sour and I jump at the opportunity. He doesn't make Pisco Sour with ice, instead putting everything in a blender, pulsing quickly and then afterwards shaking it with ice at the end to cool it. He then makes me a maracuya or passionfruit sour which is fabulous and then a Chilcano, a mix of Pisco, lime, sugar syrup and ginger ale. Then he slides across a copy of the recipe with his email address where he asks guests to contact him personally if we have any questions.
I'm loathe to leave the cocktails but I have a booking at the Belmond's Zest spa. But that's no problem as Andre places the three cocktails on a tray and follows me up to the spa on the 11th floor. He then offers to make me an Algarrobina cocktail after my spa appointment, a version of a Baileys creamy drink to help me sleep. I sip on my cocktails and fill in the form at the spa while chatting to the lovely spa receptionist.
My therapist Freddy leads me into the room where I am booked for a "Refreshing" package with 1 hour Swedish massage and 1 hour "Just delicate" facial which is great value for a hotel of this calibre at $170USD for 2 hours. Freddy asks me to breathe in three times and starts on the massage. It's such an interesting massage, entirely different from any other kind I've had but it's so relaxing with plenty of oil used. When it comes time to turn over I swear he had to almost flip me himself I was so relaxed.
During the facial I fall asleep and wake up with the gentle prompt asking me to repeat a short affirmation after him. I manage to slur something along the lines of, "I have peace, joy and love in my heart and in my life," although I can't be entirely sure what I said at this point. He finishes with a flourish and tells me that he hopes that I enjoy my time in his country before disappearing in a flash.
Although I came clothed they invite me to go to my room in my robe which I happily do. But before I leave they ask me to pick a stone. The stone that you pick each has a different meaning. I touch a mottle purple quartz stone which they slide in a little pouch with a card that explains its meaning-it offers protection and care which I slip into my bag with my other good luck protection tokens (yes I carry several with me!).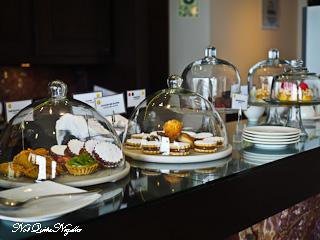 All suites on the 8th-10th floor have access to the lounge which is open 24 hours although staff are on hand until 11pm.
I have a drink of soda water bypassing the champagne on hand and some snacks before going to my room, having a wonderfully long shower and fall into bed asleep.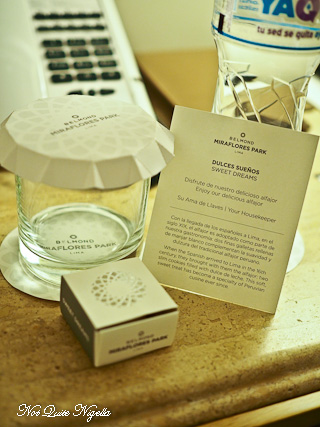 The next morning is my last day in Peru before I head home to Sydney. I rise and have breakfast on the 11th floor. There is a superb selection of cold buffet items as well as freshly made eggs, pancakes, waffles and all sorts of hot items to order as well as eggs, bacon, sausage and other hot offerings.
I choose a range of things from fruit salad, carrot bagels, pita bread, jams and cakes and order a freshly made egg white omelette which they bring over. It's fabulous. There is also a dedicated gluten free section with plenty of baked goods and cereals.
After a long shower and packing for my return flights home I go downstairs for lunch at Tragaluz. I am booked to sit outside but the chilly day and enormous high back chairs in the main restaurant prompt me to switch seats.
After being in Cusco where the bread can be quite dry I literally fall upon the bread basket with gusto. It comes with not one but three chive butter pats with soft onion focaccia, baguette and a wholemeal roll all baked this morning on-site.
I follow this with a small serve of fabulous gnocchi. These are made with the yellow, waxy potatoes (perhaps the closest ones to what we get in Australia) and they melt in the mouth. I don't want to stop eating them they are so good.
My main is an order of Lomo Soltado, a Peruvian stir fry served with potato chips, rice and a fried egg. The beef is very tender and Lomo Soltado is made with tender fillet of beef fried with tomato and onions. The rice goes well with this but I love the crispy thick cut fries. I can't resist ordering more sauce to go with it.
And dessert? I can't think of a sweeter way to end my three weeks in Peru than with a serve of mini churros stuffed with dulce de leche sauce. These simply melt in the mouth and I find myself almost polishing off the whole plate of them! What I can't eat they offer to pack these up so that I have a snack to eat on the upcoming plane ride home.
So tell me Dear Reader, do you carry good luck tokens? Have you ever stayed at a Belmond hotel? And do you ever take anything to eat on the plane?
NQN stayed as a guest of the Belmond Hotel Miraflores but all opinions remain her own.
Belmond Miraflores
Av. Malecón de la Reserva 1035, Miraflores LIMA 18, Peru
Phone: +51 1 6104000
www.belmond.com/hotels/south-america/peru/lima/belmond-miraflores-park/
LATAM Airlines is the leading carrier to and from South America with the largest network and unparalleled connectivity throughout the region.
LATAM operates seven one-stop flights each week from Sydney to Santiago, Chile, with onward connections to Lima, Peru. From 6 October 2017, LATAM will also offer three non-stop flights per week from Melbourne to Santiago, on board its next-generation fleet of 787-9 aircraft. For more information or to make a booking call LATAM reservations on 1800 126 038, visit your local travel agent or www.latam.com.