Today we head up to the Northern Beaches to inhale the gorgeous village atmosphere of Avalon, Whale Beach, Newport and Clareville. Our guide is the gorgeous former magazine editor Nikki Yazxhi from bellamumma who shows us what makes her area special and shows us few of her favourite local shops, cafes and restaurants! This list might have you making the drive to the Northern Beaches one weekend to try everything on offer!
Le Petit Marché, Newport
Our first stop is in Newport for some shopping. Nikki is the first to admit that she isn't a cook although her husband is and the two make use of the cheeses, smallgoods and other food products at Le Petit Marché in Newport. Biarritz born Celine Ward and her Australian husband moved back to Australia to allow their children to connect with their Australian heritage. They originally started as a business importing French wines.
"Being in a small community you get to know what people like," Celine says. For a small shop there is a fantastic range of French brands from food to homewares (the Angelina chocolate is one of their best sellers). She also has different sections devoted to the different regions of France and its food from Brittany to Basque.
But the shop's best seller is the French wine. They started focusing on Bordeaux and small vineyards and then have started to incorporate organic and natural wines. The key to the popularity of the wines are that they are very good value for money, something French wines have never been traditionally in Australia. As for me I fall in love with the homewares including a raw wooden platter and tiny little bottles strung together!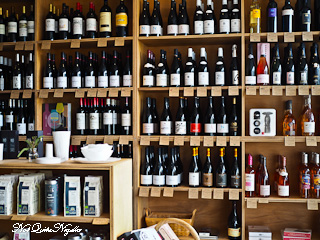 Sneaky Grind, Avalon
It's mid morning and it's cold and we are in need of a hot beverage. Nikki is excitedly talking about "a dandy". So what is a dandy? It's a highly spiced, organic, sugar free dandelion root chai. James Sledmere and Lauren Morris's cafe the Sneaky Grind is located down a laneway off the main street. Brightly coloured banquettes and outdoor tables and chairs feature in this airy cafe. She loves that when she stops by in the afternoon they know what her order will be: a dandy.
Apart from a Dandy Chai Nikki loves the comfort of their dippy eggs, soft boiled eggs and buttered toast fingers. She dips and sips her beloved "Dandy" and eggs. The dandy mix is made by an Avalon man called Jake who wanted to create a caffeine free spicy mix. On top of the chai is "dandy candy" or a mix of coconut and ginger on top. It's spicy and warming and perfect for a chilly day especially with a yolk dipped baton of toast.
Haven and Sarah, Avalon
Nikki is obsessed with flowers, particularly peonies and roses and her go-to florist and giftware store is Haven and Sarah just opposite Sneaky Grind on Old Barrenjoey Road. The Sarah from the name is Sarah Cowley a florist of 15 years whose clients include the super wealthy who ask her to decorate their holiday homes with flowers to someone that wants to buy a bouquet to take to a friend's house for dinner.
Sarah who grew up in Newport loves the area saying, "People here appreciate beautiful things." This is her first business and it opened as a homewares and florist as Sarah realised that there were no affordable homewares in Avalon. Because Avalon has such a village atmosphere she knows everyone's flower tastes (which can be specific!) and creates bespoke arrangements suited to the recipient if people are visiting friends for dinner.
La Banette, Avalon
Around the corner from Haven and Sarah is La Banette bakery. You can smell the pies from a few doors down and they're pulling out pastries from the oven when we stop by. There are small croquembouches and glazed tarts, eclairs and cakes in the shiny display.
"Whenever I go somewhere for a meeting I always take the petit fours," says Nikki pointing to a tray of colourful petit fours with choux buns and chocolate dipped strawberries. And for dinner she will stop by and a leek and bacon, Lorraine or mushroom and bacon quiche for dinner and pair it with a simple salad.
The Whale Beach Deli, Whale Beach
We take a little drive to Whale Beach, one of the most gorgeous areas of Sydney. Nikki says, "The Boathouse at Whale Beach is a favourite spot because it's a local secret (not now though) - they're the heart of the boathouse group, all the experimental new dishes and produce starts there, and the coffee and cakes are AMAZING! It's the perfect spot to sit in the sun for brekkie or lunch!". She loves the trout plate here and we pull up a stool and watch the waves crash at Whale Beach below while we wait for our food to arrive.
This is a more casual breakfast and lunch eatery with picnic tables or bar stools. The restaurant has a share farm with Eugola where they get their eggs and leaves for their menu and the pickled vegetables and relishes are available for purchase too. The trout plate is enormous, with a huge fillet of perfectly poached trout, a sour cream dill sauce, red cabbage pickles and a side salad and two big pieces of toasted rye. I dare anyone to finish it although you'll want to it's so good.
Oceana Traders, Avalon
"We've been waiting for a fish and chips store like this for so long," says Nikki. And like the saying goes, good things come to those that wait. Oceana Traders is a family run business with brothers Lucas and Max and their business partner Will King and they are one of her favourite stops for dinner.
Nikki loves the crunchy fish tacos, flathead fish and chips (they use fresh not frozen flathead fillet which you don't often see used in fish and chips) and a wonderful seafood chowder. And on weekends there's a special treat: Hawaiian poke bowls using traditional Hawaiian recipes. The soy salmon is wonderful but so is the spicy mayo salmon too. Look out for a separate story to come about these guys.
Clareville Kiosk, Clareville
Our last stop is for a quick lunch at Clareville Kiosk, a gorgeous restaurant in a former post office. It's a peaceful, quiet corner of the world and you can really see why people gravitate towards the Northern Beaches area for some quiet and tranquility. Nikki makes sure to eat here at least once a season.
"Clareville Kiosk has always been a fave, even before we moved to the Northern Beaches. It's had a few reincarnations, some not so great, but this is probably my fave. Nathan and Tom are doing amazing (so so pretty / instagramable / delicious / clever) food, and stunning wines to match. Plus, it doesn't cost an arm and leg!!!!" says Nikki. Chef Tom Gillett plates up beautiful dishes like this potato mousse with puffed rice, fried button mushrooms, onsen egg, malt, onion and yeast flakes. Dining is great value too with 2 courses at $55 and 3 courses at $65 lunch or dinner.
Thanks to the amazing Nikki from Bella Mumma for sharing her favourite Northern Beaches finds!!
So tell me Dear Reader, which shop or eatery would you like to have as your local? Where do you call home and what is your favourite place in your suburb and why?
Le Petit Marché
15 Robertson Rd, Newport NSW 2106
Hours: Open Monday to Saturday, closed Sundays
Phone: (02) 9979 2464
Sneaky Grind
3/48 Old Barrenjoey Rd, Avalon Beach NSW 2107
Open 7 days
Phone: 0450 006 206
Haven and Sarah
33 Old Barrenjoey Rd, Avalon Beach NSW 2107
Open 7 days
Phone: (02) 9918 7772
La Banette
28 Avalon Parade, Avalon Beach NSW 2107
Open Tuesday to Sunday, closed Mondays
Phone: (02) 9918 2948
The Whale Beach Deli
1/231 Whale Beach Road, Whale Beach, NSW 2107
Open 7 days
Phone: +61 2 9974 5440
Oceana Traders
31 Old Barrenjoey Rd, Avalon Beach NSW 2107
Open 7 days
Phone: 0425 349 749
Clareville Kiosk
27 Delecta Ave, Sydney NSW 2107
Phone: (02) 9918 2727
Dinner Wednesday to Saturday from 6pm
Lunch Friday, Saturday, Sunday from 12pm