"About 5 or 6 years ago you could be mediocre and get away with it but not anymore," says food feature writer, Visit the Shire blogger and passionate Cronulla local Carla Grossetti. She is showing me around her beachside neighbourhood of Cronulla, located in the Sutherland Shire in the south of Sydney. It is a tour that we have been discussing for over a year. Fate seems to have intervened with our schedules meshing and now seems to be the best time to visit as an extraordinary number of new eateries have opened up in the last 6 months. Each has its own distinct identity yet they work together as a team to lift Cronulla's profile as a food destination.
Grind Espresso
The food scene in the Cronulla of today is vastly different from what it was like 14 years ago when Richard Calabro first moved here and set up his coffee business Grind. It was formerly a hole in the wall but word spread and he has now relocated to a new premises on Surf Lane. Carla sits at the bar and chats with Richard who she dubs "the Godfather of Cronulla". It's a popular post sand dune workout place early in the morning but the crowds are omnipresent during any time of the day.
As the name suggests they specialise in coffee and Richard passes over a Cuban espresso. There is also cold drip and aero press but espresso is the main coffees here. He uses the lever to create the coffee that Carla describes as the best in Cronulla. Using the lever as opposed to the pump is like the difference between digital and analog. The lever requires more skill and feel.
The aero press is becoming popular and is made using exacting temperatures. It is designed to bring out the sweeter flavour of coffee. While the cold drip comes with a large sphere of ice, just as it should, a welcome respite on this hot summer's day.
"Rich transformed the café culture in Cronulla. I love getting my café geek game face on at the Lever Lab to talk coffee, music and Cuba with Rich. He is a deadset local legend," says Carla.
Blackwood Pantry
A short distance away on Surf Lane lies Blackwood Pantry, named after a secret beach in Cronulla. Only a month old the cafe is bustling and there is a queue outside. Childhood friends Daniel Sorridimi and chef Robert Lechowicz partnered up with a finance partner and as Daniel says "As soon as we opened from day one it was a massive hit". It's a combination of beautiful design, effervescent service and great food done with a twist.
Robert is ex Bilsons and Bambini as well as a long list of Paris and London Michelin restaurants but here he makes food that he wants to eat that focuses on fresh and healthy. The sublime fresh basil yogurt was inspired by an accident when he spilled basil oil into yogurt.
Fresh Basil Yogurt $11
It comes with fresh fig slices, strawberries, candied pistachio and the option of toasted granola. The deconstructed French toast looks like a fine dining dessert but at a cafe price. With cubes of caramelised brioche it sits on a ginger and white chocolate foam with Szechuan poached peaches.
Deconstructed French Toast $15
For something more substantial the roasted rib eye is a multicultural dish that has an accent of Spanish onion pickles, Thai basil, eggplant and pomegranate. The dukkah glazed lamb shoulder is divinely soft and double glazed and served with a fresh salad of snow pea shoots, julienned green apple, zucchini, lime and halved green grapes which lifts the unctuous meat beautifully (I'm pairing my next lamb shoulder with grapes!). But my favourite is the vanilla poached salmon on a bed of beetroot hummus, chickpeas, toasted pumpkin seeds and dill. The salmon is beautifully luscious and made for the sweetness of beetroot and the crunch of the seeds.
Vanilla poached salmon $19
Jake Chalmers
"I was explaining to a woman that the name Jake Chalmers is my porn name and she asked me shocked 'So you do porn?'". That's Anthony Gentile who runs Jake Chalmers, burger place right next to Blackwood Pantry, open for just three and a half weeks. And no it's the name of his first pet and street.
There is a neat selection of five burgers, two beef, one fried chicken, one pork and a one lobster. He tells us that the beef burgers are a hit with the guys while ladies prefer the lobster burger. They use soft milk buns made in the Shire and the beef is a mix of chuck, rump and brisket with 15% fat. Ketchup is house made. True to my gender I like the lobster burger, full of chunks of sustainable lobster. But beef wise the Jake's burger with the beef, double cheese, spicy beetroot relish, Jake's sauce and salad is delicious. Mr NQN goes for the double cheese beef cheeseburger, a meaty classic with double cheese, double beef, mustard, pickles and Jake's ketchup.
Lobster burger $18
Anthony admits that he underestimated the amount of enthusiasm people have for items like the humble pickle. Their pickle suppliers are Two Alchemists-one customer loved them so much that they hugged him. And any surf grommets that come in their school uniform after school (3-5pm) can get a pre or post surf burger and chips for $10.
Jake's Burger $12
Henry's
You can always tell what a place is like from the first reaction of people when you mention it. Henry's has only been open since mid December 2015 but when people ask where we are going and we mention Henry's their eyes light up. Located on the corner of Ocean Grove Avenue and Gerrale Street the prize spot is sitting outside along the street watching Cronulla rumble by. Service is very friendly and genial.
Clockwise from left: Wagyu beef carpaccio $20, Yelllowfin tuna nachos $21 and Whipped goat's curd $14
The menu is made up of fresh options - whipped goats curd with almonds, truffled honey and house made lavosh is the stuff that angels eat it is that light. The wagyu beef carpaccio with fried egg purée, horseradish and kohlrabi is en pointe.
Fried cauliflower $19
It's hard to go wrong with the menu here-the flathead tacos, yellow fin sashimi taco on prawn crackers and fried cauliflower salad are also winners. And it is the sort of place that you can stop by for a drink as their cocktail list is superb.
Crispy flathead tacos $6.50 each
Eat Burger
Further down Gerrale Street towards South Cronulla Beach is Eat Burger. As the name suggests they specialise in burgers, wings, shakes and chips, all with a relaxing view of Cronulla Park and the beach below. "Imagine a young grommet who has just come in from the surf, dusted the sand off his feet and he's so tired from paddling that the only two words he can manage to say are 'Eat Burger' before he paddles back out into the line-up. That was chef Paul Camilleri's vision behind Eat Burger," says Carla. Open for just 7 months it's very popular. "Last time I was here I was in line with cricketing legend Steve Waugh!" says Carla.
Strawberries and cream shake $9
The beef here is grass fed and hormone free and they use milk buns by Brasserie Bread. But nothing makes a burger slide down better than a milkshake, especially a very Instagrammable one like the strawberries and cream with a head of cream and Persian rose fairy floss.
Wagyu burger $16 and chicken burger $13
The wagyu beef burger is an upmarket affair with wagyu, streaky maple bacon, pickled onions, tomato jam, cheese, iceberg and truffle aioli while the southern chicken burger is luscious with a crunchy chicken thigh fillet, slaw, chipotle mayo, bacon and cheese.
Rocky road sundae $10
And then there are the sundaes dispensed from an Italian soft serve machine. The Eat's Rocky Road Sundae is made with Turkish delight, toasted marshmallow, Persian fairy floss, white chocolate and pistachio and a Nutella chocolate sauce. And a tip: if you walk down onto the beach and follow the white wooden posts around the corner off Cronulla Point there is a well known surf break called Shark Island as well as Blackwood Beach which Blackwood Pantry is named after.
Queen Margherita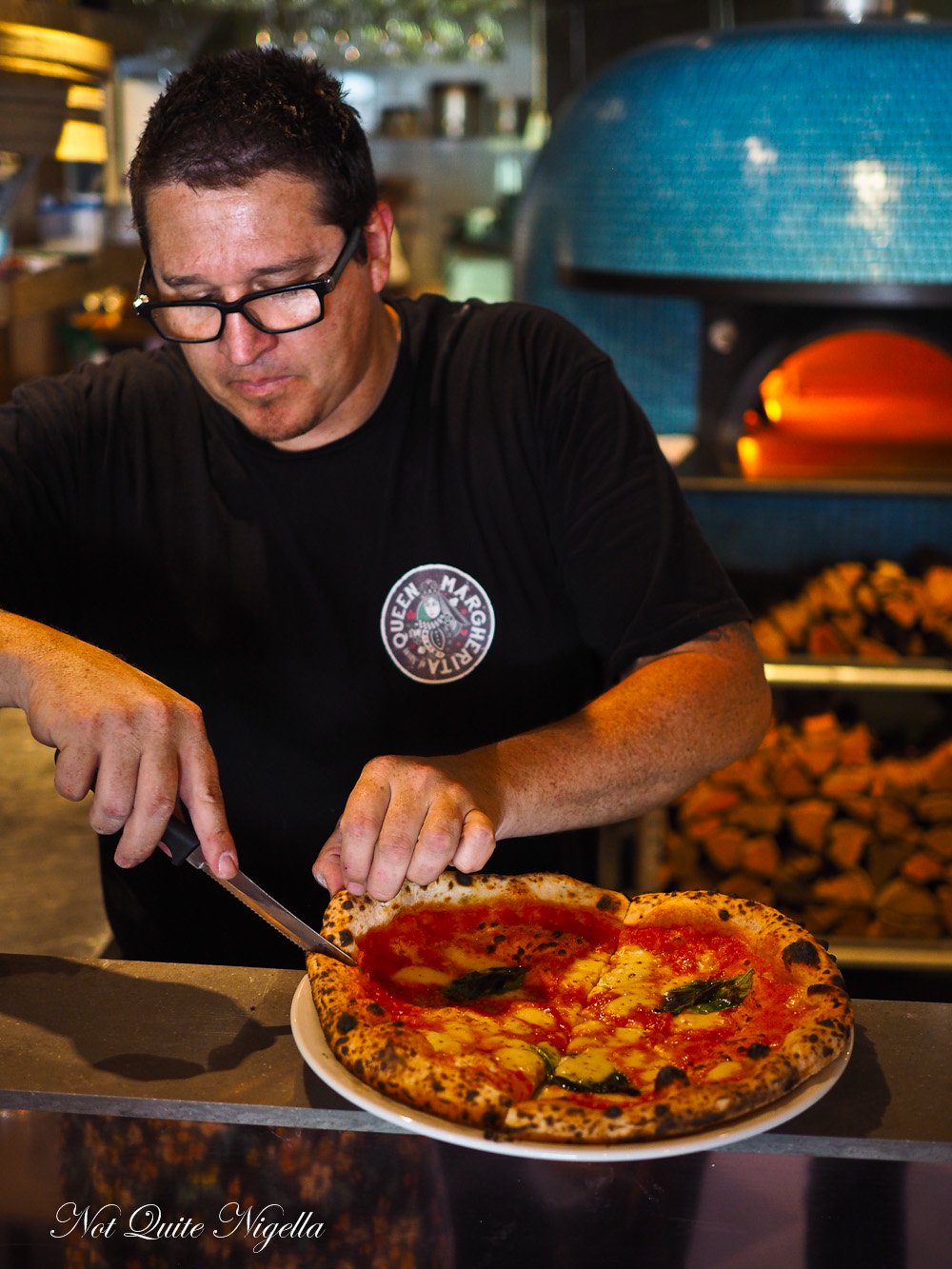 "If you want to eat like a Neapolitan, you fold the pizza," says Lee Carroll, owner of Queen Margherita Of Savoy pizzeria on surf road. It's almost 5pm and once that hour hits, the restaurant will be full of patrons eager to try the traditional Neapolitans style pizza.
Queen Margherita is one of roughly a dozen AVPN accredited pizzerias in Australia. That means that the pizzas they make have to adhere to Neapolitan standards or standards of gastronomy. That means toppings like ham and pineapple are out.
The process of Neapolitan style pizza making is simple and starts with a litre of water. To this, flour, salt and a tiny amount of yeast are added, the yeast to start the fermentation process. No sugar or oil is added. And when topping the pizza, no more than 100g/3.5ozs. of Fior de Latte cheese can be added. The pizzas bake for 60-90 seconds in the 400 plus degree oven and Lee slides one across. Naturally we fold and eat it like a Neapolitan and it's brilliant-despite how much I have eaten already I could finish the whole thing off. Now that is the life or la dolce vita.
Low and Lofty's
By day you might walk past this small entrance located on the mall selling sandwiches but by night, they move away the sandwich display and the entrance leads upstairs to a tropical themed bar with neon flamingoes and banana leaf decorated walls. It's 5pm and we are here for some pre-dinner cocktails. The food menu is meat driven and all offerings but one are gluten free as owner Mady Lyon is celiac.
Pancake piñacolada $17 and Mr Mr $18 (right)
Cocktail wise I go for a pancake piñacolad, an enormous frozen concoction with cinnamon infused matusalem rum, fresh pineapple, citrus, coconut and maple syrup which is addictively sweet in this heat and yes reminds me of pancakes! Mr NQN's drink is served aflame - with Appleton rum, Kraken rum, blue Curacao, lemon, lime, pineapple, Falernam Tiki syrup, mango and a flaming passion fruit.
Frangipane Gelato
The humidity has lifted slightly and there is a breeze but a pre dinner gelato seems like a good idea. Gelato maker Di Kontoprias has been making gelato at Frangipane Gelato since 2002 in Cronulla. She learned the trade in Greece and Italy. Her walls are decorated with awards and one of them is for her pavlova gelato, a smooth passionfruit flavour that nabbed her third place at the Gelato World Tour in 2013.
For her, a great gelato has simple flavours and she prefers a single flavour in her gelatos over a mixture of them. She explains that in Cronulla they prefer simple flavours that aren't particularly strong and they like their gelato on the sweet side.
Yalla Sawa
Carla says, "Yalla Sawa has to be one of my favourite restaurants in Sydney. It is not attempting to reinvent anything. Chef Walid Karam is simply trying to feed his customers well. The restaurant, like its owners, is very humble. It's a place I keep returning to because it feels civilised, the staff treat you like family and the food is really, really good. Owner Jad Nakhle also has links to the Brass Monkey and El Sol, which are my two absolutely favourite watering holes in Cronulla."
Yalla Sawa means come together. And it's the second last place of our tour of Cronulla and one of Carla's favourites. Located adjacent to Monro park on surf lane the small Arabian restaurant has been open for over two years.
Felafel $6 each
Dips are popular, particularly the labne that comes out on a wooden board in a jar with oil. We start with the felafel, two enormous balls on a triangle of saj bread with pickled turnips, chilli, mint and tahini. The two types of chillies are for those that dare-there is a fresh small red chilli and a pickled green chilli.
Lamb shank tagine $34
Mains are meaty and the lamb shank tagine is cotton soft, the pieces of bone just made for sucking the marrow out of. Toasted almonds give crunch but I don't think it needs them. The beef rib is sizeable. It comes out in three large pieces on Jerusalem artichoke purée. The rich, unctuous meat is lifted by a tangy, spicy hit from the pomegranate molasses and Harissa.
Beef short ribs $29
Baked eggplant $16
Another favourite is the eggplant, sliced in half lengthways and filled with chermoula, freeekah, herbs, nuts, dates, carob molasses and pomegranate. The chewy chopped dates are delicious and the tahini sauce brings it together perfectly.
Dessert is a scoop of pistachio ice cream sprinkled with sumac on a bed of halva with pine nut toffee. And on top? A surprising but delicious sprinkling of sumac that gives it a sherberty taste. The bill comes with Gandour chewing gum that tastes like a mix of juicy fruit and peppermint.
The Blind Bear
"Ben Lewis also supports the local live music scene and he was the first to gift Cronulla with its very own scuzzy dive bar, The Blind Bear. It's a magnet for the bearded, dreadlocked brigade. The cocktails are crazy good, bar snack menu short and concise and vibe worth bottling," says Carla.
The entrance way to The Blind Bear is unassuming, you have to know where it is. Push open the large black door and enter The Blind Bear, named after a term used during prohibition for a speakeasy.
A great bartender can read a customer and make them a drink that suits their personality. And despite the fact that the Blind Bear has a range of 100 whiskeys, alas it really isn't my sort of drink. I prefer something refreshing, light and fruity.
The Blind Bear owner Ben pauses and opens a little cupboard and stirs and mixes something for me. He slides it over. The Rag Tag is made with pampero blanco, Apple liqueur, fresh honeydew and mint with house passion fruit soda. And it's utterly perfect for me and the ideal way to end the Cronulla food tour.
We didn't include these restaurants on the food tour because I have already done full reviews of them. Check them out below:
A tip: get a train into Cronulla. Parking in Cronulla is not great at all.
So tell me Dear Reader, which dish or eatery appealed to you the most? Do you like to travel for food or food experiences?
These meals were independently paid for (although some wanted to host us so we tipped their staff generously instead!).
Grind Espresso
4/15 Surf Lane, Cronulla NSW 2230
Phone:0403 844 533
http://www.grindespressospirit.com/
Blackwood Pantry
5/33 Surf Ln, Cronulla NSW 2230
Phone:(02) 9544 4857
http://www.blackwoodpantry.com.au/
Jake Chalmers
33 Surf Ln, Cronulla NSW 2230
Monday to Friday 11:30-8:30
Henry's
1 Ocean Grove Ave, Cronulla NSW 2230
Phone:(02) 9527 0305
http://www.henryscronulla.com.au/menus
Eat Burger
43 Gerrale St, Cronulla NSW 2230
Phone:(02) 9523 6471
http://eatburger.co/
Queen Margherita
9/2-8 Surf Rd, Cronulla NSW 2230
Phone:(02) 9527 4992
http://qmos.com.au/
Low & Lofty's
51A Cronulla St, Cronulla NSW 2230
Phone:(02) 8544 3327
http://lowandloftys.com/
Frangipane Gelato
117 Cronulla St, Sydney NSW 2230
Phone:(02) 9544 0216
http://frangipanigelato.com.au/
Yalla Sawa
Beach Park Ave, Cronulla NSW 2230
Phone:(02) 8544 0614
http://yallasawa.com.au/
The Blind Bear
28 Cronulla St, Cronulla NSW 2230
https://www.facebook.com/blindbearcronulla/