This unassuming fish and chips shop on Old Barrenjoey Road in Avalon is not your usual chippie. Oceana Traders is a three month old business whose passion is fresh Australian seafood and making quality food from scratch. Run by brothers Lucas and Max Frazer and their friend Will King there are of course grilled or fried fish and chips but take a closer look and there are some other interesting things on offer.
They like to do things quite differently at Oceana Traders. Take for example the chip, the uniqutous partner of the battered fish. Every day they hand cut 100 kilos of potatoes into chips. "People ask us why we open at 11am and not earlier, that's because we're busy cutting chips!" says Lucas. They were inspired to do this when they realised that ready made frozen chips had a coating on them that wasn't gluten free and they wanted to make something to cater for gluten free customers.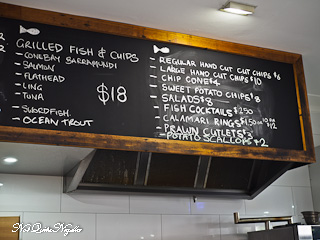 And then there's the fish which is an all Australian catch. Their fish and chips uses flathead-not the usual fish used in fish and chipsh because of its higher pricepoint (although for me it's the best fish for fish and chips). Every time a customer orders grilled or battered fish and chips they will take a fresh fillet from the window and cook it. Lucas explains that some customers are surprised that when they order fish they can pick the fillet that they want from the display.
On weekends they have poke but this poke is the real deal. It is prepared using a traditional Hawaiian recipe. There are two types of poke, one soy based marinade and another with a spicy mayo marinade-they're both delicious but I love the O.G., in this case the Oahu Grown with a soy base, white and green onions and sesame seeds. The Kailua Sunrise has a spicy mayonnaise base, white and green onions, sesame seeds and tobiko or flying fish roe. The only concession to the Australian market is that they use salmon and not ahi tuna because customers love salmon. All of the sauces are also made in house including what has to be the one of the hottest chilli sauces featuring the Carolina Reaper chilli (your tongue will tingle for a good half hour later). I also love their spicy bbq sauce.
And during Winter they serve what has to be one of the best seafood chowders ever. It's thick and full of bits from corn to potatoes to seafood. Sometimes chowder feels a bit extended out and floury but not this baby. Served with a fresh damper roll it's the sort of thing you want to buy more of so you can have it the next day and the next.
]
Lucas explains that when they first opened they realised that they needed to hire a chef just to take the food to another level. Their chef Mark Rafferty is responsible for growing the unique hot chilies and putting them in sauces and recipes, creating Thai sauces and the delicious chowder for retail. I also tried the Malabar curry sauce which was a gorgeous, tangy, sweet, rich curry sauce that goes perfectly with mixed seafood. I watch people buy lobster tails and fish fillet and ask questions about cooking and storing which the boys answer in detail.
If you peer into the freezer you may spy a bright red fillet. I am very excited to see fillets of wild caught Canadian salmon! I've been looking for this for a while and I have to buy it. There's nothing quite like the colour and flavour of wild caught fish. Lucas explains that all salmon in Australia is farmed so Canadian is the best way to try wild salmon. There's also Patagonian toothfish and giant crab legs. I buy some wild salmon to take home with me and I also try the Malabar curry mix. All of this is packed up to go in a styrofoam box with helpful tips from the boys on storage and cooking.
So tell me Dear Reader, do you have a good fishmonger? And have you seen much wild salmon available? What is your favourite type of seafood?
Oceana Traders
31 Old Barrenjoey Rd, Avalon Beach NSW 2107
Phone: 0425 349 749
Friday & Saturday 11am–8pm
Sunday to Thursday 11am–7pm