This cake is an absolute dream-a gorgeously moist and delicate butter cake base with a florentine style nutty caramelised almond topping Toscakake is a mysterious Scandinavian cake with a very light history to it. I decided to call her Ingrid.
There's very little to uncover about the Toscakake origins and today the Norwegians claim it as their own as do the Swedes. The only thing I can contribute to the argument is that you absolutely have to make this gorgeous coffee cake (it's a pushy recipe) and enjoy it with friends because it is so delightful and an absolute crowd pleaser. It's rather simple to make as well and definitely tastes like a lot more effort was made than it was.
Speaking of cake efforts, I was recently with a lovely client who was tearing her hair out as it was her young son's birthday. The job of procuring the birthday cake had landed in her husband's lap but even on the morning of the day nothing had been purchased. She found herself busy calling around to see if a nearby bakery had a cake similar to her son's favourite cake. If we had the ingredients I would have whipped one up for her.
But then her husband called her back. He had a cake! But that sounded too easy and she asked him about it. It turned out that he had actually bought half a cake. "Why did he buy half a cake? Who buys half a cake for a birthday?" she asked. He said that he bought half because he thought practically speaking they wouldn't eat it all and there was always left over cake.
I have to admit that many years ago I got half a birthday cake from friends. And as irrational as it was, I felt a bit disappointed when I opened the box to see half a cake as I had always made them, well...whole cakes (you can't really bake half a cake). I know should have felt grateful that they got me a cake at all but a half cake seemed odd. I've never been accused of being practical though so maybe it's the difference between a practical and a less practical person.
So I asked my practical husband Mr NQN yesterday if he would buy a half or a whole cake. He answered that he would buy a whole cake explaining "Half a cake makes you look like a cheapskate," he answered before adding, "George Costanza would buy half a cake" which made me laugh. He may be practical and he may be right there.
So tell me Dear Reader, would you ever buy half a cake for someone's birthday? If yes or no, why? Have you ever tried this cake before?
DID YOU MAKE THIS RECIPE? Share your creations by tagging @notquitenigella on Instagram with the hashtag #notquitenigella
Toscakake
Rated 5.0 out of 5 by 2 readers
An Original Recipe by Lorraine Elliott
Preparation time: 15 minutes
Cooking time: 55 minutes
3 eggs, at room temperature
150g/5ozs. caster or superfine sugar
125g/4ozs. cake flour*
1.5 teaspoons baking powder
190g/6.7ozs. butter, melted
For topping
75g/2.7ozs. butter
150g/5ozs. caster or superfine sugar
Pinch of salt
1/4 cup cream
70g/2.5 flaked almonds
30g/1oz. rolled oats
To make cake flour, measure 1 cup of plain flour and replace 2 tablespoons of plain flour with cornflour/fine cornstarch
Step 1 - Preheat oven to 175C/347F and line an 8inch/20cm baking tray with parchment on the base and sides. Beat eggs and sugar until pale and thick. Whisk flour and baking powder together and then sift flour mix into the eggs and then fold with a spatula. Add the butter and mix until incorporated. Pour into the prepared tin and bake for 40 minutes.
Step 2 - 10 minutes before the cake is done, melt the butter and then add the sugar and salt in and dissolve. Then add the cream (I forgot the cream-oops but please don't as it helps obtain the right consistency to the topping) and stir before adding the almonds and oats. Keep on low heat.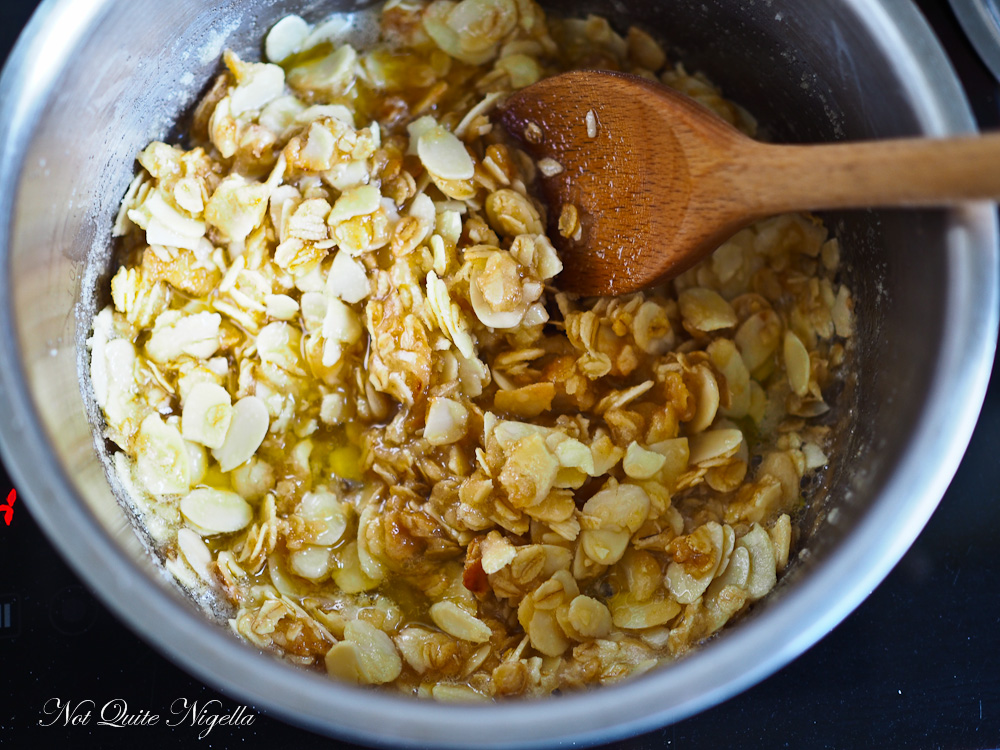 Step 3 - Spread the nutty mixture over the cooked cake and bake for another 15 minutes.