I know that I can get pushy when I love something and this cheesecake is an example of this. This cheesecake is for those that want an easy, light cheesecake that can be made with just three (or four ingredients if you count the blueberries). Everyone needs a no sweat, delicious cake recipe up their sleeve that will impress guests and this is it!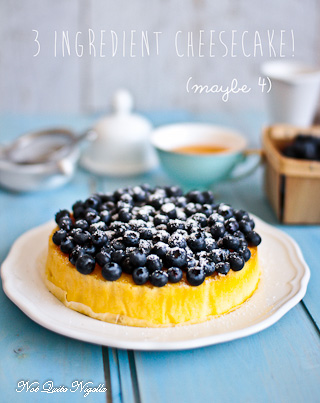 This recipe is brought to you by Burnaid® gel.
The recent October long weekend was very much like a salvation in the whirling chaos of the second half of the year. I should explain the situation to non Aussies; we are lucky enough to get a lot of public holidays in the first half of the year but the second half is relatively bereft of them and when October rolls round, we cling to the three days off like a life raft. Or maybe that's just me.
I worked on Saturday and Sunday but decided to take Monday off. We lay in bed sleeping and watching episodes of Law and Order SVU (I'm mentally training for my next career as a police detective) and debated fruit salad at length. Mr NQN is still on a campaign to do fruit salad as one of our food challenges. I am steadfast in my avoidance of it. To me, there is never a takeaway fruit salad that doesn't have a truckload of melon in it. And melon is well just really so very unexciting to me. My perfect fruit salad would have fresh figs, cherries, sweet berries, pomegranate and maybe some juicy white peach or nectarine. You could only really get this at home but Mr NQN was adamant that we could find a great fruit salad.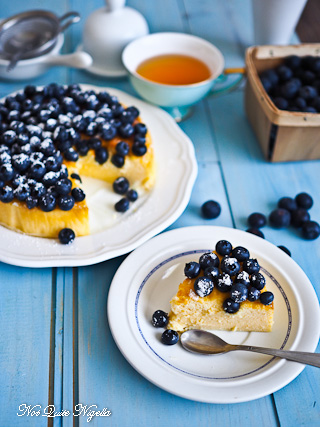 All he wants nowadays is fruit salad (it's his death row meal- I know! Crazy!) and I'm always all about the cake so I decided to make a recipe that was what we both wanted, an easy no sweat 3 ingredient cheesecake that I saw on Alison's blog a couple of months ago.
I always have cream cheese in my fridge for cheesecake emergencies (it's really a thing!) and we had just bought some fresh blueberries. This is the kind of recipe that you can make relatively quickly as there isn't much to it. I did it when I was really busy the next day after our day off. And did you know that when you're busy and rushing you're more likely to get a minor burn? 88% of burns happen at home, mostly in a kitchen and Burnaid is a staple in commercial kitchens but is now available to the public from pharmacies. The most frequently burnt are women that work full time who burn themselves on hot surfaces or hot liquids while they're trying to do 10 things at once.
This week I also learned that everything that I was doing when I got burnt was all wrong (and I do get burns about once a month although thankfully not serious ones). Did you know that you are supposed to hold the burn under cold running water for 20 minutes? I usually hold it for about a minute and then have to get back to cooking and doing everything else so I grab some ice to cool it quickly but this is one of the worst things you can do because it kills the skin cells! Eeek! Doing it all wrong :(
If you have a shallow burn less than a 20 cent piece then you can use Burnaid gel after you soothe your burn under running cold water for 20 minutes and it keeps it cool and reduces the pain. And thankfully I didn't burn myself with this recipe even though I was doing about 10 things at once which is good because this definitely won't be the only time that I make this cheesecake. And yep Dear Reader, if you like simple, light, Japanese style cheesecakes this is a pushy recipe!
I thought that this cake might be too "eggy" but it isn't. Japanese style cheesecakes are made with a much smaller proportion of cream cheese. This is a relatively small cake baked in a smaller round tin than normal but the sweet, plump blueberries on top are the perfect way to serve a neat slice of this delicate, soft cake.
So tell me Dear Reader, did you know how to treat burns or were you like me and using ice and just a short time under the tap? And have you ever tried Japanese style cheesecakes? Do you burn yourself often?
For the first aid treatment of minor burns. Always read the label. Use only as directed. For further treatment see your healthcare professional.www.burnaid.com.au Mundipharma Pty Ltd, Sydney. ®registered trademark. CH-0013 Aug 2015
Did you make this recipe?
Share your creations by tagging @notquitenigella on Instagram with the hashtag #notquitenigella
No Sweat Easy 3 Ingredient Cheesecake!
Adapted from liaisonwithalison from Ochikeron
Preparation time: 10 minutes
Cooking time: 30 minutes
160g/5.65ozs. white chocolate (you can also use milk or dark chocolate)
160g/5.65ozs. cream cheese, softened
4 eggs, at room temperature
Optional to decorate
2 punnets of blueberries
Icing sugar (ok that's a fifth ingredient but really it doesn't need it, it was just for the photo)
Step 1 - Line at 17cm/6.8 inch round tin (please note, this is a smaller tin than usual) on the base and sides and if it is a springform, cover the outside with two layers of foil to prevent water seeping in. Put a kettle full of water onto boil and preheat oven to 170C/340F. Have a water bath ready for the cheesecake.
Step 2 - Melt the chocolate in a double boiler or in a microwave in a large bowl being careful not to burn it (white chocolate burns quicker than dark or milk). Add in the cream cheese and stir to cool. Add the egg yolks to this and mix completely.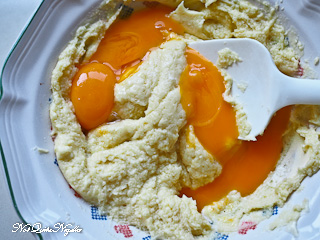 Step 3 - Whisk the egg whites until stiff peaks and spoon about a third of the egg whites into the chocolate mixture. Fold gently until any white streaks are gone and then add the rest of the egg whites in two lots. Spoon into the prepared tin and pour in the hot water around the sides of the water bath. Bake for 30 minutes. Turn off the oven and allow to reach ambient temperature. Remove from the water bath and drain away any excess water from the foil and cool.
Step 4 - Top with blueberries and icing sugar if using.
For the first aid treatment of minor burns. Always read the label. Use only as directed. If symptoms persist, see your healthcare professional.www.burnaid.com.au Mundipharma Pty Limited, Sydney. ®Burnaid is a registered trademark. CH-0013 Aug 2015
U&A study 2015, Galkal