Milk Bar Cafe 2223 is a real blast from the past and a walk down memory lane. If you grew up in an era where lollies were 1 cent each and you could play outside without your parents worrying about you then you may just want to pay a visit to the suburb of Mortdale for some delightful nostalgia at Milk Bar 2223.
As I approach Milk Bar Cafe 2223 with Mochi, I spy a hotted up orange car, vinyl chairs and a familiar vintage Milk Bar sign and a big crowd gathered.
It seems I'm not the only one that yearns for a bit of nostalgia. The queues outside are long and people wait outside for a table.
Luckily Cheryl arrived at 11:30am and secured a table for Belinda, Mia, Ruby and I. To pass the time she sipped on a strawberry milkshake (served in an aluminium canister of course).
I inhale. There's the aroma of an old fashioned hamburger joint wafting out and the haze from the cooker giving everything a vintage patina.
The tables are vintage pieces and the seats? Well they're old bus seats bought by owner Tony Fitzgerald because they're just about the most comfortable thing you can sit on.
The 1 cent lollies have resisted the pressures of inflation and are indeed 1 cent each with a limit of 10 per child. But it's such a fun idea that even sweet averse Ruby and Mia go up to order some.
The menu is simple-there are a few concessions to contemporary life like avocado toast and cold pressed juices but for the most part the menu is delightfully nostalgic. Chicken schnitzel, steak sandwiches and old skool burgers feature along with spiders and milkshakes. Breakfast is served from 7-11:30am and lunch from 11:30-2:30pm.
We order an assortment of drinks-the lime spider is sweet heaven while Cheryl's tip is a worthwhile one-ask for a double pump of strawberry flavouring in your milkshake. There are no fancy syrups here but it's amazing how quickly a sip or taste of something can have you thinking that you're wearing your school uniform and Bata school shoes.
The chicken schnitzel, well it's a bit dry and needs some sauce or something but it is golden and freshly cooked. There is a choice of chips or salad but we automatically get chips. I guess they profiled us immediately ;)
My steak sandwich isn't bad at all, with tender steak, barbecue onions, beetroot (tinned of course for the true nostalgic experience) and a choice of barbecue or tomato sauce. The waitresses are lovely but it seems that deviations from the menu don't always come through in the order and a spider order is mixed up for a shake.
Cheryl's burger is the pick-she orders a regular burger and asks for no beetroot (sacrilege!) but adding egg, bacon and avocado. It's actually a perfect add on but they actually don't leave off the beetroot leaving Belinda to pick it out of Cheryl's burger for her as she looks on aghast. The burger is classic old skool-there's no milk bun or medium rare patty here. One bite and you're back in after school detention!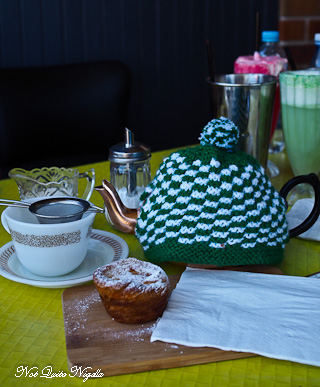 "Is it okay?" the young man asks as we tuck into our banana split. It's the first time anyone has ever ordered the banana split. He can rest assured that a banana split is hard to mess up but it's pretty much just what we remember with blue ribbon ice cream, chocolate sauce, banana, whipped cream, sprinkles and a cherry.
Don't leave without paying a visit to the back room aka the pool room where everything that was fashionable in the 70s and 80s is pinned to the wall.
Ruby and Mia play a pinball machine while we reminisce at the brands that we haven't seen in a long time. There are Bankcard signs and the original menu shows sandwiches for 15cents. There's even a cup of Bonox on offer!
Tony explains that it was a runaway success even from the beginning-it's busy at lunchtime but at 2:30pm it gets quiet. But come 3:30pm there are schoolkids galore. He watches as they put down their smartphones and talk. He tells them that they have wifi but they don't use it.
This is Tony's first food venture and even he seems surprised by its success. His tip? Be your own customer. It seems to have served him well.
So tell me Dear Reader, are you a beetroot on or off a burger kind of person? Do you remember these milk bars? What would you order here and what are your favourite lollies?
This meal was independently paid for.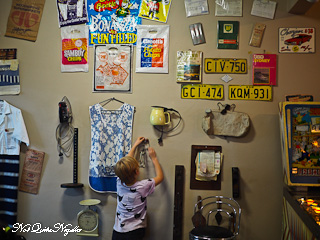 Milk Bar Cafe 2223
Corner Balmoral and Bowman streets Mortdale
Phone: (02) 9570 4700 Monday Closed
Tuesday to Friday 7am–5pm
Weekends 7am–4pm