For many people, the promise of a brilliantly sunny day with a light breeze means that they head straight for the beach or the harbour. I wish we could say that we were similarly inclined. Instead the sunny weather urged us to get in our car and make the drive to Kingsgrove, South West of Sydney to try out a place that had been recommended to us by our friend and chef David Tsirekas from Xanthi.
Chef Phillip Lakis and his brother Simon
Months ago, David told me about his latest find. A young Greek chef Phillip Lakis had opened up a cafe restaurant in the area where he was born and bred called All Good Things Eatery. Previously, he and his brother Simon ran PS Cafe in Dulwich Hill before opening up All Good Things. David was impressed by the young chef's commitment to making his own feta, cured meats, cakes, jams, pickles, pita and bacon all under the same roof. Phillip has also earned a coveted internship at Copenhagen's Noma to which he heads in two months.
All Good Things sits within a mall setting that takes a little wandering around to find. The space is airy and comfortable with quirky design touches like table legs made out of steel plumbing pipes and vintage paraphernalia. There's plenty of rooms for parents with prams and groups with one large share table and room between tables.
There are three menus on offer: drinks, all day breakfast and lunch. It's hard to decide and Nick turns up just in time to help us decide. Phillip's brother Simon makes some recommendations and they just happen to be the things that we had our eye on.
Apple and Ginger juice and All Good Things Snickshake $7.50 each
The juices are impressively large and are chilled but without ice which we like because sometimes juices are mostly just ice. The freshly made juices are thirst quenching and refreshing.
Pear, apple & ginger juice $7.50
Nick orders a pear and ginger juice while Mr NQN goes with the apple and ginger. I try a Snickshake which is a Snickers flavoured milkshake. I would have loved a bit more of the Snickers flavouring with caramel or richness but the nut and chocolate flavours were present.
Israeli Sabih $17
It was a toss up between the Greek baked eggs and Israeli Sabih and we went with the latter.The Israeli Sabih has grilled eggplant, roasted red peppers, house made hummus, zhoug (a spice and herb dip), spinach, soft fried eggs, two pieces of fab char grilled bread and sweet pickles. It's like a delicious vegetarian version of a big breakfast with lots of flavours and dips.
BBQ Pork belly plate $17
The menu explained that all of the beef is grass fed, the pork is Kurobuta and that they also use jersey cow milk for their dairy products. There are slices of char grilled juicy pork belly a scoop of beetroot tzatziki, house made myzithra cheese, some slices of sumac dusted tomato and onion salad and two rounds of grilled house made pita bread. We make some wraps with the pork belly and the fresh salads and dips, the beetroot dip sweet with freshness while the myzithra is soft and intensely flavoured. The house made pita rounds are excellent and the pork belly slices appealingly char grilled but still soft and juicy.
Kritharaki $21
The stand out dish for all of us was the tongue twisting Kritharaki. It is an orzo pasta with a tomato and Queensland spanner crab sauce, slices of local calamari, a sprinkling of house smoked kaseri cheese and a quennelle of squid ink skordalia on top. There could have been a bit more crab but for $21 it's a steal. Each forkful is soft and slippery on the tongue and despite us wanting to just try and little bit as we were still full from the previous night's dinner, this is hoovered up in no time.
Watermelon granita and feta ice cream $12
Simon explains that the pastry chef is from Ananas Brasserie. Greek desserts are such a favourite of mine and this was a particularly intriguing one. There's a layer of feta ice cream which actually tastes like a rich, buttery smooth cheesecake. It never verges into the salty territory which is what the brain usually thinks of when they think feta. There's a refreshing watermelon granita and pieces of delicate mountain tea jelly and kourabretha almond cookie crumbs on top. This is the perfect summer dessert.
Red Velvet Cake
We managed to get the last piece of the red velvet cake, a gift from the kitchen. It's red velvet gone upmarket with a slender slice of moist red velvet cake sandwiched together in the middle with a home made raspberry jam layer which gives the striking red cake the flavour that you'd assume that it comes with but often doesn't. On top is a layer of smooth mirror chocolate icing.
Baklava Ice cream $12
I've left my favourite dessert til last. The baklava ice cream has a bottom layer of butter kataifi pastry which resembles fine vermicelli. On top of this is a pistachio and white chocolate parfait and rose cream and sprinkled on top is a fine layer of white pistachio snow. What we also love about this dessert is that it's ethereally light with just the right amount of honeyed sweetness that evokes baklava without weighing you down. Which is important because we're going out to dinner in just a few hours-oops!
So tell me Dear Reader, what do you do or where do you go on a sunny day? And have you ever had feta in a sweet item before?
This meal was independently paid for.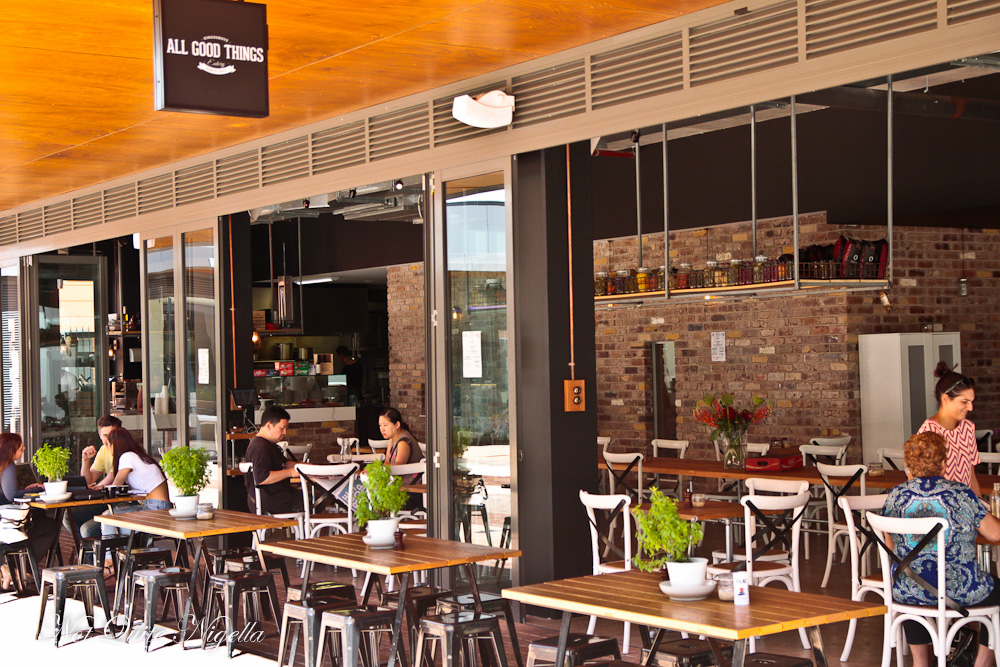 All Good Things Eatery
Shop 9-11 Mashman Ave Kingsgrove, NSW 2208
Tel: +61 (02) 7903 0198
Monday Closed
Lunch
Tuesday to Sunday 8:30am-4:00pm Dinner
Wednesday 6:00pm-9:00pm
Thursday - Saturday 8:30am-4:00pm, 6:00pm-10:00pm
Saturday 8:00am-4:00pm, 6:00pm-10:00pm