Happy Alley is a sandwich shop located down a small alley just off Rockdale's main road near the train station. Get there early to be rewarded with one of their stuffed kaak breads or bagels. Late risers have their pick of a range of luscious sandwiches filled to the brim with deli meats, parmigiana melts or crispy chicken fillets.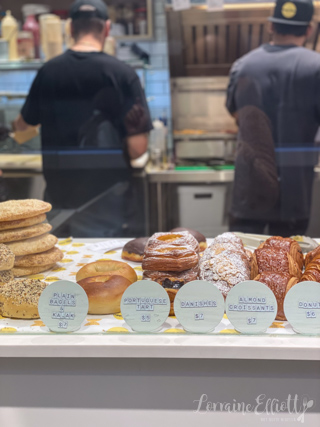 Happy Alley is owned by Ali Barakat who has worked in the hospitality industry for 15 years waiting tables and owning and operating a franchise of Mrs Fields cookies. And despite Happy Alley selling a large range of sandwiches it was the cookie that started it all. "Over the years I developed a deep passion for baking and eventually found myself on a mission to create the perfect cookie. This inspired me to start my own venture, initially operating online (as Hello Sweet Dough) and delivering cookies Sydney wide. After a year of baking from my own kitchen, I decided it was time for a physical presence to showcase more of everything I'm passionate about and have learnt over the years. And so, Happy Alley was born in a hidden alleyway in the heart of Rockdale," says Ali. He chose Rockdale as it was where he grew up and the shop opened in April 2023.
It's 1:30pm when we arrive at Happy Alley for our first visit. Our timing is not ideal as they close at 2pm but I have arrived with a post-surf hungry Mr NQN in tow. I had a list of sandwiches I wanted to try but most have sold out. Still the Lunch All Day menu is available and I order two of their most popular sandwiches. The menu is halal so all of the salamis are not pork based. There's around half a dozen tables in the alley to eat at.
Do you remember how sandwiches used to be? Deli meat sandwiches were thin with a couple of slices of roast beef and a bit of shredded lettuce. I used to lust over New York deli meat sandwiches with over an inch of filling and the only way to make those was at home. But the Alley Deli is more like those NY deli sandwich dreams come true with smoked beef, turkey, salami, lettuce, American cheese, beetroot relish jam and mayonnaise on soft white bread. Despite the amount and variety of meat in this it doesn't feel like it is too much because the lettuce and beetroot relish balances it and gives it a freshness. Mr NQN is absolutely smitten with this sandwich.
The Just Crispy is more my vibe. With a crispy fried chicken fillet, lettuce, pickles, American cheese and house sauce on soft white. This is luscious with plenty of sauce and the crispy chicken, soft bread and lettuce is an exercise in textures. I polish off one half reluctantly pushing the remaining half towards Mr NQN but we end up swapping back because he loves the Alley Deli while I love the Just Crispy.
On the sweet side are the cookies. These cookies are made from scratch and freshly baked in-house every day. Their 5 signature flavours are always available plus a cookie that is added on rotation. Today there is Nutella, Peanut Butter, White Choc and Macadamia, Biscoff, Oreo and Red Velvet. I go for the Biscoff that is a chunky cookie with plenty of white chocolate chips and a centre of Biscoff. Mr NQN wolf his half down but after a sandwich I can only manage a bite.
The next time we stop by on our way to the South Coast to grab some sandwiches on the way. This time I have a plan: to get there early enough to nab a smoked egg kaak and a lox bagel for Mr NQN. The Lox is a poppyseed bagel by Brooklyn Boy Bagels and is generously filled with smoked salmon with a thick schmear of seasoned cream cheese, pink pickled onion, dill, alfalfa sprouts and capers. I actually take this, remove the smoked salmon and heat up the bagel a little and then place the salmon back in just to soften the bagel as I find they can be a bit thick and bready unless warmed.
I then open up the kaak (like a soft, flatter bagel covered in sesame seeds). The kaak bread is freshly baked and soft with a very generous amount of sesame seeds covering the bread. There are fried eggs, thin layers of smoked beef, pickles, rocket, cheese and that delicious house sauce, a cross between burger sauce and tartare that really ties this sandwich together and makes it so moreish. Like the other sandwiches Mr NQN has a clear favourite (the Lox) while I love the Smoked Eggs. Even with sesame seeds spilling all over the car I can't help but devour it.
So tell me Dear Reader, which sandwich sounds like your pick? Do you ever eat in your car?
These sandwiches were independently paid for.
Happy Alley
495 Princes Highway, Rockdale NSW 2216
Open Tuesday to Friday 7am-2pm
Saturday 8am-2pm
Sunday & Monday closed
https://www.instagram.com/happyalley.rockdale/