Looking for a cake that keeps? Try this incredible olive oil cake that is moist and keeps fresh on the counter, covered for days. The olive oil used is a mandarin olive oil with plenty of mandarin zest to give this a gorgeous citrus zing. Bundt tins are great for when you don't have time to decorate but you want to turn out a show stopping cake!
Sometimes I buy flavoured olive oils but they end up languishing in my pantry as I don't tend to use them. But this olive oil was specifically procured for this cake.
Last year I was in Italy and we visited a wonderful olive oil producer called Coppini. We got to taste their olive oils and their flavoured ones were made "agrumato" i.e. crushing the whole fruit as opposed to using flavourings. The mandarin was the most popular among our group. They served us cakes made with the mandarin one to show us how to use it and I was absolutely smitten. I needed to make that cake with a strong, true mandarin flavour to it.
Our host Federica saw how much I loved it and they handed me a bottle of the mandarin olive oil as I was talking to the chef about his cake recipe. "Can I have one too?" asked Connie, another woman in our group but as there was only one mandarin they offered her a chilli one. The bag with clinking bottles of precious olive oil in flavours like garlic, lemon, chilli and mandarin was stashed in the boot of the van and Federica took the bag and left it at the reception for us to collect our bottles.
I wasn't fast enough though and when I went to the bag the mandarin was gone. "Oh I took it," said Connie, "But you liked the others right?" she said smiling. Connie actually was a lovely woman but I could tell that she had a really determined streak about her behind that Hello Kitty exterior.
"That was given to Lorraine," said Federica playing mum and Connie promised reluctantly to bring it down. A couple of days later there was no olive oil and Connie was leaving earlier than the rest of us so the whole group dropped her to the airport. But Federica remembered the olive oil and asked Connie for it.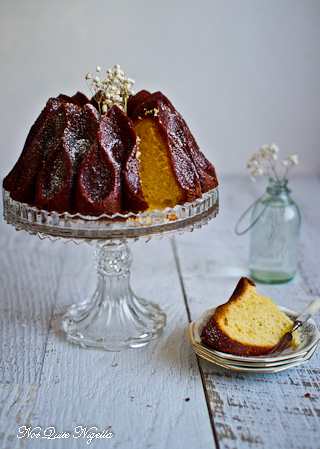 "Oh it's packed tight in my bag, it's wrapped around a whole lot of other things. It would be too much trouble to get it out," she said waving her gloved hand dismissively. But Federica insisted and Connie reluctantly took it out from her bag and very grudgingly handed it over.
I finally had this precious olive oil, the one that is in this cake. The memories of Italy in every slice and the fragrance of a battle hard and passive aggressively fought on both sides! And that's why I had to call her Federica. It's such a superbly moist cake and really keeps well for days. If it can last that long without being eaten that is.
So tell me Dear reader, have you ever had a stand off like that before? Would you have just let her take the bottle? Have you ever baked a cake with olive oil instead of butter? And do you use flavoured olive oils for cooking much?
Citrus Olive Oil Bundt Cake