A crowning centrepiece for Halloween, this black velvet bundt cake is a bloody treat with a surprise inside. A black mud cake drips in bloody red ganache with a jewelled crown on top. Once you slice it, you'll find a little surprise! Mirror Mirror on the wall, what is the scariest of them all?
I have wanted to make a surprise inside cake for the longest time. To be honest I had tried and failed so I shied away from it for over a year. And then a friend told me a surprise inside cake tip and I decided Halloween was the time to give it another go. If you've never seen a surprise inside cake, it's where the cake appears as though a normal cake on the outside but once you cut it, it reveals a surprise pattern inside. Very cool right?
I have also been a bit remiss lately. The blog turned 10 years old last month but I had to delay celebrating it. I do have an excuse and fate is a strange thing but the 10 year anniversary was on the exact day that in Peru that I almost died from anaphylactic shock. How's that for a coincidence? So I'm celebrating this month in a Halloweeny style because really, I love nothing more than transforming into the character of Morticia for a whole month and making gruesome treats!
I recently read on another blog that was celebrating a blogging anniversary (please tell me if it is your blog, I'm sorry I can't remember which one it was!) some advice that you would given yourself while growing up. Things you would have said to your 10 year old self, your 20 year old self and your 30 year old self. That got me to thinking about what I would have said to myself.
To my 10 year old self I would have said: it's okay to be different to other people. Different is actually good and often people that have different talents or interests only really are appreciated when they're grown up.
To my 20 year old self: Who you think you want is not who you want. Someone tall and handsome will enter your life and although he is a rough diamond, he is precious.
To my 30 year old self: Fate is a funny thing. This thing called blogging will come along and sweep you off your feet. You will have the best time and you will be challenged by people but you won't want anything else. And you will get to dress up and pretend to be Morticia for a whole month each year!
Anyway, about this cake and Halloween, to do a surprise inside cake doesn't involve any witchy potions or magic. You just need to bake two cakes: one contrasting coloured cake where you'll cut out the shape using cookie cutters and the next is a regular cake.
The key (and where I went wrong) is pre-baking one layer and then snugly placing the cut shapes all around the cake and then piping on extra batter around the shapes. If you don't, your shape may rise - mine once rose out of the tin. The surprise inside effects works brilliantly in a bundt and it is surprisingly easy once you do this step. Mine was of course Halloween themed.
I also wanted to say a very big and sincere thank you for reading my little corner of the world. Whenever someone tells me that that they have loved a recipe or when a reader says hello to me in the street or at an event or sends me a lovely message you have no idea what that means to me. A lot of us still hold that 10 year old inside us where we didn't know whether we belonged and your kind words and loyal readership mean the world.
So tell me Dear Reader, are you celebrating anything this year? And what advice would you give yourself at 10, 20 and 30? And do you think fate plays a part in your life?
DID YOU MAKE THIS RECIPE? Share your creations by tagging @notquitenigella on Instagram with the hashtag #notquitenigella
Snow White's Evil Queen Surprise Bundt Cake
Rated 5.0 out of 5 by 1 readers
An Original Recipe by Lorraine Elliott
Preparation time: 3 hours plus overnight drying time, 2.5 days total
Cooking time: 2 hours
Crown
300g/10.6ozs. gum paste (do not use fondant)
Cornflour/cornstarch for rolling
Jewel silicon molds and cupcake topper in "Chandelier" pattern
Non stick rolling pin
Ruler, paring knife or fondant cutter
Red, blue and green food colouring
Gold edible paint (edible gold lustre dust mixed with a teaspoon or two of vodka)
A canister of gold edible paint spray
Edible adhesive gel
First cake
1 egg, room temperature
1/2 cup sugar
1/2 cup oil (use a flavourless oil like grapeseed, not an olive oil)
1/3 cup milk
2 tablespoons finely grated orange zest
3 tablespoons orange juice
Orange food colouring gel
3/4 cup cake flour*
Second cake
200g/7ozs. dark chocolate, roughly chopped
200g/7ozs. butter
1 cup dark cocoa powder
4 eggs
1 cup brown sugar
1 cup coffee
1 teaspoon vanilla
2 1/4 cups cake flour*
Bloody ganache
75g/2.7ozs. white chocolate
75ml/2.7fl ozs. cream
1 teaspoon or so of red gel colouring (not liquid)
To make 1 cup of cake flour, place 2 tablespoons of cornflour/fine cornstarch in a jug and top to 1 level make with plain all purpose flour. Whisk to evenly distribute.
Step 1 - Start on the crown as it is made from gum paste and that takes a while to dry. Start the crown 2.5 days ahead of time (you can make this a week ahead of time if it is easier). First, measure the circumference of the top of the bundt so that a crown can sit snugly on top - you will also need a container or jar that the crown can wrap around while it is drying and it must not have tapered edges and be straight up and down.
Step 2 - Roll out the gum paste on a lightly cornfloured surface with a rolling pin and trim to just over that length and about 7-8cms wide. Use the V end of a heart shaped cutter to cut out the spikes in the crown (as shown) and then gently wrap the length of gum paste around the container or bottle to allow it to set with support.
Wrapping around a jar to allow it to set
Step 3 - Dust a little cornflour in the cavity of the jewel mold and press a small amount of gum paste in the cavity and pop it out and allow to dry with the crown. I made six large gems and 6-7 small ones to sit on the crown spikes. I also used another silicon cupcake mold to make a front pattern on the crown. I rolled out a thin layer of gum paste on top of it and it left an impression on the fondant. Drafty or air conditioned rooms allow gum paste to set faster. Allow it to dry until hard (this can be overnight).
Step 4 - Spray with an edible gold mist spray. When it is dry, cover up any missed patches or make it even more golden by hand painting it in edible gold dust mixed with a spirit like vodka. Colour the gems in the centre with the colours and then gold on the outside. Stick the gems onto the crown with the edible adhesive and allow to dry completely and become hard.
Rolling gum paste onto a cupcake topper to make crown detailing
Sticking gems to the crown
Touching up gold detailing
Step 5 - While it is drying, make the first cake. Preheat oven to 170C/340F. Line a loaf cake tin with parchment on the base and sides. Whisk the egg and sugar together in a bowl. Then add oil, milk, orange zest, juice, colouring and whisk until emulsified. Fold in the cake flour until just combined and there are no lumps. Spoon into the tin and bake for 20 minutes or until cooked through and a skewer inserted comes out clean.
Trimming off the top of the cake
Step 6 - Allow to cool and then trim the top off the cake with a sharp knife. Take a small cookie cutter, one that fits into the side of your bundt cake (it's best to keep the cutter shape a simple one), and cut out the shapes. Place in the freezer while you make your other cake.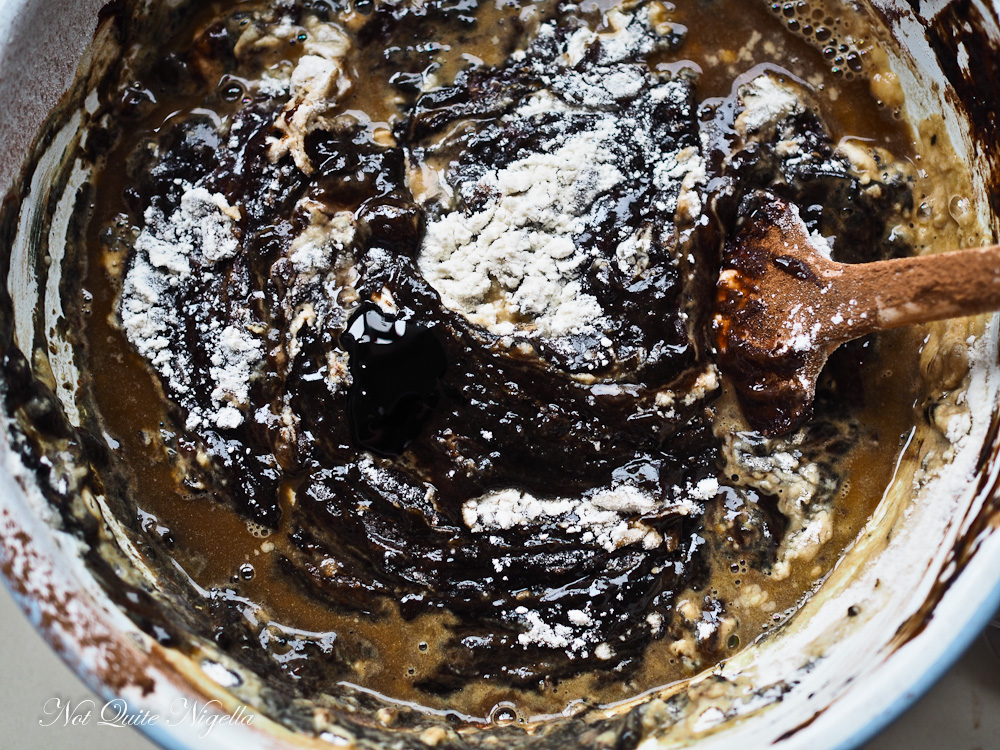 Step 7 - Make the second cake. Preheat oven to 180C/350F and butter the bundt tin very well. If the non stick release is old then add a light coat of cocoa after the butter. Melt the chocolate, butter and cocoa in a saucepan on low heat until melted. Take off the heat and allow to cool. Place in a large bowl. Beat in the eggs, brown sugar and vanilla and whisk to combine. Mix in the flour and coffee in 3-4 lots alternating with each until the batter is smooth and there are no lumps (try to avoid overmixing). Spoon 6 tablespoons or so into the bottom of the pan and bake it for 7-8 minutes.
Spooning some batter at the bottom of the tin
Baking batter for a few minutes
Step 8 - Take the frozen pieces of the first cake and using a small pair of tongs place them on top of the cooked batter. Then fill a large piping bag with cake batter and pipe it around and under the shapes. Fill with the rest of the batter and then tap gently against the counter. Bake for 40 minutes. Allow to cool in the tin for an hour and then release gently by upturning it onto a serving plate. Allow to cool completely.
The contrasting shapes of the first cake on the baked batter
Step 9 - Mix the red colouring with the cream until combined. Heat the cream until almost boiling and pour over the chocolate and mix. Allow to cool a little so that is of a good drippable consistency. Spoon it over the bundt and drip down the sides. Gently place the crown on top.