If want something different from regular mashed potato, this creamy blue Stilton cheese is a tasty solution. It's gorgeously creamy so it suits so many dishes from fish to meats (it goes great with a steak!). Make it as mild or as strong as you like. You can make your mashed potato dreams come true! And yes this is a pushy recipe for blue cheese lovers!
Although at times we seem to be in the full throes of spring, even summer, this week has been chillier and in the Northern Hemisphere things are getting cold. This is a dish for both hemispheres. These mashed potatoes are pure comfort. I served them with a roast pork but it's really very versatile. I've even eaten it by itself too for a quick meal. Better still, it was made using things I had bought for Halloween but never used (a huge bag of potatoes and Stilton).
Although Halloween seems like a distant memory, it's never far from my mind. Last night we were discussing next year's party and Halloween costumes. I had just finished watching Stranger Things 2 (LOVE!) and Mr NQN walked in from the shower naked as he likes to be. Most people do exit from the shower naked but he loves to walk around nude, sometimes just wearing a towel (he comes from a hippy family where it was quite normal).
"You should come as a demogorgon!" I said. His long, tall, skinny frame would be perfect and again he'd hide his face because he is shy. I showed him a picture of one.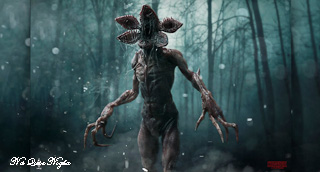 Demogorgon
"So I go naked?" he said.
"What? Huh? That's a costume. You definitely do not go naked," I said. "That's not an option," I added for further emphasis.
"Yeah well then I don't want to any more," he said, half jokingly.
I swear you can take the boy out of Mullumbimby but you can't take the hippy out of the boy!
So tell me Dear Reader, are you also amazed that we're almost at Christmas now? Do you plan things ahead of time or are you a last minute person? And naked or not naked around the house?
Did you make this recipe?
Share your creations by tagging @notquitenigella on Instagram with the hashtag #notquitenigella
Creamy Stilton Mashed Potatoes
An Original Recipe by Lorraine Elliott
Preparation time: 15 minutes
Cooking time: 1-1.5 hours (depending on the size of potatoes)
1.5 kilos/3.3lbs Potatoes
150g/5ozs. English stilton blue cheese, crumbled (use more if you really like the flavour.)
1.5 cups cream or a 50/50 milk cream combo if you want it lower in fat
100g/3.5ozs. butter, cubed
1/2 cup green onions, finely sliced
Salt and pepper to taste
Step 1 - Boil the potatoes in their skins until tender. Cool. Peel the skins off and pass them through a potato ricer.
Step 2 - Heat the cream and Stilton and melt the cheese into the cream (I helped it along by mashing it up with a potato masher). Add the mashed potato and stir. Add the cubes of butter and season generously with salt and pepper (it will need lots of salt). Stir through the green onions.