These deliciously sticky Korean potatoes or Gamja Jorim are such a tasty way to serve up potatoes. They're a bit sweet and a bit spicy and are a cinch to make too! If you've ever enjoyed these banchan as the beginning of a Korean Barbecue meal then you'll want to give these delicious, easy Korean potatoes a try. This recipe is also vegan so ideal to serve to anyone!
Gamja is the Korean word for potatoes while Jorim means to simmer. I'm always looking for different way to serve potatoes and when I was at Korean barbecue, I enjoyed these sweet, spicy Korean potatoes so much that I wanted to replicate them. Usually these are served as a banchan or appetiser course and they can be quite sweet. I've pared back the sweetness so that it is a bit more balanced (to me anyway).
These potatoes are first roasted (or you can pan fry them, it's up to you) and then simmered in a sweet soy sauce to become sticky and delicious. Traditionally Gamja Jorim doesn't add gochujang but I had it recently with some added and I absolutely loved them.
What is Gochujang? it is a Korean fermented red pepper (as in chilli) paste. Gochujang is one of the most used ingredients in Korean cooking. You can buy it at the supermarket, certainly Asian supermarkets sell it and a tub lasts for a while in the fridge. If you can't access gochujang you can use Sriracha or your favourite chilli sauce. If you use Thai sweet chilli sauce, halve the sugar in the recipe. It won't have the exact taste of the Korean bbq potatoes but it will still be delicious.
Pair these Korean potatoes with: any types of meat-they're often paired with barbecued meats. They're also a great drinking snack too!
Tip: I like these Korean potatoes made fresh and eaten on the day but they can keep for a few days. I do find that they become a bit watery once you refrigerate them.
These potatoes are so easy and fast to cook and take 30 minutes cooking time total. I'm used to setting aside an hour for potatoes to cook but the smaller size of these potatoes means that they are fast to cook.
We recently thought that something would be easy but it turns out we were wrong. When we were in Brunswick Heads a woman with a toy poodle stopped to talk to us. She mentioned how her toy poodle had learned to ring a bell when it needed to go out to potty. She found it useful on two counts: her dog wouldn't pee in the house and it also stimulated the dog's mind because poodles are smart and need challenges.
We thought that Teddy might enjoy learning that so Mr NQN bought a string of bells to attach to the front door. For the past few weeks we've been trying to get Teddy to ring the bell when he needs to go out.
However little Teddy has other ideas. Whenever someone knocks on the door he springs into action barking and then runs up to the bells and furiously bangs them with his little paw. It's awfully cute and certainly achieves his goal of alarming us and letting us know that someone is at the door! But as for its intended aim...well that's a work in progress.
So tell me Dear Reader, have you ever tried Korean potatoes? Is there a favourite way of preparing potatoes for you or a recipe that you want?
DID YOU MAKE THIS RECIPE? Share your creations by tagging @notquitenigella on Instagram with the hashtag #notquitenigella
Sticky Korean Potatoes
Rated 5.0 out of 5 by 3 readers
An Original Recipe by Lorraine Elliott
Preparation time: 10 minutes
Cooking time: 30 minutes
Serves: 4 as a side
750g/26.5ozs. potatoes
3 tablespoons oil
1/2 cup water
2 tablespoons soy sauce
2 tablespoons honey (use maple syrup for vegan)
1 tablespoon gochujang or Sriracha
1 tablespoon rice wine vinegar
2 large cloves garlic, minced
1 teaspoon sesame oil
1/2 teaspoon salt
2 tablespoons sesame seeds
Step 1 - Preheat oven to 200C/400F and line a baking tray with parchment. Cut potatoes into bite sized pieces and toss in the oil and roast for 20 minutes turning over halfway. You want them just starting to brown a little but not 100% cooked through.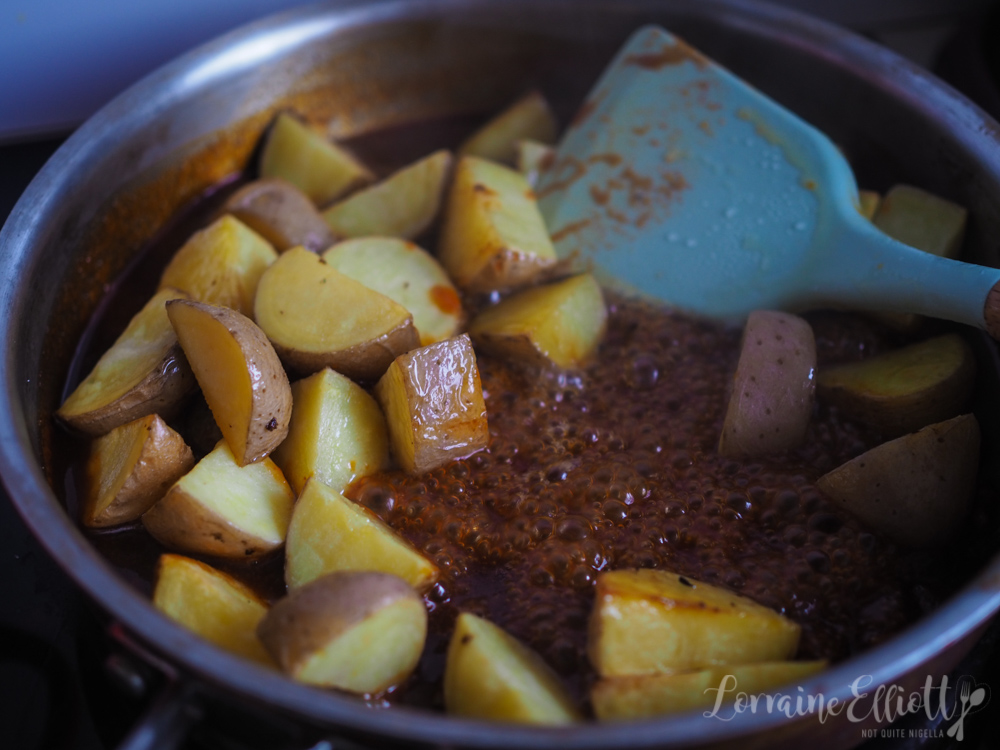 Step 2 - Mix the water, soy sauce, honey, gochujang, rice wine vinegar and garlic in a bowl. When the potatoes are done set aside and start on the sauce. Add the sauce mixture to a saucepan or wok and bring to a boil on medium to high heat. It will seem too liquidy at first but cook until starting to thicken and become glossy. Toss in the potatoes and coat the potato pieces with this sticky, delicious mixture and cook for 3-5 minutes or until potatoes are cooked through. Drizzle with sesame oil and season with salt and sprinkle with sesame seeds.