Molo (meaning pier) is an Italian pop up wine bar of an indetermined time located on the sunny Cowper Street or Finger Wharf in Woolloomoolloo. It was the perfect place to have a girl's lunch on a sunny spring day. But you just need to dress for the parade...
The first thing I notice after the view is the parade of beautiful people. The Finger Wharf is really a catwalk and I wish I had dressed up more. Feeling underdressed, I turn my attention back to lunch. Molo is located at the front right of Manta restaurant in its own section with its own decor and theme. Manta is primarily a seafood restaurant but Molo is mostly a wine bar with Italian seafood dishes.
We start with some cocktails: a martini, dirty martini, a white peach bellini and a bottle of Acanto Primitivo from Puglia.
Fried Sicilian goats cheese, truffle honey and pickled beetroot $22
We share our entrees and I try the deep fried and breaded round of fried Sicilian goats cheese drizzled with black pepper and truffled honey. There are slices of pickled beetroot which are a little too hard especially when combined with the softness of the goat's cheese but otherwise it's a nice dish.
Burrata with caviar and Sicilian olive oil $32
I'm slightly dying when I hear of the signature dish-burrata with caviar and a slug of peppery Sicilian olive oil. I try an edge of the burrata and it melts in the mouth with cool creaminess. Alyson likes the saltiness that the caviar imparts on the burrata.
Broadbean tendrils, cime de rapa, kipfler potatoes, chilli and lemon $15
We decide that we need vegetables and the cime de rapa are soft Italian greens that are cooked until soft. They're served with kipfler potatoes, chilli and lemon.
Penne, cime di rapa, prawns, lemon $28
Belinda and Alyson are divided about this. Alyson finds the penne too al dente while Belinda thinks its perfect. There's a light sauce accented by lemon and tomato as well as shelled prawn meat.
Grilled veal scallopini, kipfler potatoes, salmoriglio dressing $33
I thought this was a little pricey for the serving size of two slices of veal scallopine. It was nice and simple-crispy kipfler potatoes and a garlicky herby salmoriglio sauce but I would have loved a bit more.
Mortadella from Bologna, ricotta salata, basil $19
Cheryl is still hungry so we order one more dish: thinly sliced mortadella imported from Bologna where it originates from topped with finely shaved ricotta salata and fresh basil leaves. I love the presentation of this and the added boost of flavour from the ricotta salata.
Cheese of the day, mustard fruit $15
The dessert menu is short: three items and Cheryl wants it all so we order them all. The first is a pecorino cheese with pear mustard fruit and thin crispbreads.
A selection of Italian Chocolate, Amedei Tuscany $15
I have to be honest, this was a disappointing dessert. It's not exactly a selection of chocolate. It's one type of chocolate and it's not even my favourite of the Amedei chocolate (Amedei Chuao). I don't think anyone really enjoyed this chocolate and it was not as it was said to be on the menu.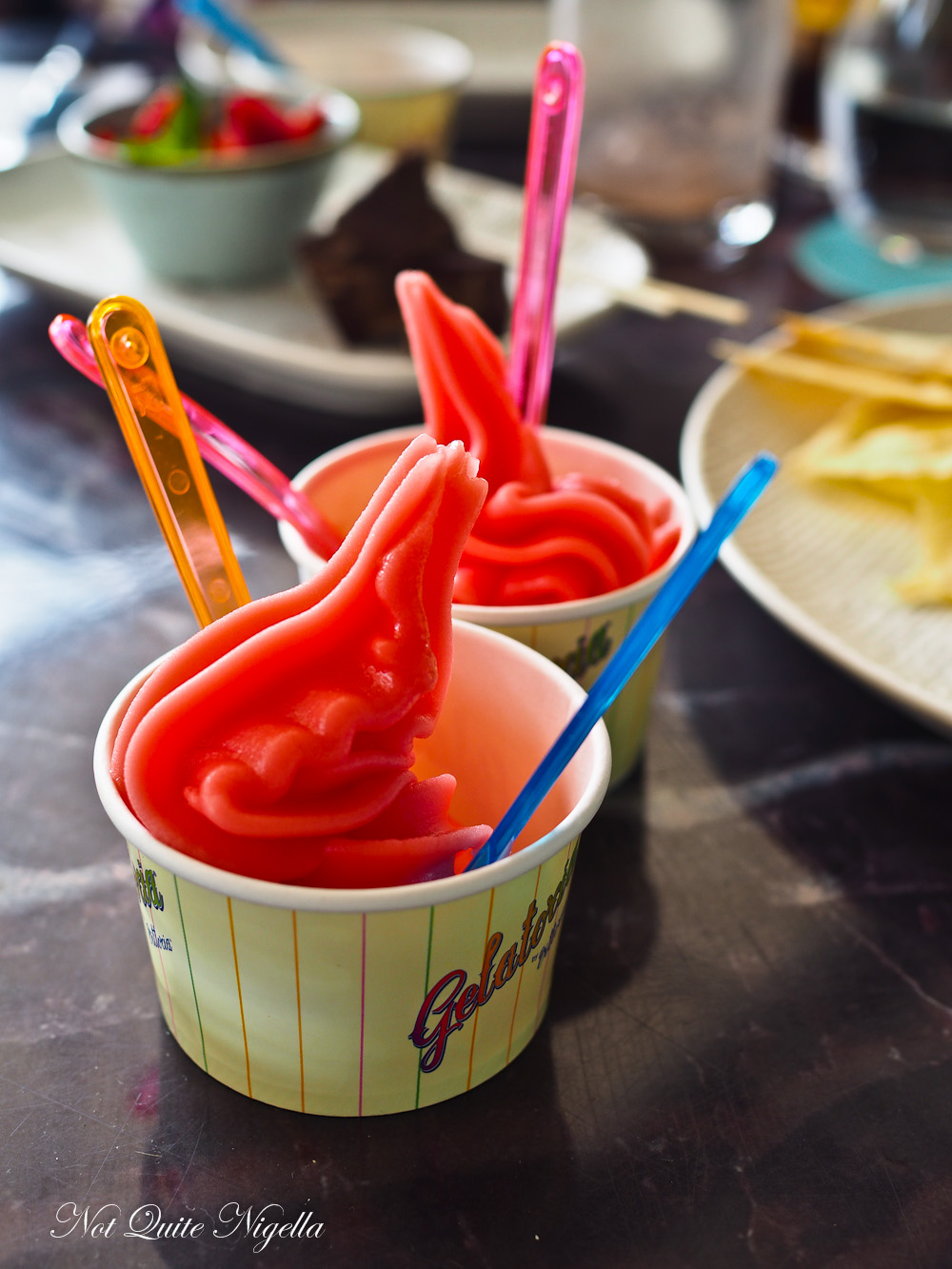 Homemade gelato $7
The gelato is however very nice. They even give us a serve to try as I don't think the waiter knew the flavour (berry, rockmelon). It's very refreshing on this hot day.
And of course no meal is complete without a round of limoncello!
So tell me Dear Reader, do you ever wished you had dressed differently when going out? Do you usually under dress or over dress? And if a menu item suggests a selection, do you expect more than one?
Molo at Manta
6 Cowper Wharf Road, Woolloomooloo, Sydney, Australia 2011
Tel: +61 (02) 9332 3822
Open Tuesday to Sunday from 12pm till close
www.molobar.com.au/