Dear Sainte Eloise is a new wine bar in Potts Point with an extensive wine list and a neat but tempting food menu. Sure to be a hit with talent from Love, Tilly Devine, Mercado, Wilde in London, Brickfields Bakery and Sean's Panorama the biggest star is the 300plus wine list and delicious little snacks.
We have to ask about the name-who is Sainte Eloise? It comes from the 1933 book "Down and Out in Paris and London" by George Orwell. In a scene from the book a character pens a letter to Dear Sainte Eloise. "Dear Sainte Éloise, if you exist, please send me some money. I don't ask for much — just enough to buy some bread and a bottle of wine". They explain that they offer diners their version of "bread and wine" and the simple pleasures of life.
When we arrived at 7pm the place was in full swing. Maybe it's winter but people seem to be dining earlier and we are offered (twice) a table for four along the bar but we pass on these wanting a square table for better conversation. There are about 20 of us waiting for a table outside.
They invite us to sit outside under the heaters on the wooden benches and order a glass of wine or two and after an hour or so a table is ready. Dear Sainte Eloise is actually made up of two rooms, the main room as well as a smaller room accessed by another door. We follow them to our table, heeding their warning, "It's going to be a bit cramped here," and he's right but we're glad to be in from the cold.
Bread $4
It's 8pm now and we're famished so we order quickly. There's the yellow wine, a funky number that smells like port but tastes nothing like it called Didi "Sammion" from the Barossa, a yellow wine (not a white wine) called Spinifex Solana from the Barossa and a A Los Vinateros Bravos "Volcanico" Pais from Chile. The menu has 15 items and changes every couple of days.
Olives $5
We sip on wine and nibble on olives and very good bread dipped in olive oil while waiting for our food-a bit of life imitating art when we ask about the name's origin. Service is friendly and accommodating and when the table next to us leaves we stretch out.
Roe boats $5 each
The roe boats are like little bite sized potato roesti topped with pears of salmon roe. They're the kind of bite that you wish you'd ordered more of and then you think how good would caviar topped fries be? Note to self: make this at home or eat this again.
Burrata with charred bread and mint $20
Next is the burrata with a slice of charred bread and chopped mint. The creamy filling spills out onto the bread that soaks up the cream. It's a rich dish but we enjoy every scrap scooping up the last of the burrata with bread.
Smoked mussels on toast $12
The next dishes arrive together: the smoked mussels are another dish on a slice of toast. The smoked mussels are plump and sit in a pool of brine. I wish I could have had this all to myself.
Confit fennel, fermented chilli and orange $12
This dish is for Nina as there aren't a huge amount of vegetarian dishes. The confit fennel is soft and melts in the mouth and is flavoured with fermented chilli and orange. "Would you like some bread to mop up the sauce?" they ask (actually three times) and we duly mop up the oils and sauces.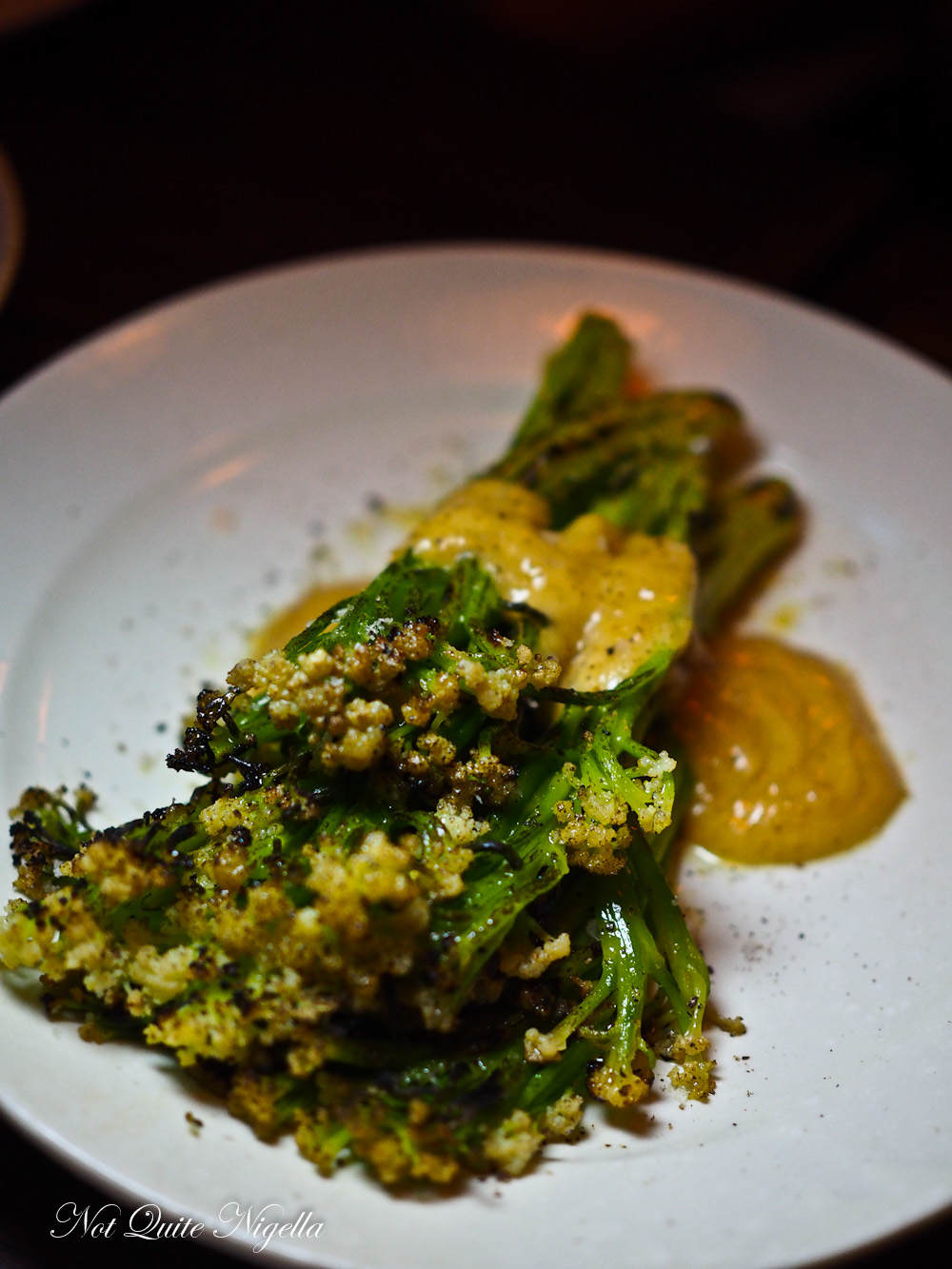 Fioretto with Bagna Cauda $14
Fioretto is a sprouting cauliflower in a similar shape to broccolini. Here it is roasted and then seasoned with bagna cauda, a garlicky lemon anchovy dip that I could have just eaten by the spoonful.
Pork rack, jerusalmen artichoke, mustard peaches and stewed grapes $32
There are three thickish slices of fat edged pork rack with a creamy Jerusalem artichoke puree, slices of mustard peaches and stewed grapes that are sweet and soft. The fruits go perfectly with the meat although a lot of the meat is fat. Not that that's an issue for me but when you're sitting across the table from your trainer you know they just don't approve (and they're probably thinking they're seeing more than they need to of your dietary habits!).
Treviso Salad $9
I love the bitterness of radicchio especially with a fatty main like the pork. There's a lot of cumquat on the menu mainly in the form of decoration on the plate (and in vases on the tables) and this adds to the sweet balance of the salad.
Cheese $12
it's dessert time. There are four types of cheese on offer including a cheddar and goats cheese but we go for the Lingot d'Argental double cream cheese, a gorgeous oozy cream rich cheese with toast and black grapes.
Cake, rosemary and creme fraiche $10
Our final bite is the citrus and rosemary cake with a quenelle of tangy creme fraiche on the side. It's a sizeable slice of cake (I see Nina's disapproval at the size) but still not a crumb goes back to the kitchen. And we sink deeper into our chairs not wanting to brave the cold outside.
So tell me Dear Reader, what food and drink would you pray to the saints for? Had you heard of the reference before? Would you take a bar row of four or wait for a regular table?
This meal was independently paid for.
Dear Sainte Eloise
5/29 Orwell St, Potts Point NSW 2011
Bookings for large groups only
www.dearsainteeloise.com/