There's a new chocolate shop in town! Popular chocolatier and cake baker Jen Lo has just opened up Bakwdown Cakery on Atchison Street in St Leonards. Chocolates come in dreamy flavours like "Toasty Raspberry Pistachio", "Yuzu, Ginger Apple" or "Pandan Coconut Lychee". Come and see what else in in store!
From the time she was a child, Jen Lo always had a keen interest in food. In her last year of high school she worked as a tea sommelier at T2 and moved onto the Tea Centre chain. She developed an adventurous and curious palate when living in Japan and San Francisco before moving back to Australia and age 13.
Although she worked as a graphic designer, food was always on her mind. When her design contract finished she would bake and experiment at home. She made things like Pigs in Mud cupcakes which were Lansang Souchong cupcakes filled with Lapsang Souchong ganache topped tiny pink pig shaped sprinkles. She even toyed with the idea of studying patisserie (although she admits with a laugh that laziness prevented that from happening).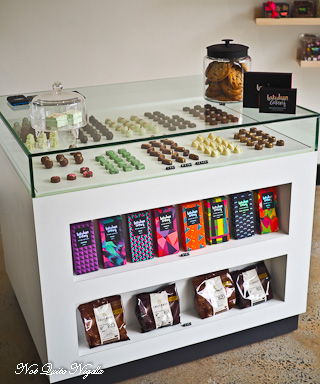 And then she caught the chocolate bug. She taught herself the art of chocolate from the Cadbury website explaining that she "Started with cheap chocolate and then moved up," and she now uses a combination of Callebaut, Valrhona and Belcolade in her Bakedown Cakery bars.
The range of her product in her St Leonards store are inspired by her experiences but also things that she likes to eat with flavours containing hojicha tea, matcha and yuzu. She mixes them into combinations like Pandan Coconut Lychee or Taro Rice Crispies.
"They're inspired by my (Chinese Malay) heritage," Jen explains. Other creations come about from ingredients that are local - for example a woman in a shop nearby offered her some Iranian saffron to work with. She's currently experimenting with a Itakuja double fermented chocolate that has a distinctly fruity after taste. The shop is also a production kitchen space as well.
The multi flavoured bars all reveal their flavours in stages as they glide across the tongue. The Yuzu Ginger Apple made with 62% Valrhona Satilia is a fruity number, while if you like things sweet try the Pandan Coconut Lychee made with white chocolate which may transport you to a more tropical place. The Genmaicha Oreo Strawberry is a perfectly balanced bar in terms of texture, aroma and flavour while Nutella lovers may swoon over the Hazelnut Nutmeg and Mandarin bar made with milk chocolate. The Taro Rice Crispies is a lovely shade of purple (but secretly I'd love more taro and rice crispy but I'm made for both).
Her best selling chocolate bar is Toasty (caramelised white chocolate) but Toasty has a new sibling - Pistachio Raspberry Toasty which I think is even better than Toasty as the pistachio and raspberry lift the intensely rich caramelised white chocolate. All are ensleeved in Jen's designs, a nod to her previous career. 120g blocks are $12 each.
Christmas treats include peppermint snowmen and bon bons filled with peppermint ganache and candy canes while sparkling rocky road comes with two square blocks each of the milk and dark so you don't have to choose. Jen calls it the classic old fashioned Rocky Road with raspberry lollies inside.
Her taste tester is husband Nick and he also provides her with the crucial push needed to turn Bakedown into a business. "He's super supportive and he has always pushed me," she says.
Apart from chocolate skulls, candied nuts and nut clusters, there are fresh pandan coconut marshmallows from a collaboration with Black Pantry and freshly baked cupcakes (the salted caramel cupcake is divine). There are also tarts filled with yuzu or salted caramel as well as dark chocolate sea salt cookies that she describes as "crunchy on the outside and chewy on the inside,".
Point at the glass display and she will pluck a truffle with a gloved hand and place in in a box. The selection changes every few weeks (the truffles have a shelf life of just three weeks as they contain no preservatives) but there is one item in the cabinet that is a favourite. Jen calls it the "Raspberry Chocolate Stoli" inspired by her favourite ever cocktail from a San Francisco Jazz club Yoshi's. I also love the gold leaf flecked cardamom, cashew and coconut or the yuzu jelly.
So tell me Dear Reader, what is your favourite combination in chocolate? What is your earliest food memory? Is there a person or country that sparked your interest in food?
Bakedown Cakery
62 Atchison St, St Leonards NSW 2065
www.bakedowncakery.com/
Open Tuesday to Friday 10am-5pm
Saturday 9am-12pm
Monday and Sunday by appointment