The moment when most people fall in love with chocolate usually occurs against the colourful backdrop of childhood. We may first have it as chocolates given as a good behaviour treat, as foraged Easter eggs found during Easter Egg hunts and in cakes laced with thick chocolate icing. But for Winnow's Amanda McKeith, she only really fell in love with chocolate during her adult years.
The business degree student also studied art history and spent some time working in food styling at events before ending up at a not for profit in a corporate role. But nothing quite ignited her creative spark until she worked with chocolate. It was while working at Coco Chocolate that she fell in love with the stuff.
Coco Chocolate's chocolatier and owner Rebecca Kerswell trained Amanda on how to become a chocolatier and in 2013 she started her own brand. Amanda explains, "The name 'Winnow' comes from one of the processes used to make chocolate. The winnowing machine blows the husk off the bean after it has been roasted and cracks the beans into cocoa nibs."
27 year old Amanda is perhaps best known for her ombre chocolates in shades of pink, purple and turquoise inspired by a box of soaps. The pink are raspberry flavoured while the turquoise is coconut and apricot or buyers can choose their own flavours from vanilla chai, plum & lime or plain white chocolate. They make a terrific present and at Christmas this past year, several friends of mine received boxes that I had bought. She uses Belgian Belcolade chocolate in her chocolates and does a fast trade on her online store although some north side stores like Delish in Lindfield, Tongue Teasers in Wahroonga and florists Rococo and White House stock her items.
Her operation is small and she works from a temporary rented workspace while she is finding larger premises. All of her chocolates are hand made and hand tempered on a marble slab (an alarmingly small one redefining small batch). I watch as she hand hampers a batch of chocolate before sprinkling it with hazelnuts and black salt turning it into brittle or bark. Another favourite item is a Turkish delight white chocolate with chunks of Turkish delight and pistachios scattered atop.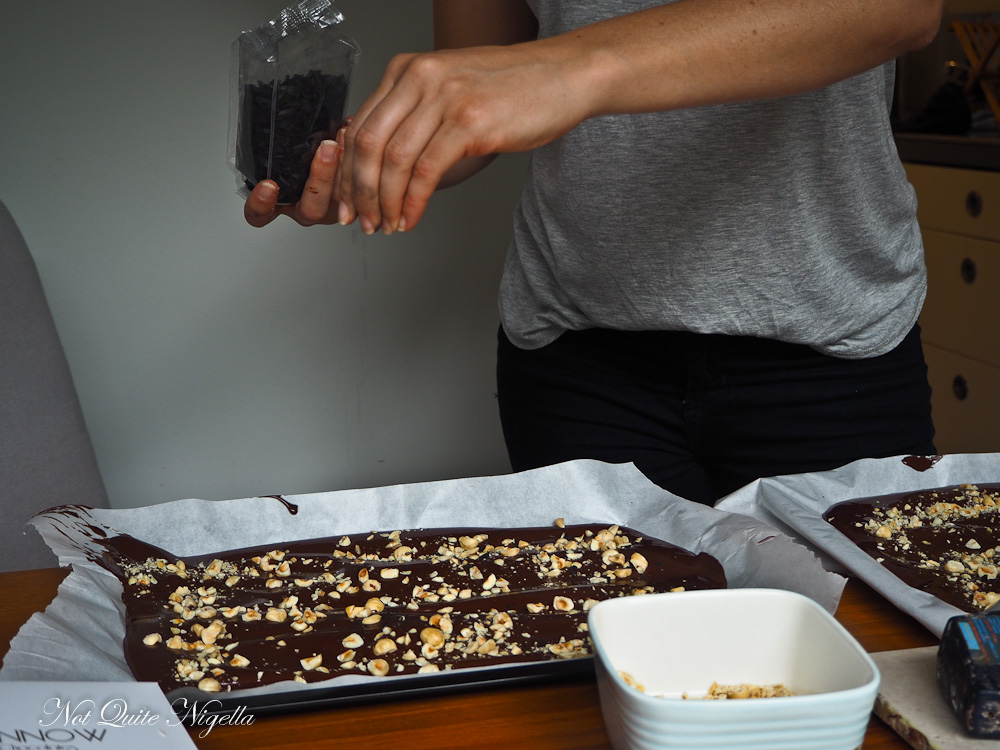 Easter is of course a big time for her and this year's selection includes a fantastic dark and milk golden honeycomb with gold lustre dust in a baroque pattern and crisp honeycomb in the centre. There are also hazelnut praline chocolate speckled eggs with a sugar shell and chocolate praline in an actual egg shell (see here for my recipe if you want to make these for yourself). There is also Hot cross bun spiced brittle. "Trying good chocolate is like trying good bread," she says.
The surprise for Amanda is the corporate patronage. Her small size means that she can customise any flavour to suit clients. Her chocolates are also popular for weddings - the pretty pastel pyramids are a favourite and can be boxed in quantities as small as one. Mini stacks of the ombre discs are also sold. She also makes custom flavours for corporate clients. A Middle Eastern airline ordered chocolate brittle with pomegranate, date, pistachio and gold leaf. "It was a beautiful combination," Amanda says recalling the chocolate.
So tell me Dear Reader, if you could create any flavour combination in chocolate what would it be? Would you use white, milk or dark chocolate? And when did you first start to really like chocolate? I used to throw up every time I ate chocolate as a child! Eek!
Winnow Chocolates
http://www.winnowchocolates.com/