The subject of Sydney's fickleness with food is a much discussed subject. Restaurateurs and chefs bemoan our love of the new and the fact that most restaurants in Sydney last for a few years before the chef and their team move on to a different concept, location or even cuisine. So for a chocolatier to have lasted 21 years, that really does say something in this town.
Sisters Tina Vamvoukakis and Kathryn Stavropoulos head up the Adora hand made chocolates business. Prior to setting up the business, Tina was studying a Bachelor of Science in Nutrition and Dietetics and Katerina was a social worker. They started making the chocolates from home but demand after winning numerous awards meant that they had to expand.
So what is their secret to a long running and successful business? According to Tina it is, "Being passionate about it, seeing it through, thinking 'It's just going to be better, it's just going to get better.' Because we're constantly evolving, time goes very quickly." Tastes for chocolate has changed in the 21 years. "Before we were educating people but now people are questioning more. People are more appreciative of our product," Tina explains. Their chocolates have always been produced without preservatives or artificial flavours.
Gluten and dairy free chocolates are current trends for the chocolate business. "Today I was at the Easter Show where we've got a stand for the first time and they were just thrilled that they could get something dairy free in an Easter range. We're still small enough to be able to accommodate that," says Tina.
As for the type of chocolate they use, they have used Belgian Callebaut chocolate from the beginning. "I find Callebaut taste wise the most consistent for production," Tina says. Taking a seat at the Earlwood store I order a coffee with Belinda who is a long time fan of Adora chocolates. Each drink comes with a chocolate which makes it very good value. The chocolates are well priced at $120 a kilo. Other locations are at the Sofitel Wentworth, Parramatta and Rose Bay.
Coffee with chocolate $4
I've chosen the honey truffle. It's smooth honey marzipan covered in cocoa. From my seat I ooh and ahh over the Easter display and the giant chocolate lollipops that have messages like "Congratulations", "Good Luck" and "Sorry" before settling on buying some individual ones. There are on average about 40 chocolates available in store.
One of the best sellers is the butter truffle, all smooth milk chocolate butteriness covered in milk flakes. The White chocolate passionfruit is smooth, slightly sweet but not overly so with the tangy passionfruit restraining the sweetness.
Chocolate truffles $10.20 (sold by weight)
The "black box" is an adult mix of rum and coffee in a dark chocolate while the macadamia pyramid is crushed macadamia nuts in milk chocolate. Another favourite is the wattleseed which is smooth and reminds me of coffee while the black sesame works in the same unique way. The chilli chocolate is Belinda's favourite and it's one of mine too. The chilli is pronounced in a mix with cinnamon and covered in white chocolate.
Tina's favourite chocolates are the wattleseed and the Gia, a soft hazelnut centre with a wafer. And does she eat chocolate every day? "Most day I have chocolate but not every single day. I feel less guilty when I'm having the dark but when I'm having that bingeing moment I'll have the milk."
So tell me Dear Reader, do you eat chocolate every day? And how much chocolate do you eat?
This meal was independently paid for.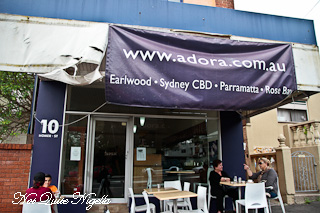 Adora Chocolates
10 Homer St, Earlwood NSW 2206
Phone:(02) 9559 5948
http://www.adora.com.au/
Also in the CBD, Rose Bay and Parramatta