This simplest version of flan or creme caramel is an absolute delight. Crazy easy (just don't bake it in a fancy tin) you can serve it plain or decorated with adornments. If you love creamy, delicate desserts, promise me you'll try it because it is such a crowd pleasing dessert, especially at Christmas!
This recipe is from Dear Reader Suzie who also came on my Peru tour. She is by all accounts, a great cook that unashamedly loves shortcuts. And this creme caramel has the cleverest shortcut you could imagine. The whole thing is literally four ingredients (except for the decorations). There is a difference between leche flan and creme caramel. Leche Flan is traditionally steamed while Creme Caramel is baked. This recipe is baked which was a bit of a relief (I find steaming large cakes can be a challenge as I have to borrow my mother's massive steamer).
Suzie whispered to me one day that when she makes her leche flan, she doesn't bother making a caramel. Instead she uses golden syrup! Not only that but she uses the same trick with her tarte tatin. I can say for certain that it works perfectly with a leche flan and tastes just like you made the caramel yourself from scratch. I'm going to next try her trick with tarte tatin.
My only problem was that I tried my first attempt in a detailed flower shaped tin. This was a big mistake. HUGE. The flan stuck to the intricate pattern and while it was utterly delicious, it was a mess. So I tried again with another plain tin and it was a breeze.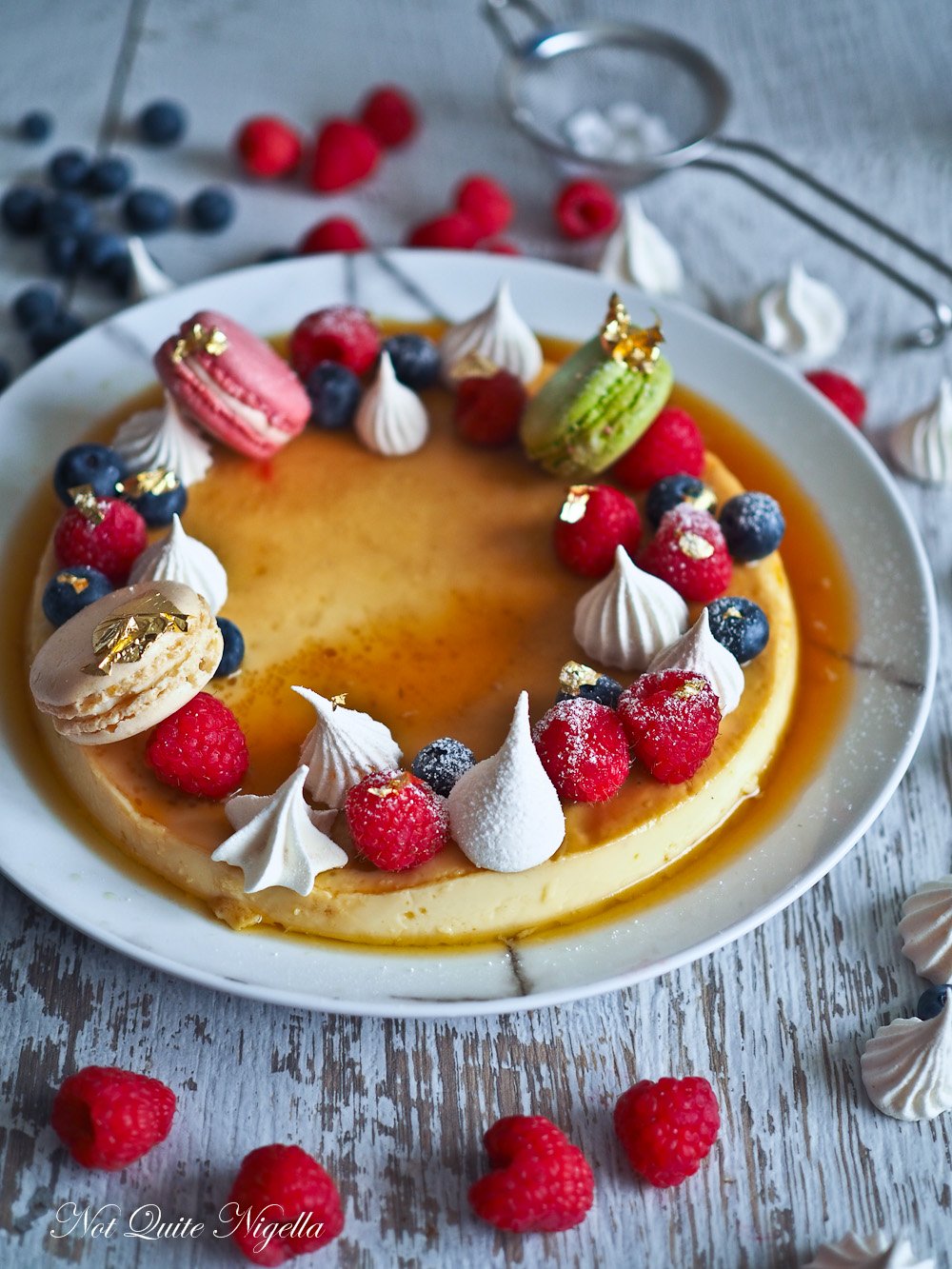 Leaving it plain is traditional but I added some touches to it. Mainly because our little apartment was being photographed the next day and I had to have something to photograph. The rest is just meringues, fruit and macarons.
I don't often let people into my apartment. It's tiny, messy and so far away from (what I'd imagine) Donna Hay's home looks like. I think you'd be disappointed that I don't have a huge fancy house. Houzz came over and they promised to do tight shots so nothing too broad (because then you'll see all of the mess!). I'll share the photos when they come out!
With Christmas looming directly ahead I promise that if you're looking for a make-ahead dessert that is special enough to serve at Christmas please give this a go. You don't have to add the decorations, the dessert itself is good enough on its own!
So tell me Dear Reader, have you got any favourite cooking shortcuts? Have you ever tried using golden syrup instead of making a caramel? What sort of recipes are you looking to make for Christmas?
DID YOU MAKE THIS RECIPE? Share your creations by tagging @notquitenigella on Instagram with the hashtag #notquitenigella
Leche Flan
Adapted from Dear Reader Suzie
Preparation time: 10 minutes
Cooking time: 50 minutes
1/4 cup golden syrup
4 whole eggs
2 egg yolks
395g/14oz. can sweetened condensed milk
1 can warm water (use condensed milk can)
1 teaspoon vanilla
Meringues, fresh fruit and gold leaf to decorate
Step 1 - Preheat oven to 190C/374F. Have a larger baking dish with sides ready (one that can fit your round tin). Pour golden syrup on the base of a round 20cm/8inch tin and place in the fridge until needed. Whisk the eggs, egg yolks with a whisk. Combine with the condensed milk, warm water and vanilla. Strain this mixture through a sieve to get rid of bubbles. Gently pour this mixture on top of the golden syrup. Allow to sit for a few minutes popping all of the air bubbles as they come up.
Step 2 - Place round tin on a larger baking pan and fill with water. Make sure the water outside the pan is the same height as the top of the custard. Bake at 190C/384F for 50 minutes or until toothpick inserted in the middle comes out clean.
Step 3 - Allow to cool, then refrigerate to set. To serve, run a knife around the edge of the pan to loosen and then turn flan over onto a serving dish.