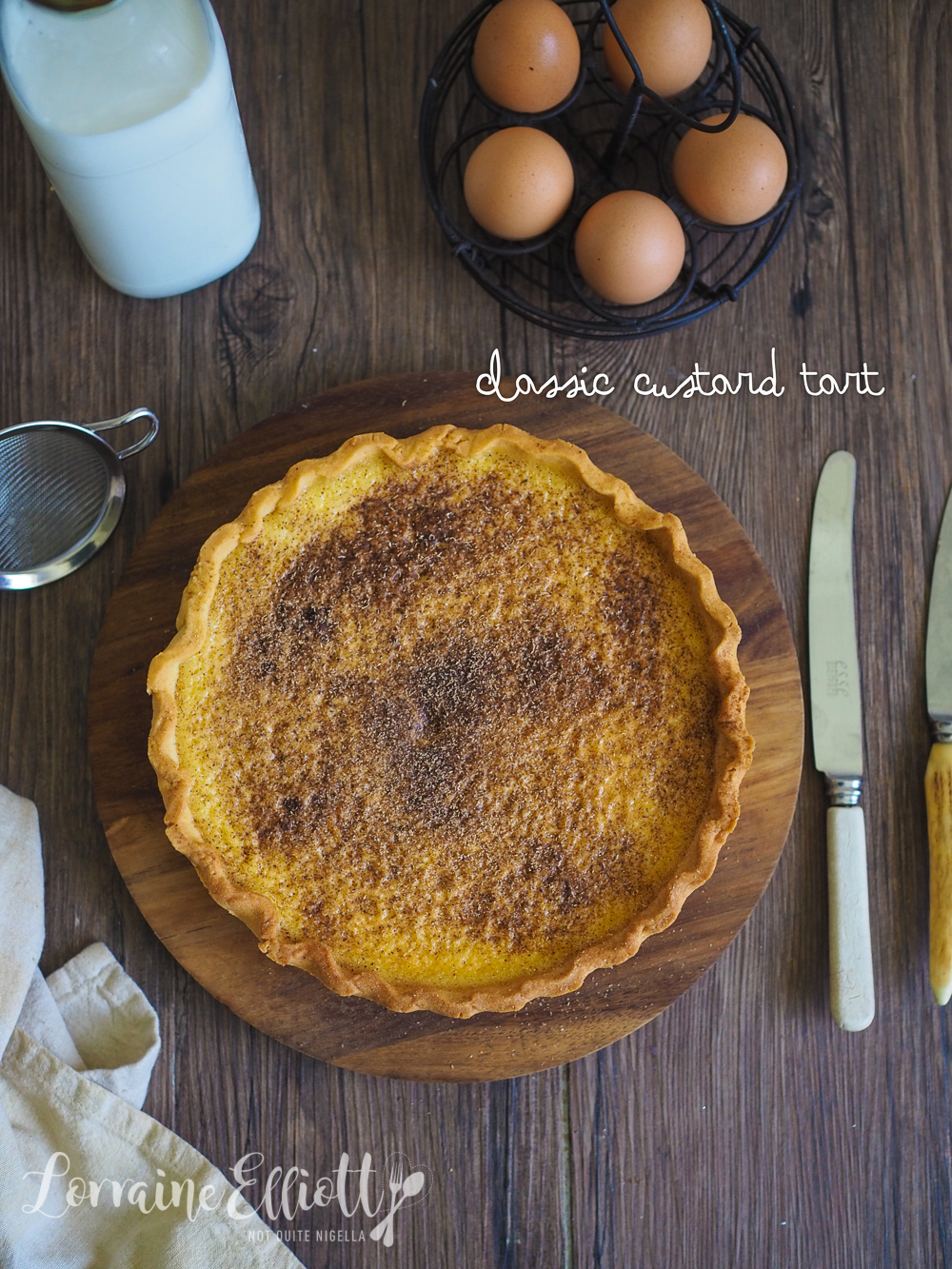 The classic Australian custard tart is a wonderful mix of crisp pastry, a wobbly delicious creamy custard centre and a dusting of freshly grated nutmeg. And nothing quite beats a home made custard tart. This is a pushy recipe Dear Reader!
I have to confess I often get one of these from the supermarket. While the supermarket version is fine and satisfies a craving, nothing is as good as a home made version of this custard tart. The pastry is crisper and more buttery, the custard more appetisingly wobbly and scented with vanilla and fresh nutmeg. If you're as taken with these as I am, I hope you'll give this a go. I've made one version plain and one covered with fruit just to give you some decorating ideas.
This is a custard tart from yesteryear. You buy them from the old skool bakeries that are rapidly disappearing. Displays of matchsticks, finger buns, meringues, frog cakes and cream filled buns and these custard tarts fill the windows.
I have memories of pushing past the dangling plastic strip door curtain and entering and choosing from the display. As a child I wanted the frogs or jam tarts but as I got older it was the matchsticks and custard tarts. Nowadays I see these sorts of bakeries in some suburbs and in regional areas.
This post contains affiliate links. These allow me to earn a small commission but at no extra cost to you.
DID YOU MAKE THIS RECIPE? Share your creations by tagging @notquitenigella on Instagram with the hashtag #notquitenigella
How to make the perfect custard tart:
Rated 5.0 out of 5 by 3 readers
While the filling is a cinch (just whisking all ingredients together), you want to make sure that the pastry is perfect.
1 - Roll the pastry thinly: roll it to 2mm or 1/16th of an inch. This is important to get a perfect custard to pastry ratio. To help me achieve this, I have a rolling pin with adjustable side measures that helps me get the pastry a consistent, specific thickness. If you make a lot of pies or tarts I definitely suggest investing in one and they're an inexpensive way to get great tarts and pies. Alternatively you can buy bands that you place at the end of your rolling pins.
2- This pastry uses egg yolks and is based on the pate brisee pastry from the French fruit tart. I love this pastry because it tastes wonderful, like shortbread, and yet doesn't shrink down and keeps folds. Once baked it also pulls away from the tin making for easy removal. It works because there is no water or liquid in the pastry which is what causes pastry to shrink when baked.
Air pockets in pastry-unfortunate and not desirable
3 - If you do plan on making tarts or pies, consider investing in a perforated tart tin. This is a recent purchase for me and I wish I had bought one earlier. Perforations in the tin will ensure that the base is completely cooked and crisp all over and will also prevent any air pockets in your pastry (which are just heartbreaking!). Air pockets occur when the pastry is baking and the steam has nowhere to escape so it rises and produces large air pockets. I bought a tart tin that is 20cm/8inches on the base and then 23cms/9inches at the top rim and 5cms/2inches deep. I wish it had a removable base but it will do for now.
4 - You can do this tart in stages. I made the pastry 3 days ahead of time and kept it in the freezer ready for the day that I wanted to bake it.
5 - I brush the tart with egg white to give the pastry a little glaze barrier so that the custard won't soak through as much and make the pastry wet.
6 - Once the pastry is done, the filling is easy! But use a fork to beat the eggs first. Don't use a whisk as that produces too many air bubbles. I use an equal mixture of cream and milk because I think that produces the best combination of silkiness plus the classic milk filling. Using just milk doesn't give it quite the right mouthfeel.
Speaking of the country, while on our recent sojourn there I was tasked with doing nothing. It took me a good day or two to settle into that life but once I was in I felt like I would never get out and do work again. You know that feeling when you're a kid and you sink deep down into a bean bag and feel like you will never get out? I felt like I would have to be physically pulled out to be thrust into the real world again.
There was a limit on the wifi at our accommodation so I downloaded the series Schitt's Creek. I have tried six times to get into the show and it was only the fact that so many of my friends loved it and the multiple awards that made me pursue it. Around season 2 I finally started to warm to it and the city family that ended up in an down to earth rural town and then I was hooked.
I could definitely relate to the family especially the kids Alexis and David and Mr NQN (who is from the country) was like the town folk. We had this conversation when we were driving one day. The property we were staying in had two large water tanks. "So tell me, how do water tanks work?" I asked him. He explained that the tanks were filled with rainwater as the property probably wasn't on town water.
"So is the water purified?" I asked. Then my questions kept pouring out.
"How do we know there's not a dead body in there? You know there was that poor girl Elisa Lam in the Cecil Hotel! Or ok what if a bird falls in there or a rat climbs in there and drowns? Are we drinking rat water?????"
"Why do they have a bath? Wouldn't that just use up all the water? OMG did we use up all the water? What about the next people and the people after that? What if EVERYONE HAS BATHS EVERY DAY??? OMG this is too much to worry about..."
As you can see, it took me some time to relax!
So tell me Dear Reader, do things like water tanks and the like leave you with questions? Do you worry about things like that? Have you ever watched Schitt's Creek? And do you like custard tarts?
BEST Custard Tart With Nutmeg
An Original Recipe by Lorraine Elliott
Preparation time: 40 minutes plus 2.5 hours chilling time for pastry
Cooking time: 1 hour
For tart case:
130g/4.6ozs. butter
100g/3.5ozs. icing or powdered sugar
3 egg yolks
1 teaspoon vanilla bean paste
250g/1 cup/8.8ozs. flour
1/4 teaspoon fine salt
1/2 an egg white
For filling:
3 large eggs
250ml/8.8flozs. cream
250ml/8.8flozs. milk
4 tablespoons/80g/3ozs. caster sugar
1 teaspoon vanilla bean paste
1-2 teaspoons ground nutmeg
Step 1 - Beat the butter and sugar together on medium speed for 3 minutes. Add the egg yolks and vanilla and beat until smooth. Then add the flour and salt on low speed until it comes together to become a soft buttery biscuit mixture. Roll into a ball and place between two large sheets of parchment and roll out thinly to 2mm or 1/16th of an inch.
Cutting out the base in pastry
Step 2 - Place on a large baking tray and refrigerate for 2 hours or overnight. When you want to bake it spray the tart tin with oil spray and then take the pastry out of the fridge. It needs to be hard and not soft or sloppy. Trace the base of the tart tin out in the pastry and then place the disc inside the tin. Then cut out 5cm/2inch strips to make the sides of the pastry tin. The pastry will soften quickly.
Pressing the sides and the base together gently
Step 3 - Gently press the base and the sides together making sure that there aren't any gaps and dock the base and sides with a fork. You can also crimp the edges with your knuckles as shown below. Cover with cling film and place in the freezer for 30 minutes (or you can do this overnight).
Please note: you will not use all of the pastry in this tart but it is easier to make more than you will need. This pastry freezes well and will last for 6 months in the freezer.
Crimping the edges with knuckles
Step 4 - When ready to bake, preheat oven to 160C/320F and bake blind-you do not need any weights for this pastry. Bake for 20 minutes. Then remove from the oven and gently brush the base and sides with egg white and return to the oven for 10 minutes.
The baked pastry case
After brushing with egg white and baking
Step 5 - While it is baking make the filling. Whisk the eggs with a fork (don't use a whisk, it produces too many bubbles). Measure the cream and milk in a jug and add the eggs, sugar and vanilla and using the fork, whisk to combine.
Step 6 - When the pastry is done, open the oven door and slide out the rack slightly and then pour the custard mixture directly into the tart case. Gently slide the rack back in and lower the temperature to 130C/266F and bake for 50-60 minutes or until the centre is wobbly but set. Sprinkle with grated nutmeg and then cool completely (you can serve it slightly warm but the egg flavour is more pronounced then). Top with fruit if you desire or eat it plain with just the nutmeg.