There's no need to drive out to Toongabbie to try amazing Sri Lankan street food. Glebe Point Road is the second location for Dish, a caterer and restaurant by chef and owner Manjula Fernando. Here you'll find egg hoppers, lamprais and kottu roti and a fantastic Sunday brunch at fabulously reasonable prices!
It's been a while since I visited Glebe Point Road. The last time was to have some bafflingly bad vegan food with a friend so my memories were not of a delicious edible variety. And when Sammie and I follow the GPS to Dish, we're wondering where it is (it's on the quieter end of Glebe Point Road). Chef Manjula Fernando opened Dish just recently. He hails from a small village called Nalawalana, about 30 minutes away from Sri Lanka's capital Colombo and he first came to Australia in 2005.
For a hot, lazy Friday afternoon it's surprisingly busy as all tables inside are taken. There are outdoor tables too and that's where Sammie and I situate ourselves. Service is friendly, a little unsure from one but she defers to another woman who is happy to recommend us items.
The set meal is usually something that I avoid. I'm not sure why, perhaps it's because it has the safer items on the menu-the things that please everyone rather than the more unusual offerings that pique my interest but everything that we want to try is on the lunch set menu so we order one of those. Sammie and I both love goat curry so a small pot of this is ordered (our waitress warns us against getting it with the rice as we'll already have rice). And I'm intrigued by the Lamprais.
Lunch Set Menu $22
There's a colourful range of goodies on the lunch set menu. From the lamb and potato deep fried roll to the beef kottu roti which is a fascinating shredded Godamba roti that ends up tasting a little like rice noodles as it is cooked with egg and meat, in the same way that a noodle stir fry would be. We both really enjoy this. There's also a choice of curry (beef, chicken or lamb) and we went for the beef. It's a small pot of tender and soft beef with plenty of curry sauce. There is also a choice of an egg hopper, dosa or egg roti. It's hard to choose but Sammie and I both like hoppers so we choose the egg hopper. It's a crispy, lacy edged edible bowl made of a coconut batter made with rice flour, coconut milk and eggs. It's crispy and delicious and goes well with the Pol Sambol or coconut sambol, Katta Sambol or red chilli sambol and Seeni Sambol which is a fantastic onion sambol.
Lamprais $16.95
I also adored the lamprais which translates to "lump rice" and is of a Dutch Burgher origin. The Burghers were an ethnic group of Dutch, Portuguese Burghers (Portuguese and Sri Lankan) and Sri Lankan descent. There's a choice of chicken or beef curry inside with bringal, fish cutlets, Malay shrimp blachan, fried ash plantain, soft eggplant, a stock boiled egg and rice wrapped and cooked in banana leaves that impart a wonderful flavour and keep the rice moist.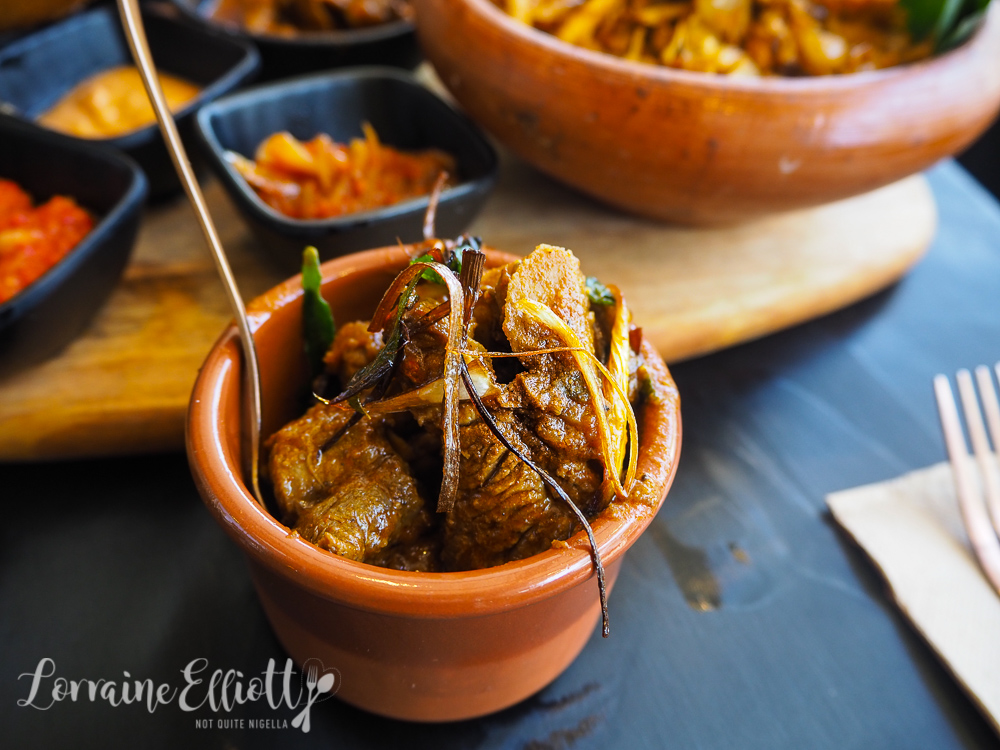 Goat Curry $8
The goat curry with rice is a tiny portion and most of it is bone but it is very good indeed with a rich gravy, soft slow cooked goat meat and fried onion strings on top. I enjoy the food at lunch so much that I return with Mr NQN and Mochi two days later for the Sunday brunch. Now although it is called Sunday brunch it doesn't start until noon although it does seem quite popular so you may need or want to book.
There is a choice of the regular lunch menu or the brunch menu. Mr NQN orders a plunger coffee with cardamom and a masala chai for me. He isn't such a huge fan of the cardamom in the coffee although truthfully I neglected to try it because I was busy trying to hold down the tablecloth as strong winds blew it around.
We've ordered enough for four people but Mochi counts as one right? Even if she doesn't actually eat any of the food ;). But Mr NQN is famished and everything gets eaten.
Roti Paratha with 2 curry dips $6.50
I felt like something bready that morning so we went with the roti paratha, a crispy, hot flakey roti with dahl and chicken curry.
Kola Kenda $6.90
The Kola Kenda is a creamy broth made with Gotu Kola, curry leaves and Sir Lankan herbs, red rice, coconut cream and roasted mustard seeds. The herbs are said to be good for lowering cholesterol and cleansing blood. And to the side are chunks of palm sugar. This is just what I need considering that it is an unseasonably chilly morning and I prefer this without the palm sugar although sweet-toothed Mr NQN eagerly stirs this into his portion.
String Hoppers $16.90
I love string hoppers which are a popular breakfast dish. They're made of rice flour shaped into noodles and then steamed. They also make the perfect canvas for sauces, relishes and curries. The five string hoppers come with creamy turmeric infused scrambled eggs, two grilled tomato halves, yellow coconut curry sauce called Kiri Hodi and coconut sambol on the side. It's absolutely delicious and a really good take on scrambled eggs and toast.
Two Sri Lankan Pancakes $9.90
I usually prefer savouries for breakfast but I'd make an exception for the Sri Lankan pancakes. They're light and spongy and filled with pani pol honey caramelised coconut and then rolled up like crepes. On top is a chocolate sauce and sliced, fresh strawberries.
Kiribath $13.90
Never let me order unless you want your table to be filled with food. I mean five dishes for breakfast for two people was probably ambitious but I couldn't help it. And the last item to arrive is the Kiribath which is a very sizeable serve of rice pudding triangles topped with caramelised banana, a cheek of mango and Pani Pol (they honey caramelised coconut from above) as well as a sweet coconut sauce. It's also pretty fabulous and the only thing stopping Mr NQN from finishing it is the fact that I've ordered so much already.
So tell me Dear Reader, do you go with the set meal often? Do people let you order the food? And do you tend to over order, under order or order just right?
This meal was independently paid for.
Dish
381 Glebe Point Rd, Glebe NSW 2037
Phone: 0414 313 474
Monday, Wednesday and Thursday 5pm–9.30pm (closed Tuesdays)
Friday to Sunday 12pm–2.30, 5pm–9.30pm
www.dishevents.com.au/